ENHANCED THERMAL DESIGN
Robust Power Layout and PCB with 2oz Thickened Copper
An aggressive VRM power solution and high-quality PCB material design with 2oz thickened copper ensure stable power delivery, durability, and high-performance reliability.
All Aluminum Cover with Extended Heatsink Design
Heatsinks are constructed from aluminum for its high heat conductivity. The large heatsinks and 7W/mK rated thermal pads have been formed with more surface for improved heat dissipation capabilities.
M.2 Shield Frozr
Prevent SSD thermal throttling and sustain maximum high-speed M.2 SSD data transfer with M.2 Shield Frozr.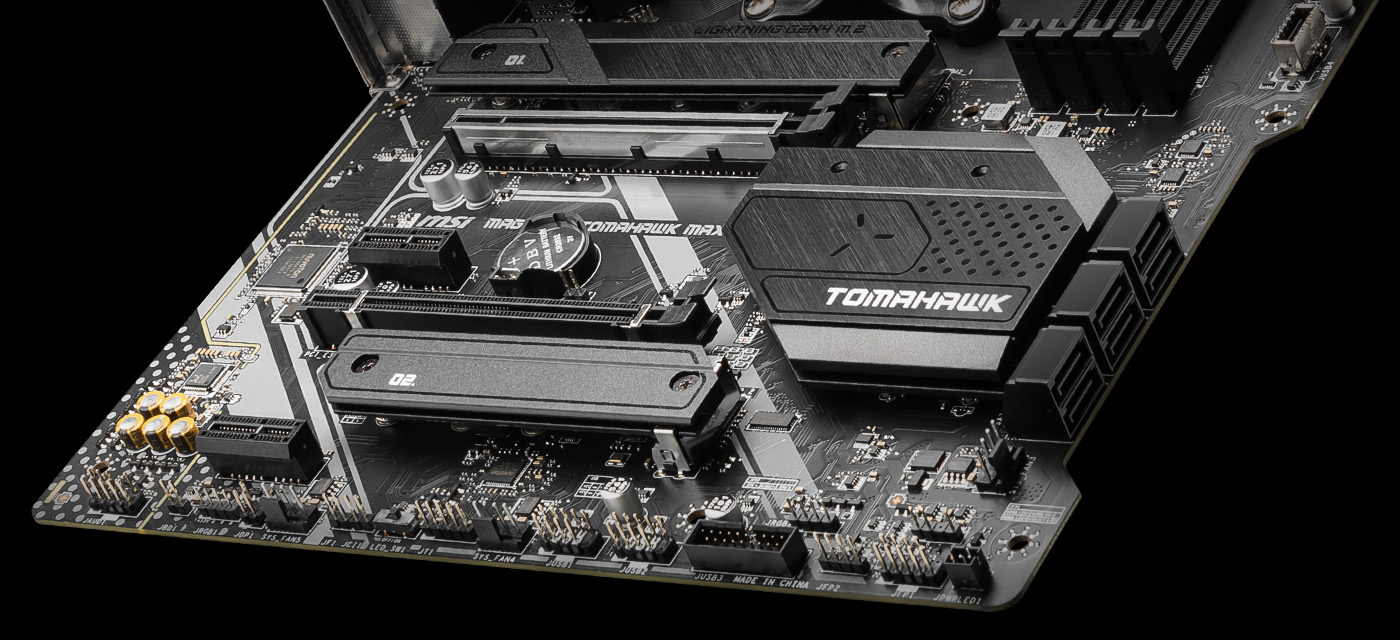 LIGHTNING GEN 4
Lightning Gen 4 M.2
Powered by 3rd Gen Ryzen processors, MSI B550 motherboards strike fast with Lightning Gen 4 M.2, capable of SSD transfer speeds up to 64 Gb/s.
Lightning Gen 4 PCI-E
Gen 4 is the latest and the fastest PCI Express standard, allowing for up to 64 GB/s of unidirectional data transfer, double compared to the previous generation.
High-Performance Circuits
Core Boost and DDR4 Boost each combine a reserved zone of optimized circuits and premium components to unleash maximum performance from AMD Ryzen processors.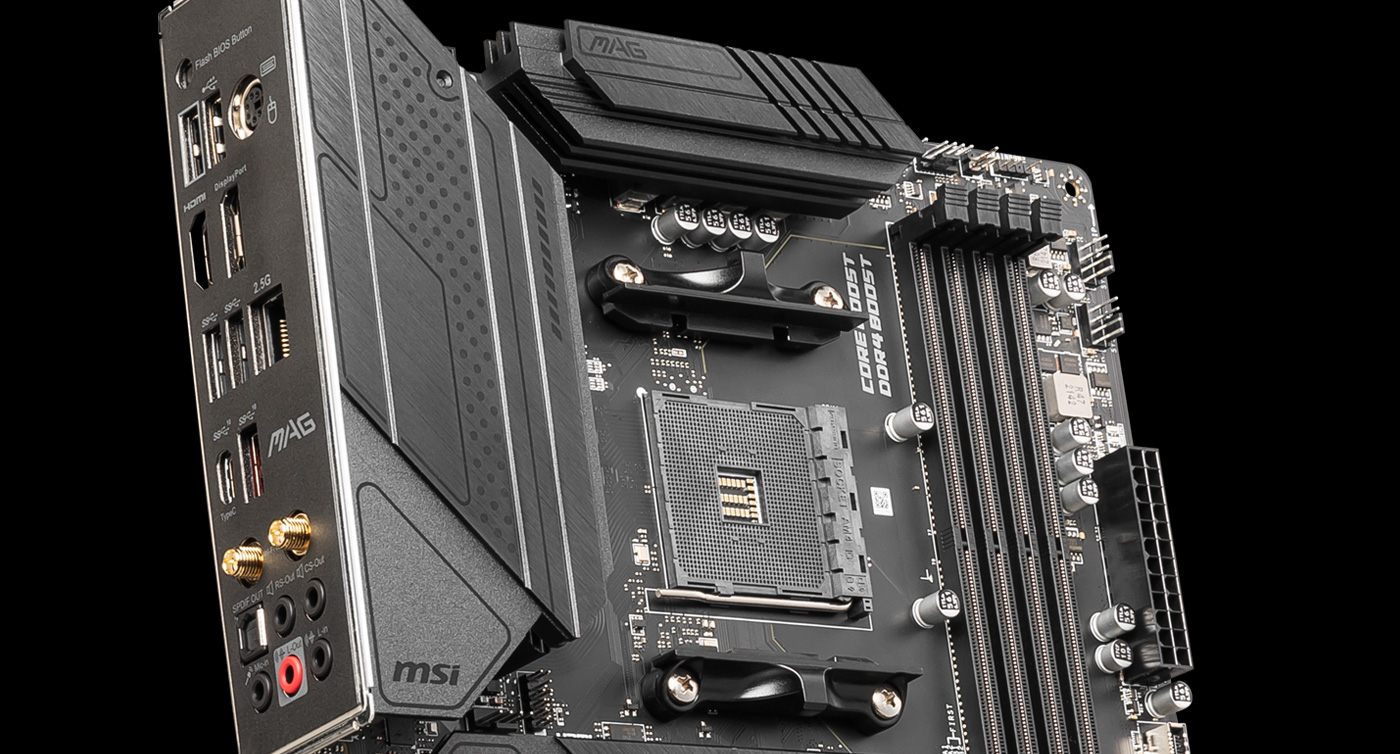 PREMIUM CONNECTIVITY
2.5G LAN with LAN Manager and AMD Wi-Fi 6E Solution
Upgraded network solution for professional and multimedia use. Delivers a secure, stable and fast network connection.
Flash BIOS Button and Optimized Clear CMOS Function
Flash BIOS Button allows users to flash the BIOS in a few steps. Optimized Clear CMOS function helps to restore the BIOS to default settings in only one step.
Front Type-C
All MSI B550 motherboards feature USB Front Type-C connectors allowing compatibility with the latest USB devices and synergy with MSI cases.



MEG B550 UNIFY




MPG B550 GAMING EDGE WIFI




MPG B550 GAMING PLUS

CPU Compatibility

Support for 3rd Gen AMD Ryzen™ processors and future AMD Ryzen™ processors with BIOS update

Memory

4 x DIMM; Max. 128GB DDR4; 5100+ MHz
4 x DIMM; Max. 128GB DDR4; 4866+ MHz
4 x DIMM; Max. 128GB DDR4; 4400+ MHz

PCIe x16 Slots

1x PCIe 4.0 x16 slot (x16)
1x PCIe 3.0 x16 slot (x4)
2x PCIe 3.0 x1 slots
1x PCIe 4.0 x16 slot (x16)
1x PCIe 3.0 x16 slot (x4)
2x PCIe 3.0 x1 slots
1x PCIe 4.0 x16 slot (x16)
1x PCIe 3.0 x16 slot (x4)
2x PCIe 3.0 x1 slots

Display Output

HDMI (requires processor graphics)
HDMI, DisplayPort (requires processor graphics)
HDMI, DisplayPort (requires processor graphics)

M.2

4x M.2
2x M.2
2x M.2

Wireless

Wi-Fi 6 & Bluetooth
Wi-Fi 6 & Bluetooth
N/A

Mystic Light RGB

N/A
16.8 million colors
16.8 million colors

Form Factor

ATX
ATX
ATX
Order Now
Order Now
Order Now



MAG B550 TOMAHAWK MAX WIFI




MAG B550 TOMAHAWK




B550-A PRO




B550M PRO-VDH WIFI

CPU Compatibility

Support for 3rd Gen AMD Ryzen™ processors and future AMD Ryzen™ processors with BIOS update

Memory

4 x DIMM; Max. 128GB DDR4; 5100+ MHz
4 x DIMM; Max. 128GB DDR4; 4866+ MHz
4 x DIMM; Max. 128GB DDR4; 4400+ MHz
4 x DIMM; Max. 128GB DDR4; 4400+ MHz

PCIe x16 Slots

1x PCIe 4.0 x16 slot (x16)
1x PCIe 3.0 x16 slot (x4)
2x PCIe 3.0 x1 slots
1x PCIe 4.0 x16 slot (x16)
1x PCIe 3.0 x16 slot (x4)
2x PCIe 3.0 x1 slots
1x PCIe 4.0 x16 slot (x16 / x4)
1x PCIe 3.0 x16 slot (x4)
2x PCIe 3.0 x1 slots
1x PCIe 4.0 x16 slot (x16)
2x PCIe 3.0 x1 slots

Display Output

HDMI, DisplayPort (requires processor graphics)
HDMI, DisplayPort (requires processor graphics)
HDMI, DisplayPort (requires processor graphics)
HDMI, DisplayPort, VGA (requires processor graphics)

M.2

2x M.2
2x M.2
2x M.2
2x M.2

Wireless

Wi-Fi 6E & Bluetooth
N/A
N/A
Wi-Fi 6 & Bluetooth

Mystic Light RGB

N/A
16.8 million colors
N/A
N/A

Form Factor

ATX
ATX
ATX
mATX
Order Now
Order Now
Order Now
Order Now