Hybrid Backup Sync
Easily back up your data with QuDedup technology to duplicate backup data to local, remote and cloud storage spaces as a comprehensive data storage and disaster recovery plan.
Boxafe
Backup files, emails, calendars and contacts from Google™ G Suite and Microsoft 365® with one-step-setup to backup hundred thousands of files from different employees.
Hyper Data Protector
License-free backup for unlimited VMware® and Hyper-V Virtual Machines (VMs) for a cost-effective and reliable disaster recovery plan, ensuring 24/7 operation of your services.
QGD
World's first smart PoE edge switch that runs QTS and supports hosting Virtual Machines (VMs), enabling versatile applications to satisfy all your networking needs. Compliant with the latest IEEE 802.3bt PoE++ and IEEE 802.3at PoE+ standards, offering 4-port 60-watt and 12-port 30-watt Gigabit PoE to supply power to many high-power devices (PDs), such as IP cameras, wireless APs, IP phones, LED lights and digital signage.
SD-WAN
With QTS built in QuWan App to deploy SD-WAN to enable SMBs to efficiently build a dependable network with features like Auto Mesh VPN & Cloud Management to facilitate digital transformation, multi-site expansion and remote working.
QM2 Expansion Card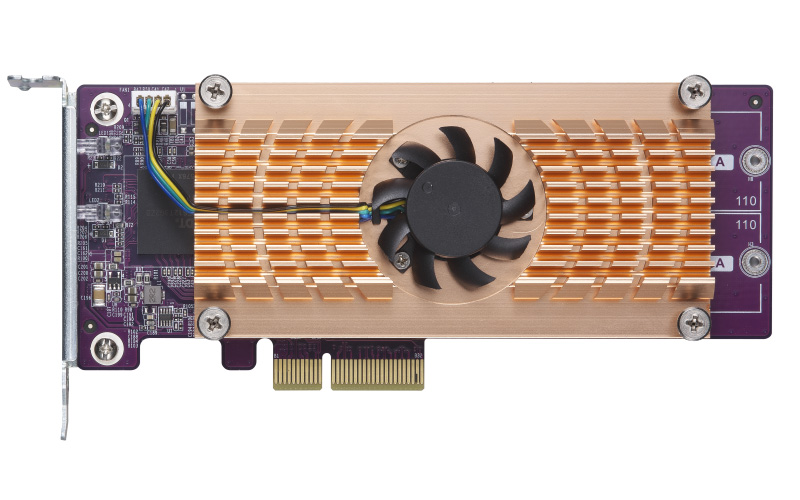 QM2 series PCIe cards add support for M.2 SSDs to a QNAP NAS, allowing users to configure SSD caching, a caching pool, or an auto-tiering volume to improve overall NAS performance. Tackle performance bottlenecks. QM2 boosts performance by adding M.2 SSDs. It doesn't occupy any 3.5-inch drive bays, allowing you to maximize both your storage capacity and performance.
Why Choose the IronWolf 510 SSD?
BUILT FOR SSD CACHING
Tap into incredible caching speeds of up to 3150MB/s – or 3GBps for NVMe-compatible systems.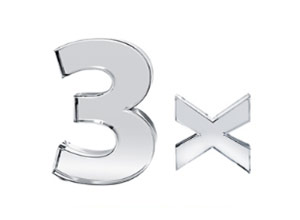 ULTRA-HIGH ENDURANCE
Accomplish more with 3x the endurance of other NAS SSDs and enjoy significantly less wear and tear.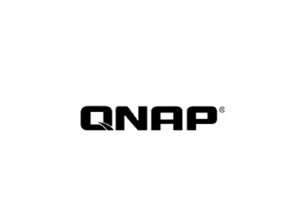 TRUSTED BY NAS LEADERS
Rely on guaranteed compatibility with leading NAS vendors.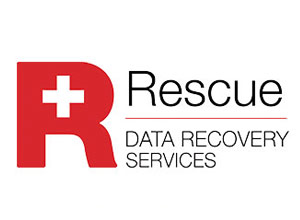 TWO-YEAR DATA RECOVERY
If data is lost due to user error, corruption, fire, or flood damage, Seagate's Rescue Data Recovery Services are here to help.
Optimized for NAS AFA or Cache Tiering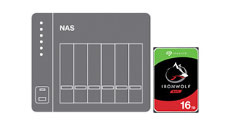 The Hard Drive Approach
STORE MORE DATA
Get up to 16TB of space per drive.
REDUCE COSTS
Ideal for stringent budgets.
IDEAL FOR
24×7 remote access, backup, and file sharing.
The SSD Approach
LOWER LATENCY
Back up and stream data faster.
REDUCE NOISE AND VIBRATION
SSDs operate silently in desktop NAS.
IDEAL FOR
24×7 use, AFA, and cache tiering.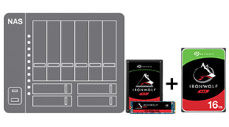 The Hybrid Approach
RAISE EFFICIENCY
Hybrid caching lowers TCO.
GET THE BEST OF EVERYTHING
Benefit from HDD space at SSD speeds.
IDEAL FOR
Max caching, capacity, and performance.
Precision-Designed for the Best Value
IRONWOLF 510 SSD
IRONWOLF 110 SSD
IRONWOLF
IRONWOLF PRO
CAPACITY
1.92TB, 960GB, 480GB, 240GB
3.84TB, 1.92TB, 960GB, 480GB, 240GB
12TB, 10TB, 8TB, 6TB, 4TB, 3TB, 2TB, 1TB
18TB, 16TB, 14TB, 12TB, 10TB, 8TB, 6TB, 4TB, 2TB
# OF BAYS
Unlimited
Unlimited
1 to 8 bays
Up to 24 bays
MULTI-USER OPTIMIZATION / WORKLOAD RATE
1 DWPD
1 DWPD
180TB/Year
300TB/Year
LIMITED WARRANTY
5 years
5 years
3 years
5 years
INTERFACE
PCIe G3 ×4, NVMe 1.3
SATA 6Gb/s
SATA 6Gb/s
SATA 6Gb/s
MTBF (MEAN TIME BETWEEN FAILURE)
1.8M-Hr
2M-Hr
1M-Hr
1.2M-Hr
DATA RECOVERY
2-Year Rescue Data Recovery Services plan
2-Year Rescue Data Recovery Services plan
3-Year Rescue Data Recovery Plan*
3-Year Rescue Data Recovery Plan*
3-year coverage for products purchased and shipped Jan 1, 2020 or later for 4TB and up. Registration required to activate. Rescue Recovery services not available in all countries.