Tech Gadgets
Fun for the old and young. Top recreational tech gadgets that spark the holiday spirit.
The popularity of recreational tech has risen tremendously over the last several years—especially during the holiday seasons. The interest in drones and other lifestyle electronics will likely be as strong as ever this year. Whether holiday shoppers are looking for gifts for their loved ones or themselves, they'll want to purchase some of the hottest recreational tech gadgets on the market.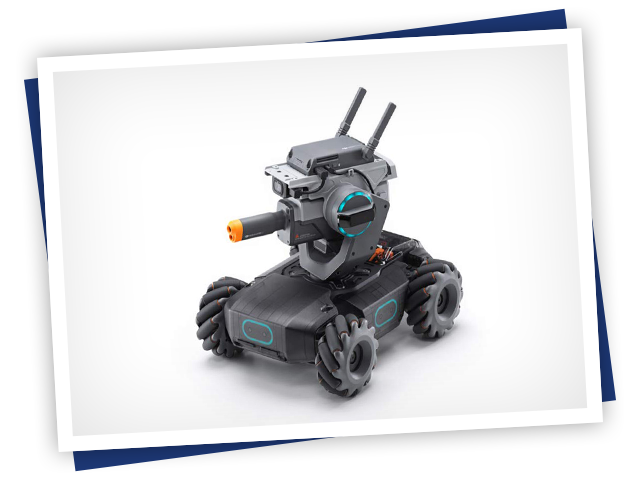 DJI Intelligent Robomaster S1 Robot
Those who would prefer to buy a piece of equipment from DJI that's meant to stay firmly on the ground may be interested in the DJI Robomaster S1. While the Robomaster S1 could accurately be called a battle bot, it's so much more than that. The robot must first be assembled piece by piece, giving users numerous hands-on engineering lessons. Learning opportunities abound as users learn to control their robots via Scratch and Python coding as well as digital buttons on an app.

High-quality Mecanum wheels and 4WD allow the robot to move omnidirectionally. Intelligent sensing armor helps the robot to avoid potentially damaging collisions. Low-latency HD FPV capabilities give users the ability to experience the robot's movements from a first-person perspective. People can race and fight their bots using a variety of battle modes and weapons.

Features
46 Programmable Components
6 Programmable AI Modules
Low-Latency HD FPV
Scratch & Python Coding
4x4 Omnidirectional Movement
Intelligent Sensing Armor
View Details
Shoppers in search of a budget-friendly drone may want to check out the AKASO A300. One of this drone's most notable features is its dual cameras. The front camera is 1080p, while the bottom camera is 480p. High-precision orientation sensors and an altitude hover function help to steady the drone so it can take crisp, clear images.

This drone can, of course, be used for more than photography. Its 4-axis gyro flying control system gives pilots the ability to pull off 3D flips, rolls, rotations, and more. One-key takeoff mode, three speed settings, and easy gesture control make this an excellent drone for both amateurs and experts.

Features
Front-Facing 1080p (1280 x 720) HD Camera
Bottom-Facing 480p Camera
35 – 60 Meters of Control Range
Optical Flow Positioning
High-Precision Flight Orientation Sensors
4-Axis Gyro Flying Control System
Gravity Sensor Function (G-Sensor Mode)
3 Speed Modes
80 Minutes of Charging Time
One-Key Take-Off / Landing
View Details
Shoppers with avid swimmers on their lists may be interested in the AKASO V50X. This waterproof camera allows users to take high-definition videos and pictures with a single swipe and tap. The intuitive touchscreen is user-friendly, and the smooth video stabilization produces steady footage.

The camera's view angle can easily be adjusted. Distortion calibration corrects image distortion issues. The V50X can go up to 131 feet underwater, and its rechargeable battery can record video for up to three hours. This camera can also be used for other popular activities like skiing, biking, and surfing.

Features
4k 30fps, 2.7K 30fps, and 2K 60fps video resolution
2-Inch Intuitive Touchscreen
Image Stabilization
2 Rechargeable 1350mAh Batteries
Adjustable View Angle (170, 140, 110, 70 Degrees)
Built-In Wi-Fi Connection
Waterproof Up to 131 Feet (40 meters)
View Details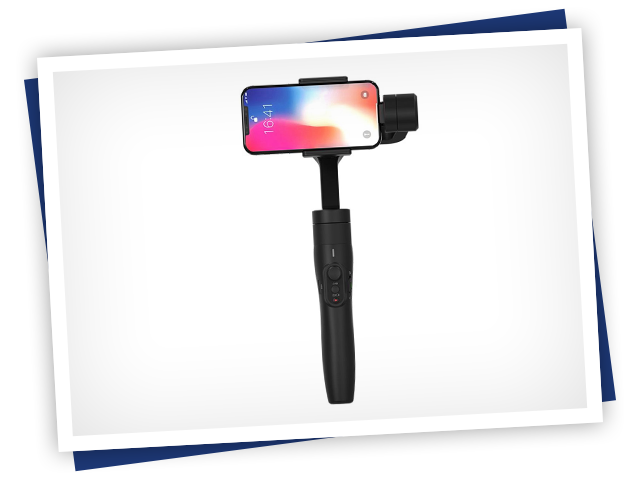 Feiyu Tech Vimble 2 3-Axis Gimbal
Some may be shopping for presents that can help people take pictures with their smartphones. The Feiyu Tech Vimble is a perfect option for this. It gives users the means to use their smartphones to take professional-quality pictures. The user interface is intuitive, allowing photographers to easily access a variety of options and settings.

Designed for both comfort and practicality, its ergonomic handle grip, 320-degree rotation capability, and telescoping hand make this a desirable addition to any smartphone photographer's accessory collection.

Features
2 3-Axis Gimbal
320-Degree Rotation
Telescoping Hand
Ergonomic Handle Grip
Bluetooth Shutter
Adjustable Focus
1/4 Inch Screw Hole
7.4V / 9.62Wh Battery
View Details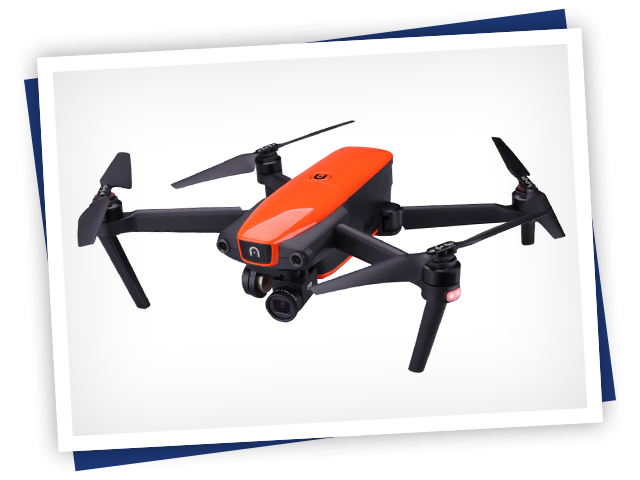 Autel Robotics EVO Remote Control Drone
The Autel Robotics EVO is an excellent drone of choice for those who want to give the gift of 4K Ultra HD video at 60fps. Its camera can take 12mp stills, and its intelligent Li-Po battery is good for up to 30 minutes of flying time. The controller has a built-in 3.3in OLED screen that can stream a 720p video feed from the drone's camera. Those who would prefer to use their smartphones in tandem with this drone can access a 1080p live camera view.

Strong satellite positioning and advanced position software help to prevent this drone from flying into obstacles or losing stability. Top speed is 44mph and its transmission range is 4.3 miles. Intelligent flight modes give the drone the ability to dynamically track both objects and people.

Features
4K Ultra HD Video at 60fps
30 Minutes Flight Time
3.3 Inch OLED 720p Viewing Screen
44mph Max Speed
4.3m /7.3km Range
12MP
Obstacle Avoidance
Dynamic Tracking
View Details
Those who are shopping for drone racers may want to consider the DJI Digital FPV Combo. The DJI Digital Goggles give the user a 720p/120fps FPV experience in stunning 1080p HD resolution. The remote communicates via 7ms low-latency transmission, allowing for smooth racing and clear camera views.

Maximum range is 28 miles or 4 kilometers, giving flyers more room than ever to maneuver their drones. Up to eight drones can be flown simultaneously in the air thanks to the eight available frequency channels. Pilots can rule the skies with the DJI Digital FPV Fly More Combo.

Features
Simultaneously Fly 8 Drones
7ms Low Latency Transmission
4-in-1 Closed-Loop
1080p 60fps Video Recording
720p 120fps Image Quality
View Details
Behringer Xenyx 302USB 5-Input Mixer
People who want to spend a little less on a mixer should consider the Behringer Xenyx 302USB. This mixer is ideal for recording enthusiasts who work their magic in small home studios and on the go. It features XLR & 1/4" combination sockets, two-track input, and a stereo USB/Line channel.


XLR & 3/4" Combination Sockets
Two-Track Channel Input
Stereo USB/Line Channel
2-Band British-Style EQs
View Details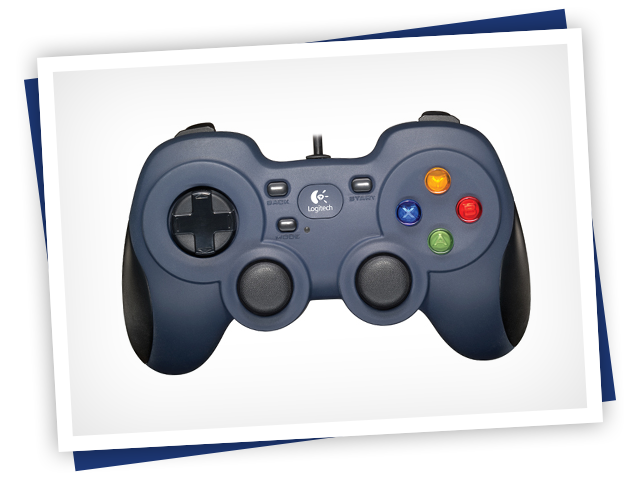 Logitech F310 (940-000110) Gamepad
Those in search of an inexpensive but versatile game controller should check out the Logitech F310. This gamepad looks simple at first glance, but it has the ability to be customized to match a variety of different controller configurations and to play various types of games. It's compatible with Windows 10, 8, 7, and Vista, as well as Sony Android TV.

Features
Intuitive Navigation/Use
Exclusive 4-Switch D-Pad
Compatible with Old and New Games
6-Foot Cable Length
Comfortable Hand Grip
Compatible with Windows 8, 7 and Vista
View Details