We're giving away the best performing gaming PC we have ever built.
Equipped with a custom cooled Intel i9-10900K CPU on the ASUS ROG MAXIMUS XII HERO Z490 Wi-Fi 6 Motherboard, this rig clocked in at 5.3GHz on all 10 cores. It's also equipped with a custom cooled overclocked ASUS RTX 2080 Ti for your gaming glory and all wrapped in the exquisite InWin 925 chassis. Good luck, this beast deserves a gaming home.
What's Inside
FOR HOWEVER YOU GAME

Find the 10th Gen Intel® Core™ processor
recommended for how you game.




10th Gen

INTEL® CORE™ i9-10900K


10th Gen

INTEL® CORE™ i7-10700K


10th Gen

INTEL® CORE™ i5-10600K

CLOCK SPEED1
Up to 5.3 GHz
Up to 5.1 GHz
Up to 4.8 GHz
CORES/THREADS
10/20
8/16
6/12
Recommended for:
UNLOCKED & OVERCLOCKABLE²
SEAMLESS AAA GAMING
STREAMING
COMPETITIVE GAMING
STREAMING & RECORDING
ADVANCED CONTENT CREATION
PEAK GAMING PERFORMANCE
ENTHUSIAST-LEVEL CONTENT CREATION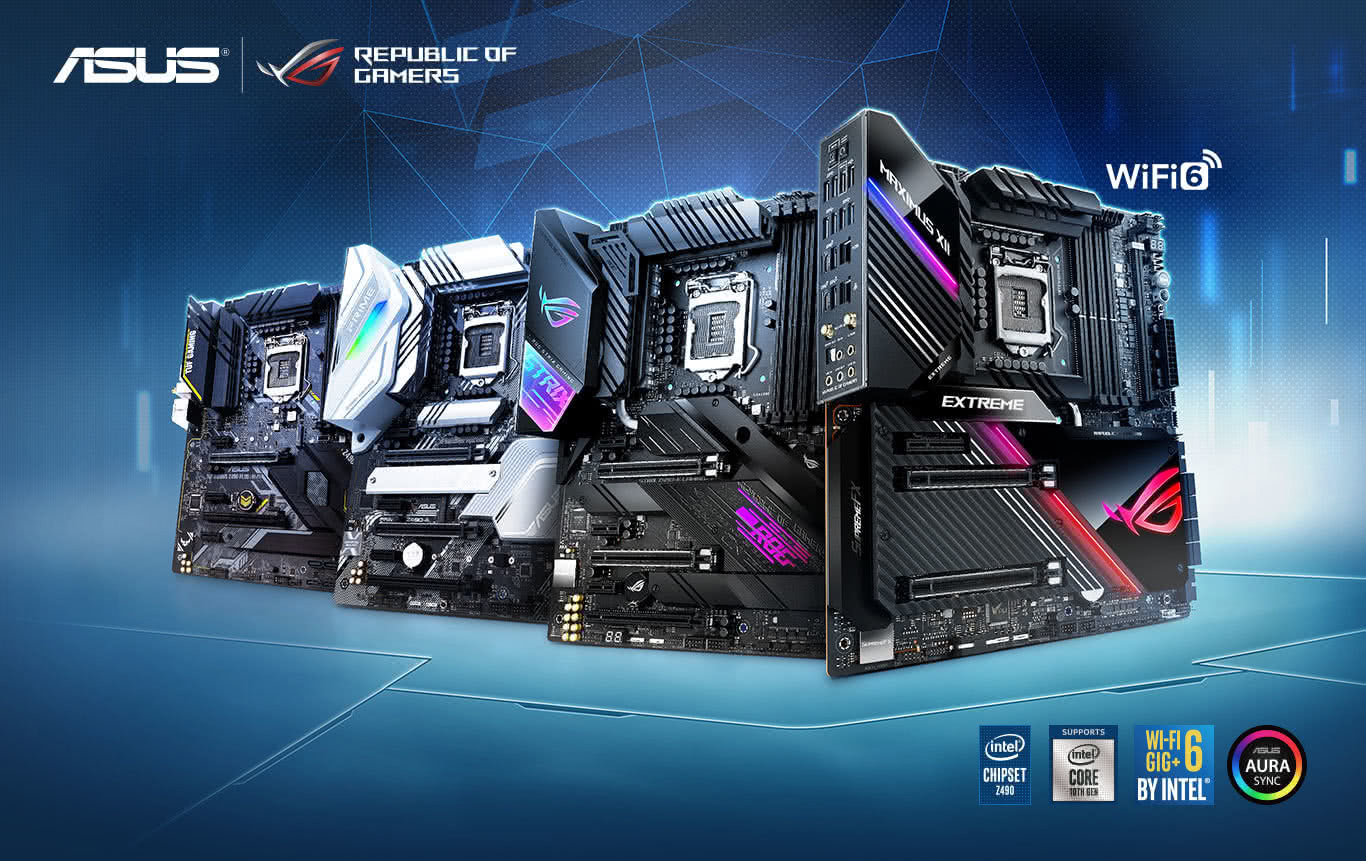 ASUS Z490 SERIES
For more than 10 years, ASUS motherboards have been BEST ― that's Best-selling, Easy to use, Stable and Trusted – with over 540 million sold and most awards won. Whether you're crafting a build for work or gaming, a diverse selection of models and innovative features make it easy to find the perfect board to suit your needs. Build your next rig with ASUS — the world's No.1 motherboard brand.
Enter Below
Intel 10th Gen OC Build Giveaway Ft. ASUS
NO PURCHASE OR PAYMENT OF ANY KIND IS NECESSARY TO ENTER OR WIN THIS SWEEPSTAKES. A purchase does not increase or improve chances of winning. Void where prohibited by law. Unless otherwise provided herein, the Sweepstakes is open only to legal residents of the 49 United States and the District of Columbia (Rhode Island excluded), age 18 or older at the time of entry ("Entrant"). The Sweepstakes begins at 12:00PM Pacific Time ("PT") on May 20, 2020 and ends at 11:59PM PT on June 19, 2020 ("Sweepstakes Period"). All email addresses submitted to participate in the Sweepstakes shall automatically be opted-in to receive the Newegg newsletter. Winners will be selected in a random drawing held within 10 days from the end of the Sweepstakes Period. The Administrator will notify the potential winners by telephone (if available), email, and publication of the names on www.newegg.com following the drawing date. Odds of winning depend upon the number of eligible entries received during the Sweepstakes Period. A maximum of eighteen (18) Entries per person/email address during the Sweepstakes Period. Entries may be submitted on the above form. For additional terms and conditions, please refer to the Official Rules.
For more complete information about performance and benchmark results, visit www.intel.com/benchmarks.

1 Max Turbo Frequency refers to the maximum single-core processor frequency that can be achieved with Intel® Turbo Boost Technology.

2 Altering clock frequency or voltage may damage or reduce the useful life of the processor and other system components and may reduce system stability and performance. Product warranties may not apply if the processor is operated beyond its specifications. Check with the manufacturers of system and components for additional details. Intel technologies may require hardware, software or service activation.

© Intel Corporation. Intel, the Intel logo, and other Intel marks are trademarks of Intel Corporation or its subsidiaries.
All prices reflect the final price after savings. Offers expire 06/19/2020 at 11:59 P.M. PT.