ASUS & ROG Z790 MOTHERBOARDS
ASUS and ROG Z790 motherboards promise full support for 13th Gen Intel® Core™ Processors, with even higher clock speeds, more cores and support for faster DDR5 memory than ever before. The ROG, ROG Strix, TUF Gaming, Prime and ProArt series are prepared for this onslaught with enhanced performance tuning, cooling, power delivery, connectivity and ease of installation.
Exclusive Features

ASUS Enhanced Memory Profile II (AEMP II)
ASUS Enhanced Memory Profile II (AEMP II) is an exclusive firmware feature for PMIC-restricted memory modules. AEMP II is based on a CPU and memory module's ability to train the memory chips on your kit, and it presents an optimized clock speed that can effortlessly unleash performance.
Built through a flexible training method, AEMP II makes it easy to not only tune the memory above baseline settings but also maintain the stability of system operation, whether getting the most out of an entry-level module or priming a high-speed kit for ultimate performance.
* Results may vary according to the capabilities of your CPU and memory modules.
** The comparison chart is based on a test with an Intel Raptor Lake i9-13900K and 2x16 GB SK Hynix DDR5-4800 n-ECC UDIMMs, model HMCG7.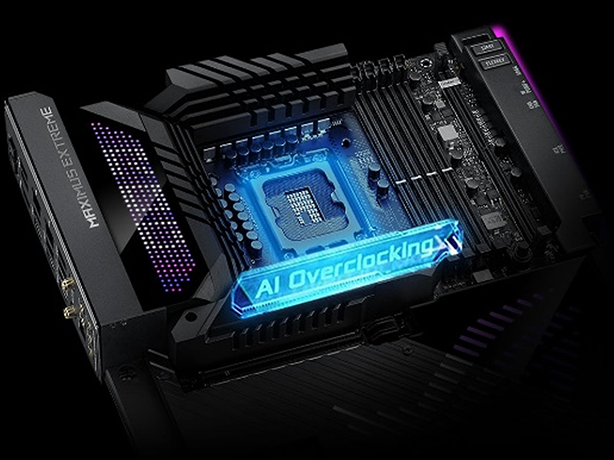 AI Overclocking
Tuning is now faster and smarter than ever before. ASUS AI Overclocking profiles the CPU and cooling to predict the optimal configuration and push each system to its limits.
AI Cooling II
ASUS AI Cooling II balances the thermals and acoustics of any build with a single click. An ASUS-exclusive algorithm slashes unnecessary noise while running a quick stress test, and then it monitors CPU temperatures to dynamically adjust fans to optimal speeds.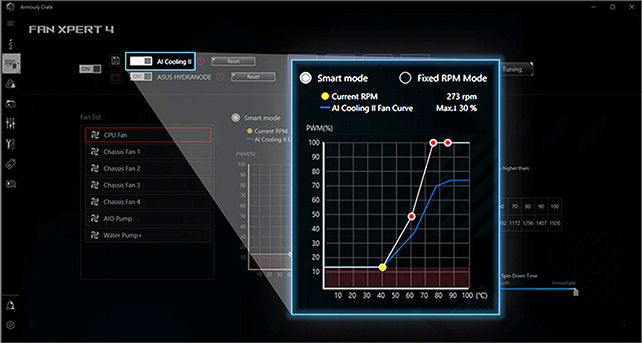 Robust Power
With tailored power delivery and support for the latest high-performance memory, ASUS Z790 motherboards easily handle the demands of 13th Gen Intel® Core processors. They feature an intelligent VRM design that's rated for up to 105 amps, plus carefully selected components and memory layout optimizations to cater to enthusiasts looking to create a battle-ready rig with balanced performance.
Ultra-fast Bandwidth
PCIe® 5.0
ASUS Z790 motherboards are equipped with up to two PCIe 5.0 slots ideal for video cards. Select models even feature an onboard PCIe 5.0 M.2 slot or a bundled ROG Hyper M.2 card, putting you on the cutting edge of GPU and storage device technology.
Thunderbolt™ 4 (USB4® Compliant)
Most ASUS Z790 motherboards have onboard Thunderbolt™ 4 ports or a header to provide up to 40 Gbps of bidirectional bandwidth for the latest superspeed devices and drives.
WIFI 6E, 10 Gb and 2.5 Gb Ethernet
With onboard WiFi 6E, 10 Gb and 2.5 Gb Ethernet, ASUS Z790 motherboards deliver blazing file transfers, smoother online gaming and high-res video streaming experience.
DIY-Friendly Design

Q-DIMM
One-sided clips provide super-simple, super-secure handling of memory modules.
SafeSlot
A pair of SafeSlots provide stronger PCIe device retention and greater shearing resistance.
Q-Code
Provides two-digit error codes that display system status to help with troubleshooting.
Q-Connector
Sorts all front-panel cables for a cleaner installation.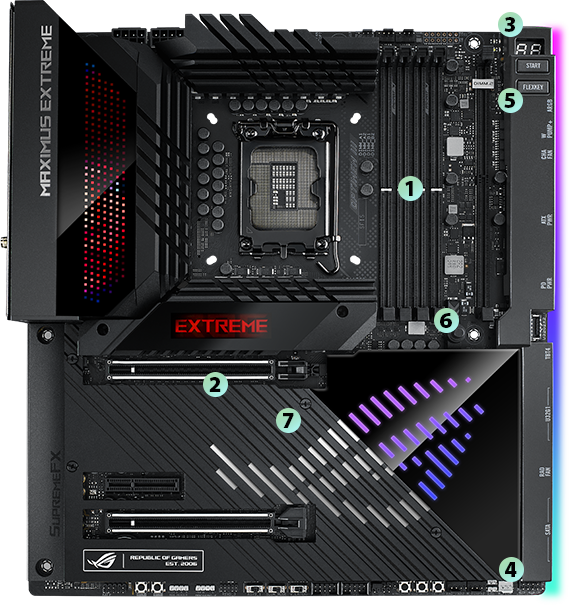 Flexkey
By default, the FlexKey functions as a system reset button, but it can also be easily set to quickly turn Aura lighting on or off, activate Safe Boot, or enter the BIOS.
PCIe Slot Q-Release
Provides easy PCIe card removal with a single button.
M.2 Q-Latch
A simple locking mechanism secures an M.2 SSD without the need for special tools.
Choose Your Z790 Motherboard

ROG MAXIMUS
Overclockers & Extreme Gamers
ROG Maximus motherboards deliver the best that the Z790 platform has to offer. Each delivers its own unique design and features, opening new territories for the elites of PC DIY: the makers, the die-hard enthusiasts and the custom PC pioneers who construct captivating machines that push performance boundaries.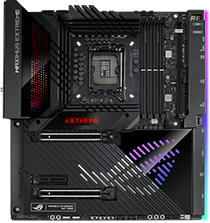 EATX
24 +1 power stages (105A)
4 x DIMM, Max. 128GB, DDR5
PCIe 5.0 ready
1 x PCIe 5.0 M.2
4 x PCIe 4.0 M.2
2 x USB 3.2 Gen 2x2
2 x Thunderbolt™ 4 (USB4® compliant)
WiFi 6E, 1 x 10 Gb Ethernet, 1 x 2.5 Gb Ethernet
AEMP II, AI Overclocking, AI Cooling II
ROG DIMM.2, ROG Fan Controller, ROG True Voltician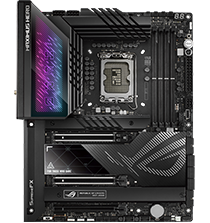 ATX
20 +1 power stages (90A)
4 x DIMM, Max. 128GB, DDR5
PCIe 5.0 ready
1 x PCIe 5.0 M.2
4 x PCIe 4.0 M.2
1 x USB 3.2 Gen 2x2
2 x Thunderbolt™ 4 (USB4® compliant)
WiFi 6E, 1 x 2.5 Gb Ethernet
AEMP II, AI Overclocking, AI Cooling II
ROG Hyper M.2 Card
ROG STRIX
Style-Conscious Gamers
ROG Strix motherboards take Republic of Gamers DNA and deliver it in packages that balance exceptional gaming performance with striking looks for style-conscious gamers.
TUF GAMING
Casual Gamers & First-Time Builders
TUF Gaming motherboards are specially designed and tested to survive and thrive in conditions where others would struggle. Engineered with highly durable components, this model delivers unwavering stability for gaming sessions that can go until the break of dawn.
PRIME
All-Round Builders
Boasting robust power designs, comprehensive cooling solutions and intelligent tuning options, the ASUS Prime series motherboards provide daily users and DIY PC builders a range of performance tuning options via intuitive software and firmware features.