Now with the launch of Seagate NAS and desktop drives in capacities up to 14TB, you can deliver both performance AND capacity, whether you specialize in network attached storage, desktop upgrades, empowering creative pros or high-performance gaming.
New IronWolf and IronWolf Pro models expand NAS boundaries with unrivaled reliability, performance and scalability.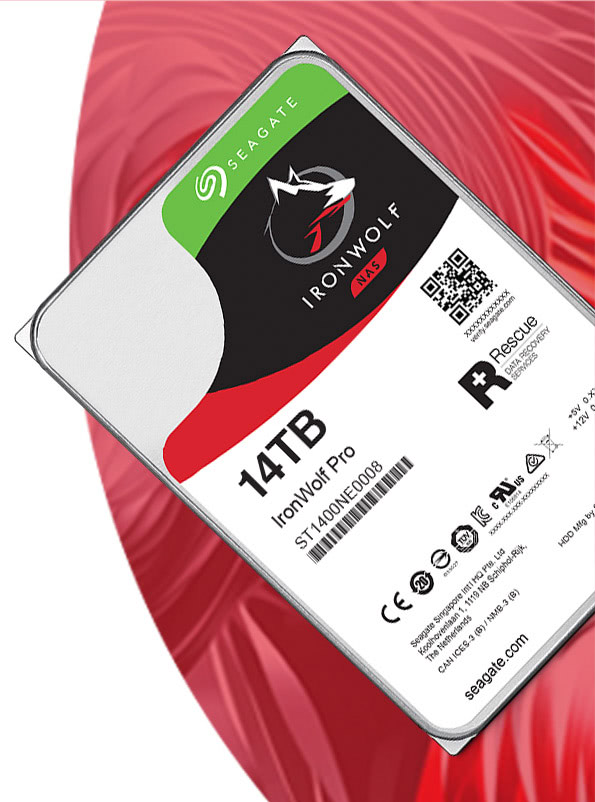 With the release of new 14TB IronWolf and IronWolf Pro hard drives, Seagate furthers its NAS leadership by delivering a combination of reliability, performance and scalability that the competition can't touch.
Whether in connected homes, SOHO or SMB NAS environments, your customers want NAS solutions that deliver reliability, performance and capacity. That's why Seagate IronWolf NAS drives are
tough, ready and scalable:


● Tough: Boasting reliability that's underscored by 1M hours MTBF/3-year warranty (IronWolf™) and 1.2M hours MTBF/5-year warranty (IronWolf™ Pro), these drives enable the rugged NAS systems your customers demand.

● Ready: Get performance with a sustained data transfer rate of 250MB/s and best-in-class workload rating levels (WRL) of up to 180TB/year on IronWolf™ and 300TB/year with IronWolf™ Pro, ensuring customers can do more in multi-user environments.

● Scalable: With available capacities up to a market-leading 14TB and featuring AgileArray technology including RV sensors, IronWolf™ HDDs allow users to seamlessly expand their NAS storage as needs grow.


BarraCuda Pro 14TB Sets New Standard for Computer Hard Drives

BarraCuda Pro has always been both a creative professional and tech enthusiast's dream, and now with the availability of a 14TB version it offers an unprecedented combination of capacity, performance and reliability.
Setting a new standard for computer drives, BarraCuda Pro 14TB is
versatile, fast and dependable: