ASUS ROG Strix XG35VQ 35" Curved UWQHD 1440p 100Hz DP HDMI Eye Care FreeSync/Adaptive Sync Gaming Monitor
35" UWQHD (3440 x 1440) 1800R curved monitor with 100Hz and Adaptive Sync/FreeSync for immersive, smooth gaming with DisplayPort and HDMI connectivity
Enhanced customization featuring ASUS Aura Sync RGB lighting on the back and LED lighting projection in the base
Marathon ready with swivel, tilt and height adjustability and VESA mount so you can always find your ideal viewing position
ASUS Eye Care technology minimizes eye fatigue and ailments with flicker-free backlighting and blue light filters
Exclusive GamePlus and GameVisual now with new MOBA mode for color enhancements for more focused gameplay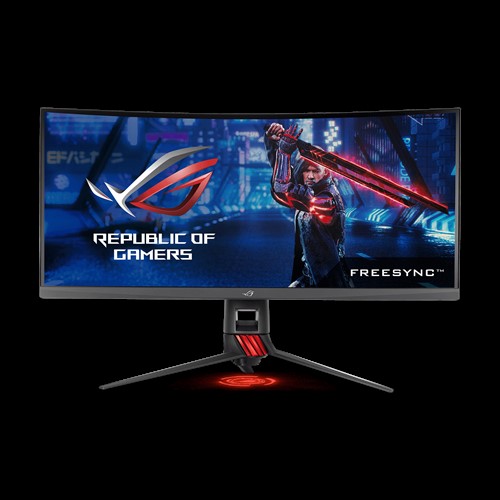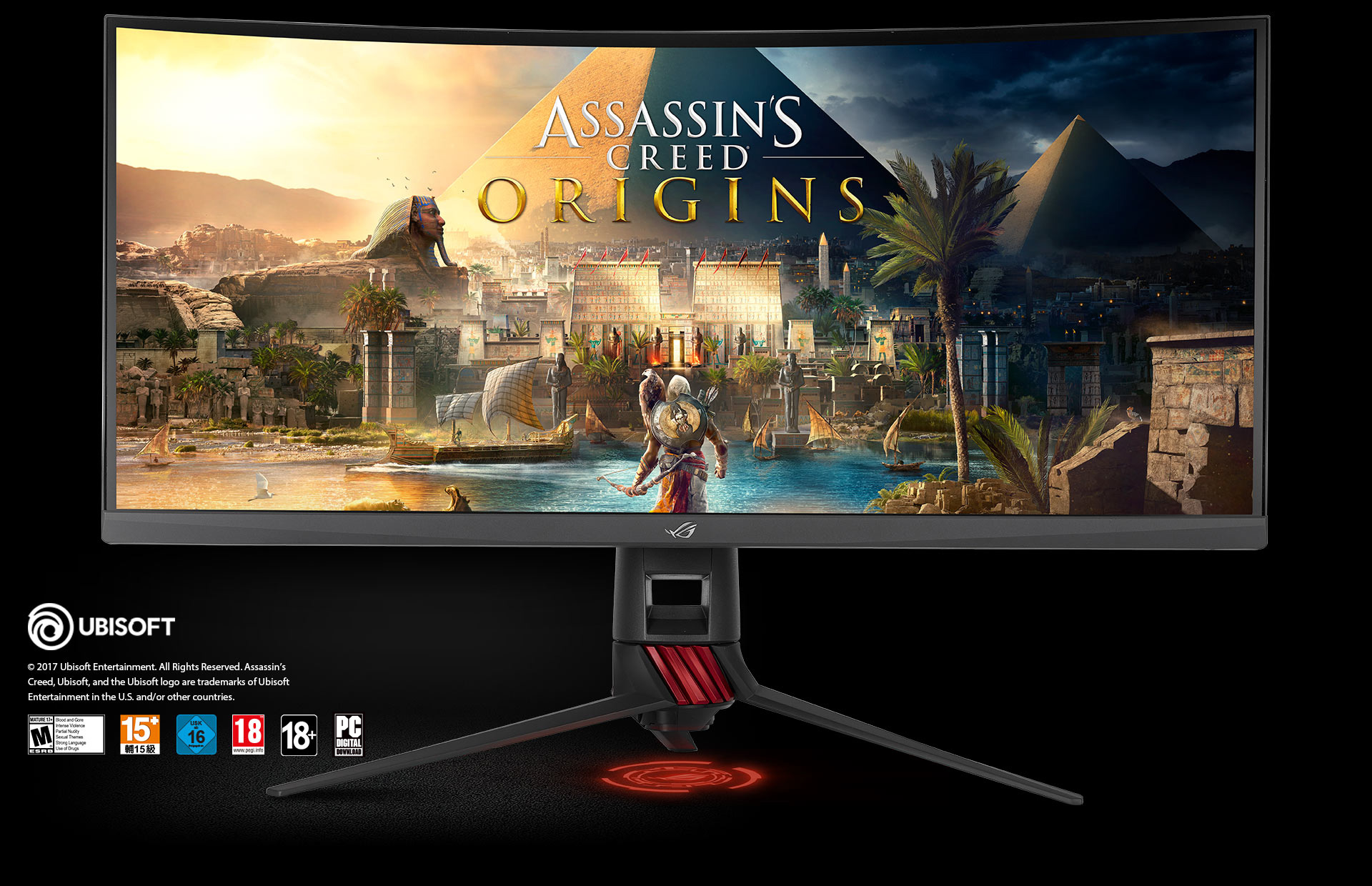 ROG Strix XG35VQ is a 35-inch WQHD curved monitor that wholly immerses you in the action. Its advanced features and design make it the perfect ally for any gaming adventure!
Strix XG35VQ is the largest gaming monitor of the ROG family. Its impressive curved display features a 100Hz refresh rate and Adaptive-Sync (FreeSync™) technology, for extremely fluid gameplay without tearing and stuttering. It also includes integrated ASUS Aura Sync lighting that allows for seamless synchronization with other Aura-enabled components and peripherals, adding personality to your gaming setup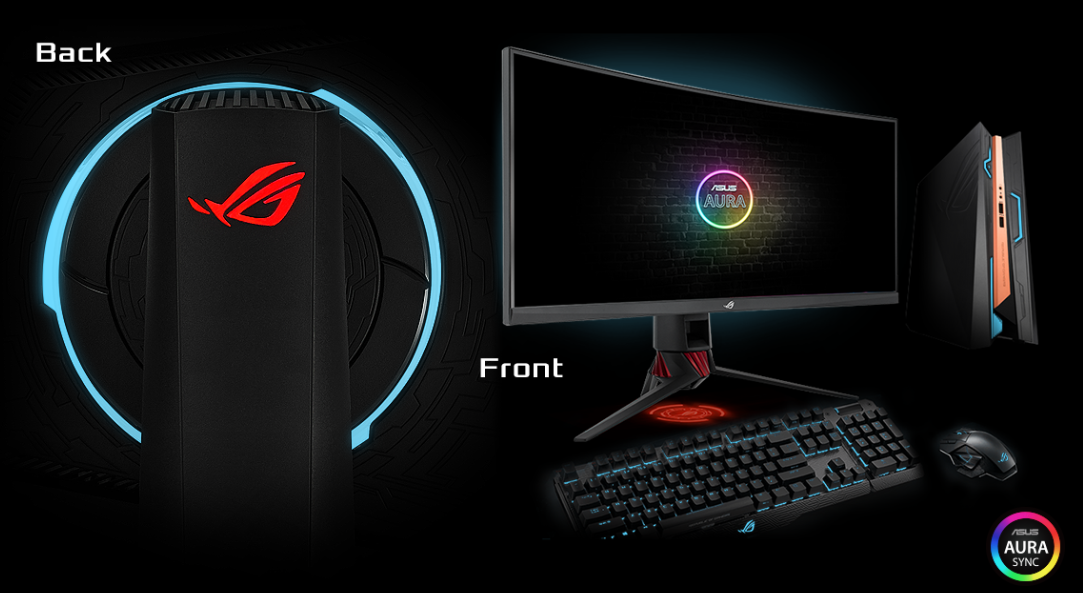 AN IMMERSIVE GAMING ARENA
EXPERIENCE THE CURVE
ROG Strix XG35VQ maximizes your field of vision with a large 35-inch display and an 1800R curvature which ensures that every point is equidistant to your eyes. Thanks to its size and shape, you'll experience greater immersion and viewing comfort - even during marathon gaming sessions. Enjoy wide viewing angles with less distortion and color shift, and get better visuals for games, movies, or anything else!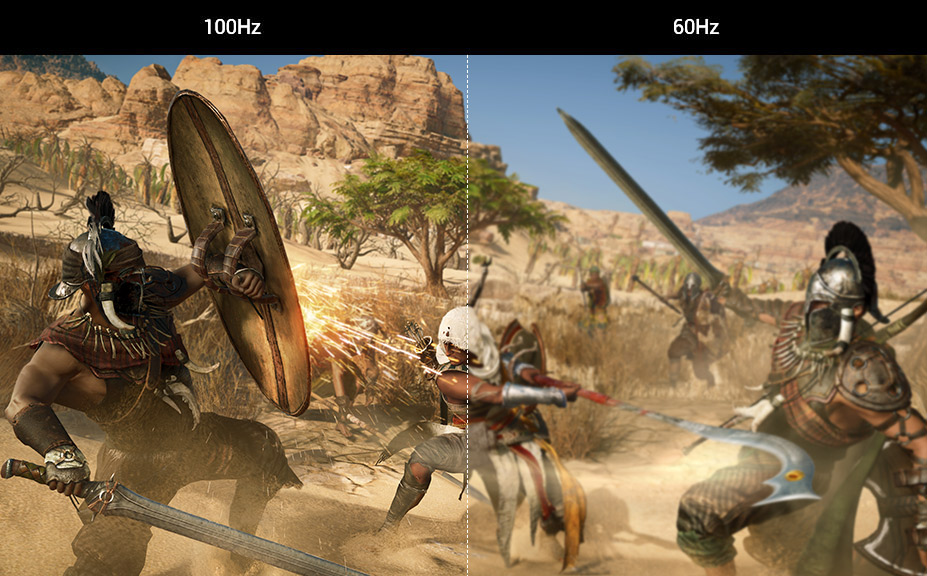 The days of frustrating lag when playing fast-paced games are gone: With an incredible 100Hz refresh rate, ROG Strix XG35VQ gives you the upper hand in first-person-shooters, racers, real-time strategy, role-playing, and sports titles.
ASUS-EXCLUSIVE EXTREME LOW MOTION BLUR TECHNOLOGY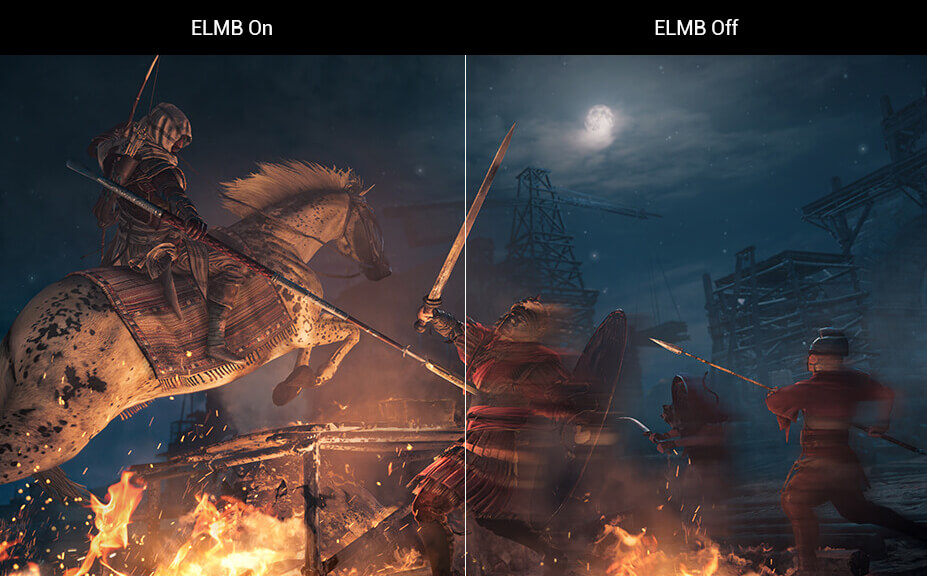 ROG Strix XG35VQ features the latest ASUS-exclusive Extreme Low Motion Blur technology, which eliminates smearing and motion blur, and makes objects in motion look sharper, so gameplay is more fluid and responsive.
Adaptive-Sync (FreeSync™) technology delivers the smoothest, fastest, and most breathtaking gaming visuals imaginable by eliminating screen tearing and choppy frame rates, and by minimizing display stutter and input lag. ROG Strix XG35VQ gives you seamless, lag-free visuals when playing the latest games with fast-moving visuals.
GAME-INSPIRING AESTHETICS
CUSTOMIZABLE LIGHT SIGNATURE

Light Signature is an exclusive feature that lets you create and customize light-projection effects on your ROG Strix XG35VQ. It includes two ROG logo covers and one blank cover for creating customized light projections that show your unique gaming style.
Strix XG35VQ features a super narrow design, making it the ideal solution for almost-seamless multi-display setups. Build the ultimate battle station, and enjoy total immersion!
GAMER-CENTRIC ENHANCEMENTS
GAMEPLUS TECHNOLOGY
Stemming from the ROG commitment to creating the best gaming experiences, ROG Strix XG35VQ features the ASUS-exclusive GamePlus hotkey with in-game enhancements that help you get the most out of your game. This function is co-developed with input from pro gamers, allowing them to practice and improve their gaming skills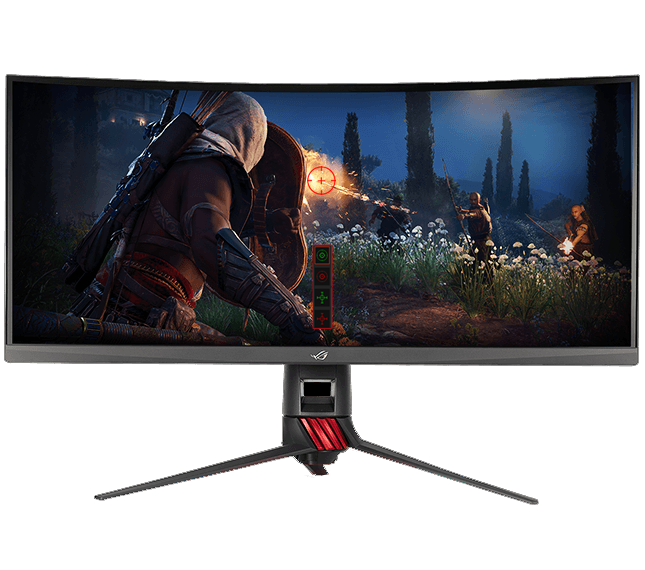 A crosshair overlay provides four different crosshair options, so you can select the one that best suits the shooter you're currently playing.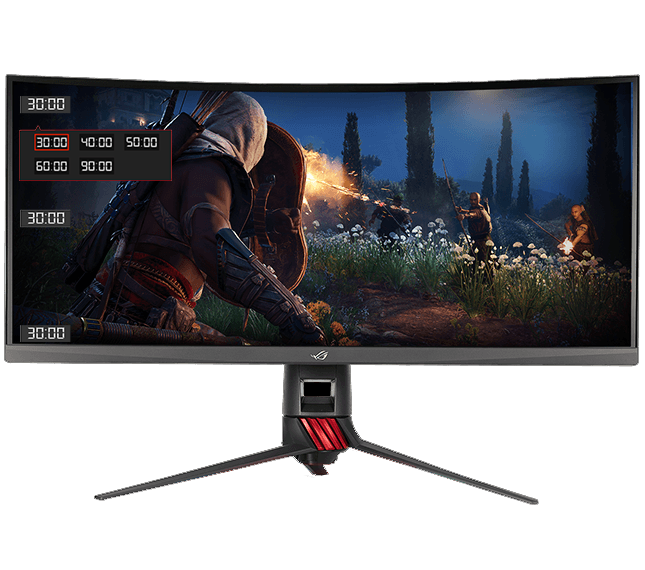 Onscreen timer that can be positioned on the left of the display to keep track of elapsed game time.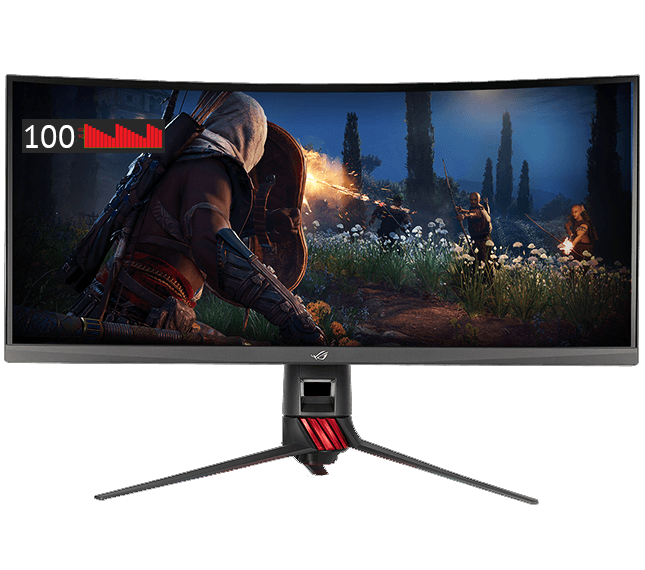 The FPS counter lets you know how smoothly the game is running. *This can be activated while FreeSync™ is on.
Activating the display alignment function gives users three alignment lines on all four corners of the monitor to take the guesswork out of multi-display set-ups, so each monitor lines up perfectly.
ASUS-exclusive GameVisual technology
DisplayWidget is a utility software that lets users easily and quickly tweak settings or configure ASUS GameVisual, App Sync™ and blue light filters. Configurations can also be changed via the onscreen display or the navigation joystick, but ASUS DisplayWidget provides a faster and easier way to access these settings.
ASUS GameVisual Technology has seven pre-set display modes to optimize visuals for different types of content. This unique feature can be easily accessed through a hotkey or the On Screen Display (OSD) settings menu.

Racing
Reduces input lag for real time racing and fast gaming experience.
Cinema
Enhances contrast and color saturation for lively, vivid visuals — ideal for viewing movies.
RTS/RPG
Enhances color saturation and contrast sharpness to give you better, brighter colors and detailed visuals for real-time strategy (RTS) or RPG games.
FPS
High contrast brightens up darker areas and shadows onscreen to help gamers spot hidden enemies.
sRGB
Perfect for surfing the web or editing photos.

Scenery
Provide more contrast gradations makes grass greener and skies bluer so it's ideal for slide shows.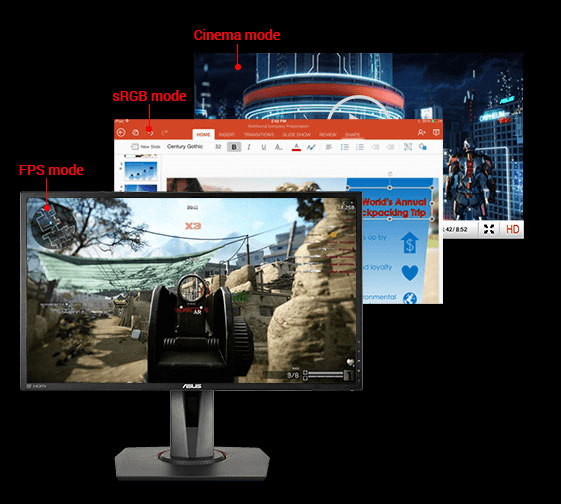 App Sync™
Lets you assign specific ASUS GameVisual modes to individual applications and game titles to make sure the program you are using is in your preferred mode. You also have the option of changing these assigned settings quickly .
Ultra-Low Blue Light technology
DisplayWidget also lets users access different blue light filter settings. ASUS Ultra-Low Blue Light technology reduces the amount of blue light emitted by the display and features four different filter settings onscreen to suit the task at hand. These settings can also be easily accessed via the OSD menu.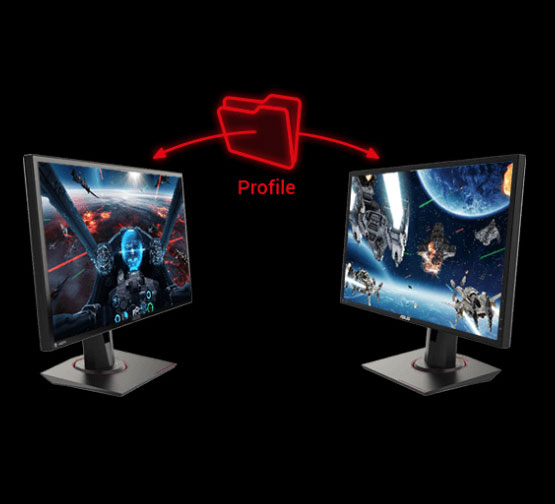 Sharable display setting parameter
All customized GameVisual settings can be saved to an AXML file format that can be shared with other same monitor users.
ROBUST CONNECTIVITY
ROG Strix XG35VQ offers a wide selection of connectivity options, including DisplayPort 1.2, two HDMI ports and earphone jack, USB3.0 ports.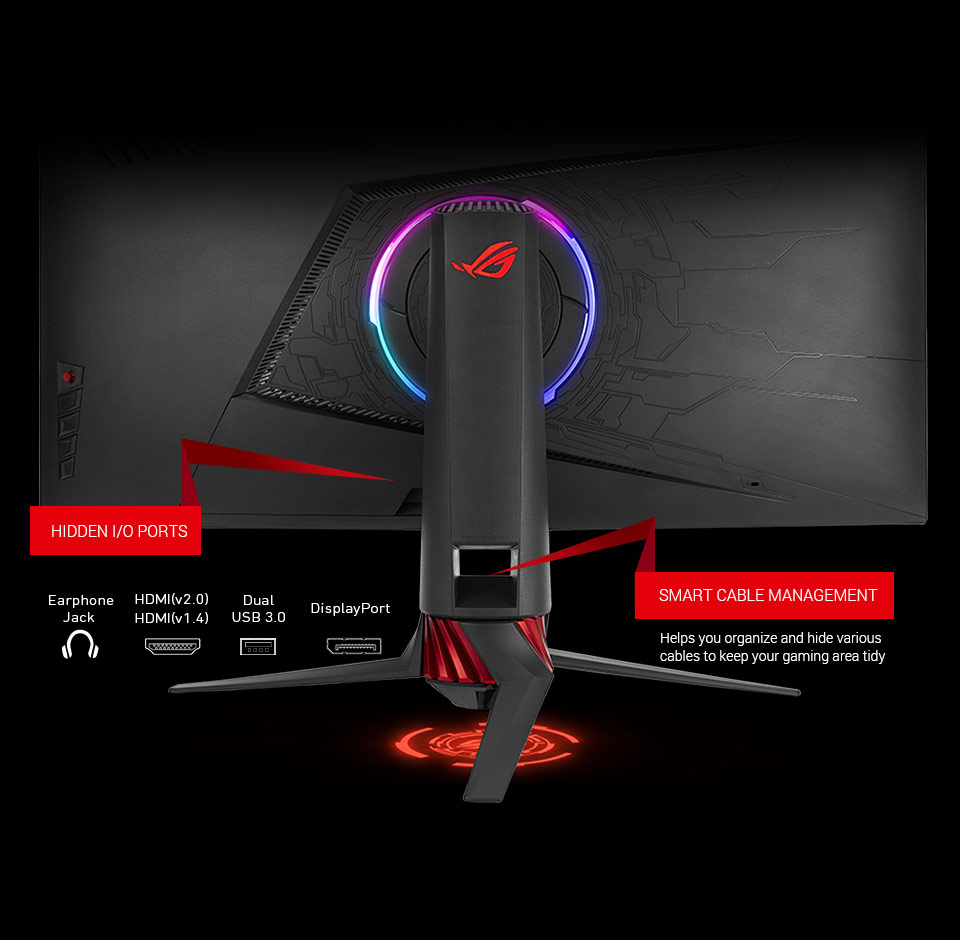 DESIGNED FOR MARATHON GAMING SESSIONS
ULTRA-LOW BLUE LIGHT TECHNOLOGY
ROG Strix XG35VQ includes TUV Rheinland-certified ASUS Ultra-low Blue Light filters to prevent eye strain. Select from four different filter settings via the on-screen menu.
LOW BLUE LIGHT LEVEL
FLICKER-FREE TECHNOLOGY
ROG Strix XG35VQ reduces onscreen flicker to give you a more comfortable gaming experience, and to minimize eye strain during marathon gaming sessions.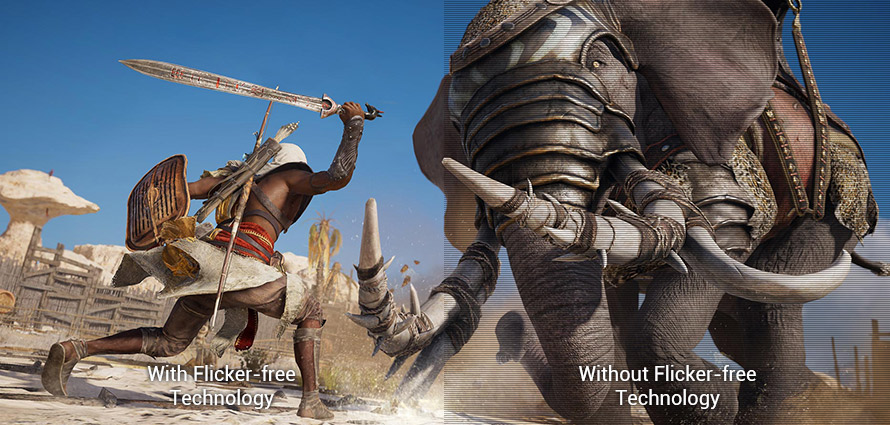 ERGONOMIC DESIGN
ROG Strix XG35VQ features a stand that's ergonomically designed to offer extensive swivel, tilt, and height adjustment - so you can always attain the ideal viewing angle.