Seasonic FOCUS 650 Gold Power Supply, Model# SSR-650FM
The Seasonic FOCUS 650 is an 80 PLUS GOLD-rated power supply that delivers reliability, stability and high-efficiency, all at a price that won't bust your wallet. It features tight voltage regulation for stable operation, and adopts 105°C Japanese-made capacitors for reliable performance and an extended lifespan. The semi-modular design comes with 24-pin (motherboard) & 4 + 4-pin (CPU) connectors pre-attached. So users have the flexibility of using only the cables they need while keeping any unused cables out of the case, completely out of the way. The 120mm FDB fan inside is regulated by the Seasonic S2FC fan control, which delivers an optimized balance between cooling performance and operation noise.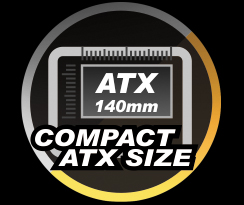 Compact Size
This ultra high-power density, small footprint (140mm depth) power supply is an ideal choice for all chassis sizes, especially compact ATX cases.
Fluid Dynamic Fan Bearing
High-performance fluid dynamic-bearing (FDB) fans are designed to take advantage of the impact-absorbance effects of oil. They are extremely reliable and generate considerably less operating noise and heat than ball-bearing fans. The lubrication of the bearing surface reduces friction and vibration, therefore lowering overall power consumption. Due to the effortless, quieter rotations and its robust construction, this reliable fan technology also greatly Increases the overall lifespan of the fan.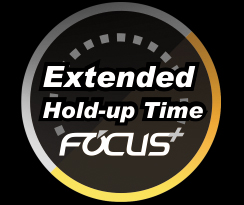 Extended Hold-Up Time
We extended the PG hold-up time from the Intel standard In order to allow Seasonic's Focus+ to provide stable electrical performance even during unstable current input conditions.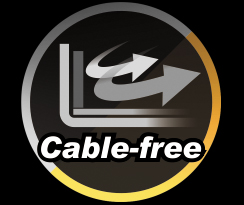 Cable-Free Connection Design
Seasonic's engineers have implemented a new design feature. Instead of using cables, the back panel and the PCB (Printed Circuit Board) are connected by a copper plate. This breakthrough solution not only lowers the chance of production errors during manual insertion but also improves output power quality. By utilizing a cable-free design, we've committed to provide superior quality up to 10 years.

Ultra-High Efficiency, 80 PLUS* Platinum Certified
The Seasonic FOCUS+ 80 PLUS Platinum-certified power supply is rated to achieve 92% efficiency at 50% system load.
Ultra-High Efficiency, 80 PLUS* Gold Certified
The Seasonic FOCUS+ and FOCUS 80 PLUS Gold-certified power supply is rated to achieve 90% efficiency at 50% system load.
DC-to-DC Converter Design
Provides superior dynamic response, greater system stability and maximizes the 12V DC rail output.

Ample +12 V Output
Enhanced +12V current capability broadens utilization possibilities.

Tight Voltage Regulation [± 3%]
Improved load regulation reduces voltage variations to provide smooth and stable operations.

Active Power Factor Correction [Up to 99%]
Reduces line loss and power distortion.

Highly Reliable Aluminum Electrolytic Solid Capacitors
Top-grade, Japan-sourced components extend product life and ensure operation stability under extreme conditions.

120mm Fluid Dynamic Bearing (FDB) Fans
The fluid dynamic bearing (FDB) is a modified standard sleeve-bearing that improves the overall lubrication of the bearing.
Compact Size
This ultra-high power density, small-footprint (140mm depth) power supply is an ideal choice for all, especially compact ATX cases.

Gold-Plated High-Current Terminals
Reduces current transmission resistance for increased efficiency.

Multi-GPU Technologies Supported
6-pin and 8-pin PCI-E connectors support all GPU platforms.

10-Year Warranty
Our commitment to superior quality.
Excludes Focus-series products with a 7-year warranty.
Seasonic Hybrid Silent-Fan Control
The industry's first three-phased advanced thermal control achieves optimal balance between silence and cooling through three operational stages: Fanless Mode, Silent Mode and Cooling Mode. In addition, there is a switch provided to allow for manual selection between the Seasonic SFC (fan control without Fanless Mode) and the STC (fan control with Fanless Mode).
Benefits
Reduces noise without an increase in temperature
Extends fan life by reducing the number of fan rotations
Optimizes heat dissipation at all times
Fanless Mode provides unsurpassed silent performance
Patent #: TW410250, CN808637, CN1980304. Patent Pending: US. JP
Except for Focus-series products with Smart & Silent-Fan control.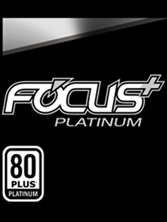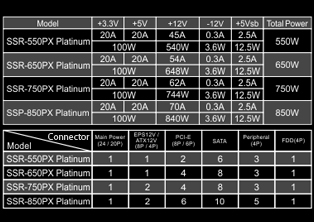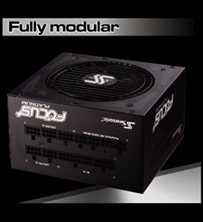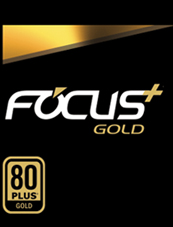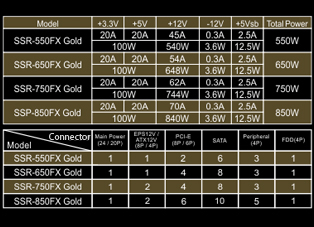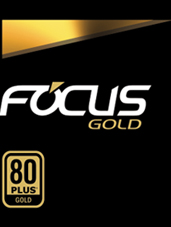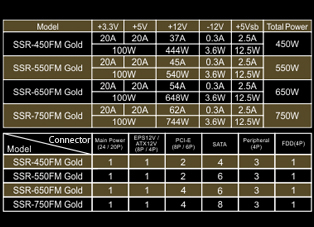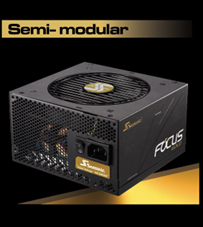 650 FM Power Supply Unboxing