INTRODUCTION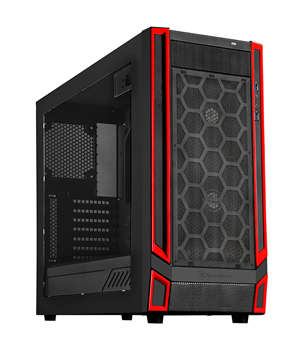 Redline Series RL05
Includes front mounted USB 3.0 Type-C port
Includes two 140mm LED fans designed to generate positive pressure
Super clean internal look with PSU and drive bay cover
Quick access filters for easy cleaning
Motherboard back plate opening for quick CPU cooler assembly
All black painted interior for stylish look
Supports graphics cards up to 14.7"
The Redline series RL05 was created with the goal of exceeding user experience and expectation for affordable PC chassis by offering punchy styling and features reserved often for more expensive models. RL05 includes two 140mm LED fans as intakes to inject large amount of air flow through filter for SilverStone's signature positive pressure setup that not only provides great cooling but also minimal dust buildup. PSU and drive bay areas have covers to clearly section off individual components inside for separate cooling zones while also letting users hide cables for pristine look on the interior. Lastly, a USB 3.0 Type-C port is located in the front I/O cluster to provide convenient connection to this reversible plug-in technology. For enthusiasts looking to build a PC with top-notch features and styling on a budget, the RL05 is an outstanding choice.