Are you an E-Blast Insider?

Shop without retyping payment details. Secure shopping made faster.
Check out with PayPal.
Killzone: Shadow Fall takes place 30 years after the events of Killzone 3. Set in an era of interplanetary colonization, it focuses on the conflict between the Vektans and the Helghast, two rival colonist factions inhabiting a distant planet. For three decades, both factions have lived side by side, separated by an enormous security wall – but now their cold war is about to go hot.
It's up to Lucas Kellan, a member of the military intelligence unit known as the Shadow Marshals, to try to protect the fragile peace that exists. A new warrior for a new era of war, Kellan 's missions will range from quiet infiltrations to all-out combat. Lucas will need to be methodical and ready to adapt, as any misstep could lead to mutually assured destruction!
CAMPAIGN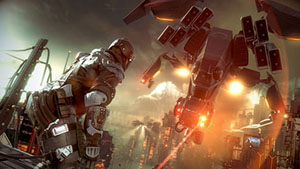 Following the cataclysmic chain of events that destroyed planet Helghan and abruptly ended the war in Killzone 3, the Helghast survivors and ISA remnants have settled into an uneasy truce. As part of the post-war reconciliations, the Helghast have been granted their own sectors on the lush, Eden-like planet of Vekta and its glorious capital, Vekta City.
For three decades, both factions have lived side by side, separated by an enormous security wall – but now their cold war is about to go hot. Behind the scenes, forces within each faction have begun warring and conspiring to further their own agendas. Some, like the extremist splinter group Black Hand, want to force an all-out civil war. Others, like Helghast intelligence operative Echo, are desperately trying to prevent it.
As Shadow Marshal Lucas Kellan, you must deal with the escalating hostilities before they envelop the entire planet. A new warrior for a new era of war, your missions will range from quiet infiltrations to all-out combat. You will need to be methodical and ready to adapt, as any misstep could lead to mutually assured destruction...
---
CHARACTERS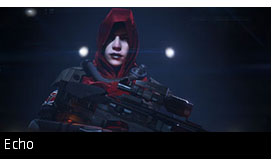 Helghast Intelligence Operative
Highly resourceful and extremely dangerous, the true identity of the young Helghast Intelligence Operative codenamed 'Echo' remains a mystery. She is portrayed by Jamie Gray Hyder, best known for her breakout role as the werewolf Danielle on the award-winning television series True Blood. Echo's most recent mission – infiltration of a Helghast anti-government group – has led her across the wall and into Vektan territory. This places her on a collision course with VSA Shadow Marshal Lucas Kellan. Nevertheless, Echo maintains that she's there "to end this, not start another war." Time will tell if she speaks the truth.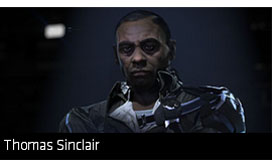 Director, VSA
Thomas Sinclair is the Director of the Vektan Security Agency and the direct command officer of Shadow Marshal Lucas Kellan. He is portrayed by David Harewood, who also starred as CIA Deputy Director David Estes on the critically acclaimed television series Homeland. Sinclair possesses a shrewd, strategic mind, but the presence of the Helghast weighs heavily on him. He contends that "every day New Helghan continues to exist, we are under threat." As such, Sinclair goes to great lengths to ensure that the balance of power remains tipped in Vekta's favor.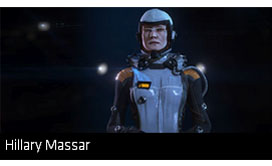 Scientist, VSA
Dr. Hillary Massar is a brilliant scientist who has worked on several highly classified projects for VSA's science division. Played by Azura Skye, the highly clinical and efficient Dr. Massar has become somewhat detached from human emotions in the course of her career. Nevertheless, she remains enthralled by the scientific possibilities of evolutionary change – particularly as observed in the Helghast. "We see these red-eyed beings as nothing less than human. But in those same eyes, I see the fire of evolution," Dr. Massar argues. Former colleagues are concerned that her interest in the subject has crossed into obsession.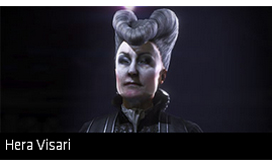 Chancellor of New Helghan
As Chancellor of New Helghan and daughter of the infamous 'Father of the Helghast' Scolar Visari, Hera Visari walks a political tightrope. She must reconcile the hardline doctrines of her party with the very real need for peace and security in New Helghan. According to some sources she may already be losing the support of the Helghast military. Played by award-winning stage and screen actress Lisa Banes, Chancellor Visari is fiercely protective of her people and will not tolerate any form of outside meddling. "We must have the right to defend ourselves from foreign aggressors, and by whatever means necessary," she insists.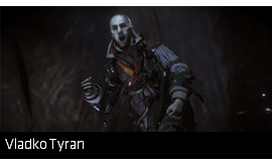 Black Hand Leader
Vladko Tyran is the leader of the Black Hand, a splinter faction of Neo-Helghast radicals. He aims to avenge the destruction of planet Helghan by provoking a new war with the Vektans. Played with gleeful fanaticism by Crispian Belfrage, Tyran is furious over the perceived weakness of his own government. He has sworn that Black Hand's violent attacks "will not stop until the canals of this city run red with Vektan blood." He is wanted by intelligence agencies on both sides of the wall, although there is evidence to suggest that Tyran has received military support.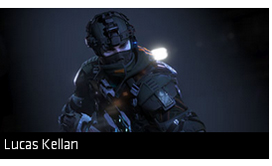 Shadow Marshal, VSA
As a member of the elite intelligence unit known as the Shadow Marshals, Lucas Kellan serves directly under VSA Director Sinclair. He frequently engages in covert operations against threats to Vektan national security, both at home and across the wall. Kellan must maintain the deniability of VSA involvement in these operations to prevent the already strained Vektan-Helghast relations from deteriorating any further. To Kellan, who is voiced by Gene Farber, that's a small price to pay. "We like to think it's paradise where we live," he observes. "it's amazing what you'll do to protect that."
---
MULTIPLAYER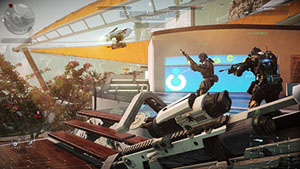 Just like the single player campaign, Killzone Shadow Fall's 24-player multiplayer component gives you the freedom to play how you want.
Warzones
Using the new customizable Warzone feature, you can pick the number of players, rules, mission modes, classes, abilities and weapons allowed in a match, then save these choices as a custom Warzone to share with the rest of the community.
Classes & Abilities
There are three distinct classes and 14 unique special abilities in multiplayer. Each of the classes can be enhanced with up to two special abilities, allowing for highly specialized playing styles.
Weapons & Attachments
Killzone Shadow Fall features 22 different weapons, all of them unlocked from the get-go. Each weapon can be augmented with up to two different attachment types at once. There are 19 different weapon attachments in total, which can be unlocked by completing specific Challenges.
Challenges
Killzone Shadow Fall multiplayer has a new progression system based on Challenges rather than XP. Completing a Challenge adds points to your rank, and rewards you with weapon attachments as well as enhancements to your abilities and visual identity.
Spotlight System
The Spotlight System allows players to celebrate victory in style. At the end of each round, participants are presented with a brief action scene in which one of the top players from the winning team can perform a victory move against the top player from losing team.
Post-Launch Support
Killzone Shadow Fall will extensive post-launch support with frequent releases of DLC expansion packs offering new gameplay and customization features. At the same time, all DLC multiplayer maps will be released free of charge to prevent the player base from becoming fractured.
Gallery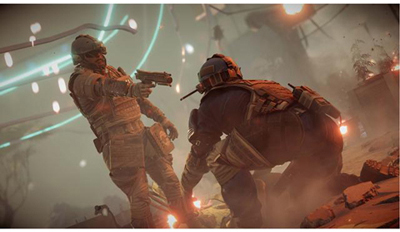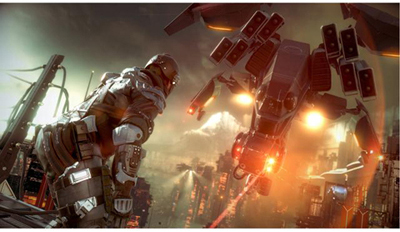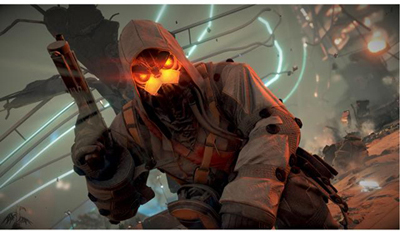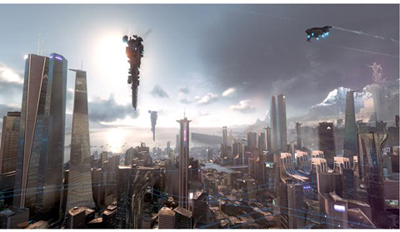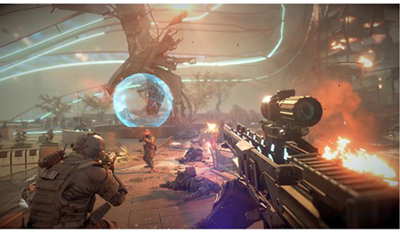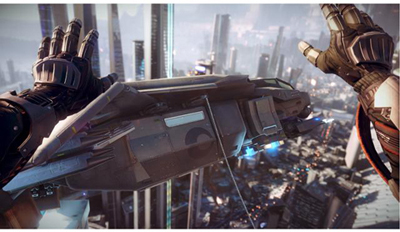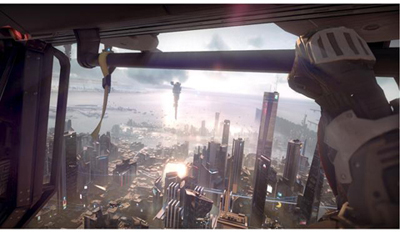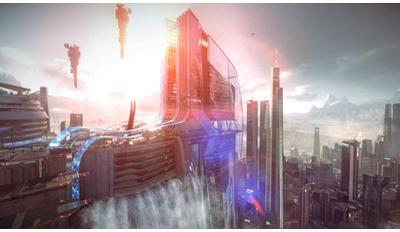 Warranty & Returns
Warranty, Returns, And Additional Information
Return Policies
Return for refund within: non-refundable
Return for replacement within: non-replaceable
This item is covered by Newegg.com's Manufacturer Only Return Policy
Manufacturer Contact Info
Support Phone: 1-800-345-7669
LOADING...