Color Card II
UHS-I U3 MicroSD CARD
TEAMGROUP Color Card II
Cramming massive performance and capacity in a tiny package, the Color Card II microSDXC/SDHC card is ideal for phones, drones, action cameras and more devices that accept this type of media. It is speed-rated at Class 10 and UHS-I Class 3 (U3), capable of uninterrupted video recording at 4K Ultra HD and responsive capturing of high-resolution photos—you will never miss any precious moment. The Color Card II is also waterproof, dustproof and x-ray proof, keeping your data safe and sound in the conditions of real world. An SD card adapter is included for use with DSLRs, camcorders and other SD-compatible devices.
Available in 16/32/64/128GB, with a specific color scheme for each capacity option.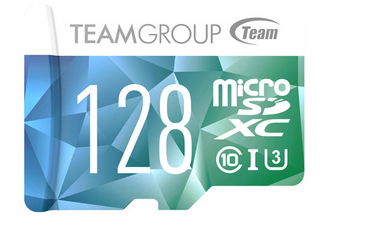 Color Card II UHS-I U3 MicroSD CARD
128GB, 64GB, 32GB, 16GB
FEATURES
Ultra High-Speed Class 3 specification
Supports 4K Ultra HD and Full HD video recording and playing
Read and write speed up to 90MB and 45MB per second
Waterproof, dustproof and x-ray proof
New printing technology. Fulfill the goal of an eco-friendly product
Lifetime warranty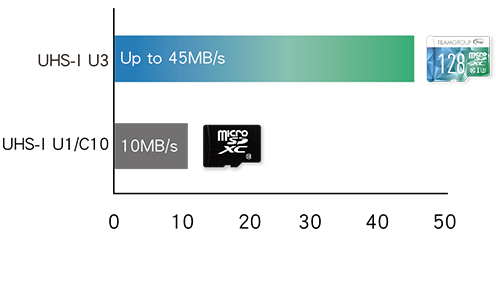 1 Card, 2 Usages, 3 Times of speed
TEAMGROUP releases the second generation of Color Card. The microSD card not only can work independently, but it can also be used with the same color SD adapter to fully serve the purpose of "1 Card, 2 Usages". With the UHS-I U3[1] specification, the read and write speed of the Color Card II is up to 90MB/s and 45MB/s respectively, that is 3 times faster than the read and write speed of a normal UHS-I U1(Class10)[1] memory card. It also supports 4K Ultra HD[2], which meets all kinds of needs in daily life including taking photos, video recording, listening music, storing precious memories, etc. "1 Card, 2 Usages, 3 Times of Speed" offers consumers multiple benefits to completely present amazing moments, and fully enjoy experiencing every second.
Gradient design of dreamy color combinations
The Color Card II from TEAMGROUP follows the exclusive design of Color Card and adopts the line design of a diamond cutting surface. The design is based on colorful gradient and dreamy color combinations. The magnificent 3D visual impression with bold and creative color combinations once again completely changes consumers traditional stereotype about memory cards and enriches the dimensional lifestyle with mobile storage.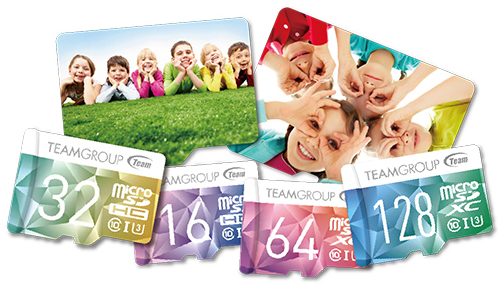 Storing different moments of your colorful life
With exclusive design of gradient color combinations, the Color Card II is released in capacities from 16GB to 128GB. Dreamy color combinations such as Blueberry Blue, Lime Green, Peach Pink, etc. are available for consumers to choose from based on their preferences and needs, storing different moments of the colorful lives.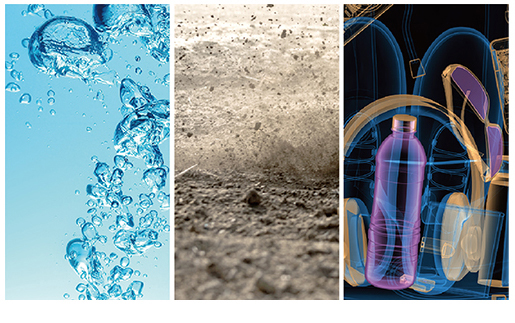 Impervious and perfect triple protections
The Color Card II from TEAMGROUP offers complete and trustworthy triple protections: waterproof, dustproof and x-ray proof. The Color Card II will still keep the data intact even if the shooting device is broken during the travel, offering excellent protection for your beautiful travel memories.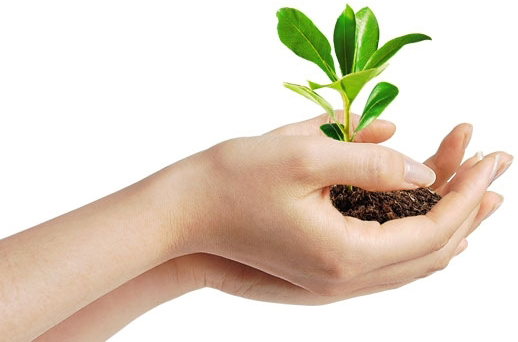 Preserving the planet with an eco-friendly product
The Color Card II is adopting new printing technology which requires no multiple screens when printing with multi colors. During the manufacturing process, not only the color inkjet heat transfer printing is screen free, but we are also using eco-friendly inks to contribute in preserving our planet.