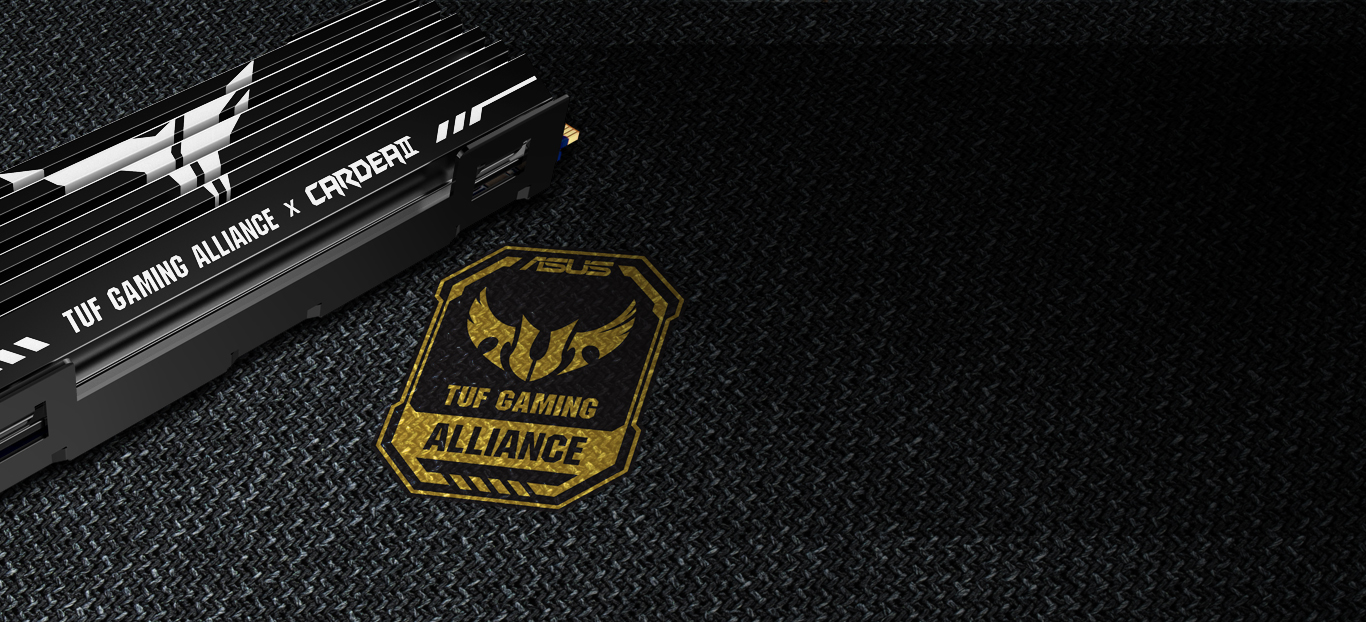 First M.2 SSD with ASUS TUF Gaming Alliance certification
For the first time, T-FORCE and ASUS TUF Gaming Alliance join forces together to launch a M.2 PCIe SSD which is certified and rigorously tested by ASUS TUF Gaming Alliance. The exterior is designed with the unique TUF Gaming style, adding a new weapon to your TUF military camouflage PC!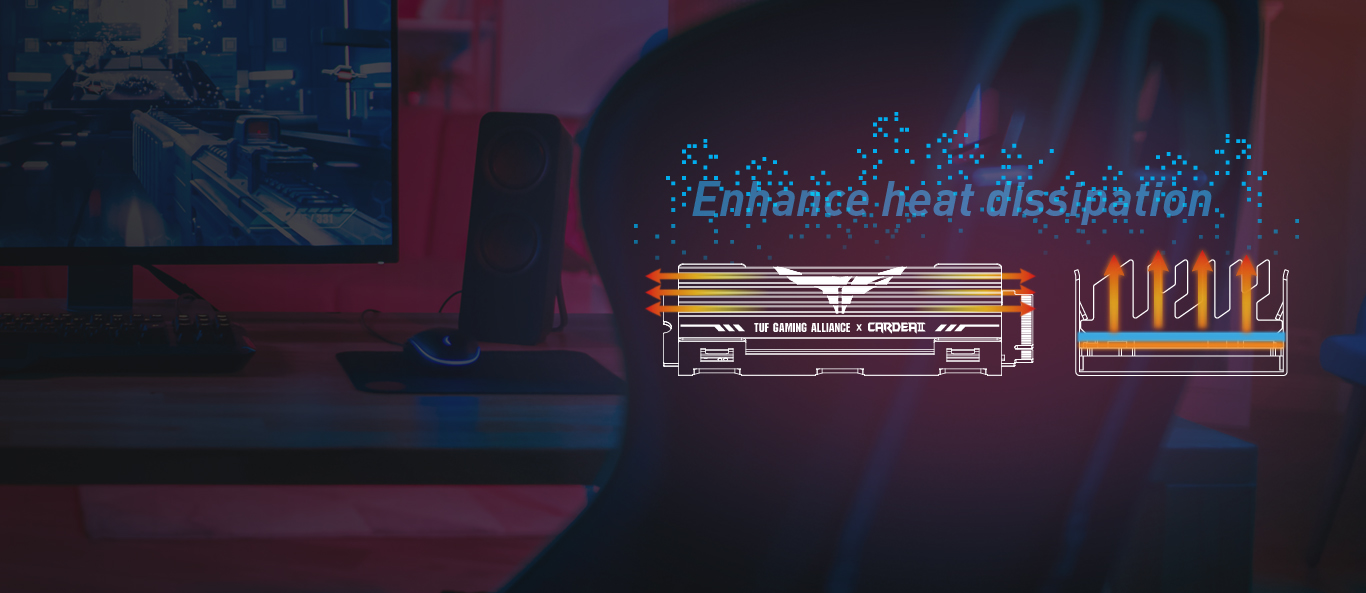 Gaming style cooling fin for best temperature control increases radiating performance by 15%
CARDEA II TUF Gaming Alliance SSD uses TEAMGROUP's patented gaming cooling fin which allows natural convection or forced air cooling (e.g. fan) to enhance heat dissipation. Users don't ever have to worry about speed dropping caused by high temperatures at full speed operation.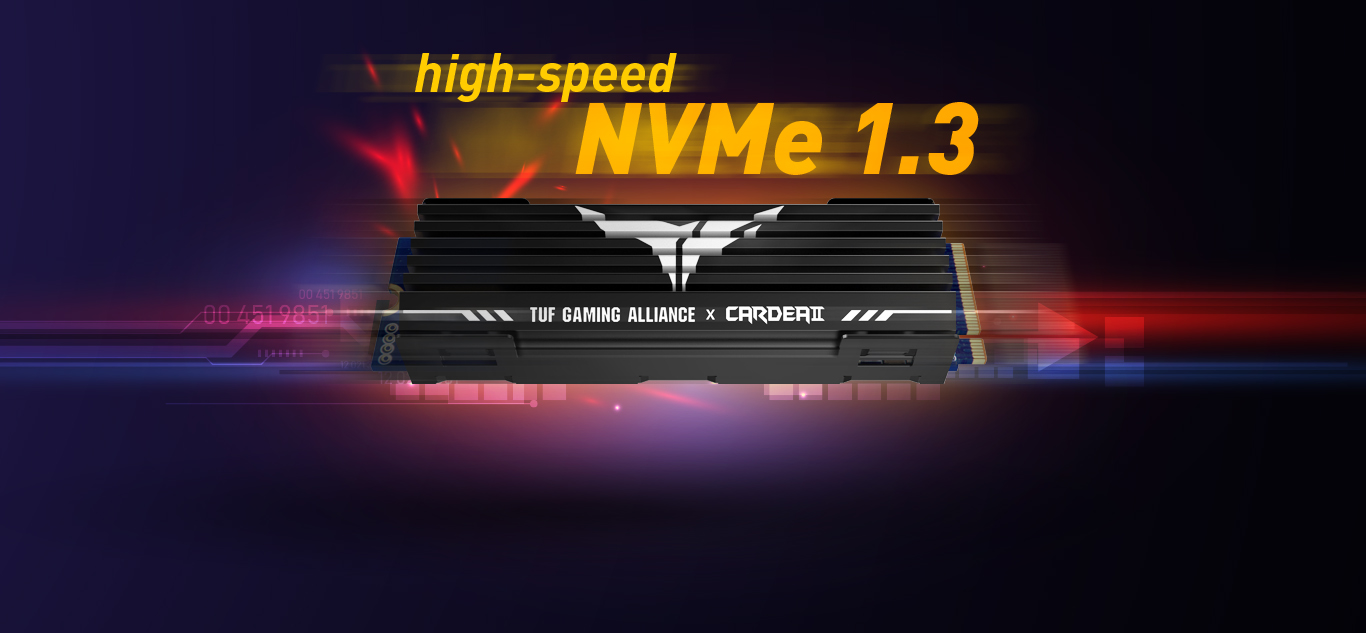 Fully upgraded, extreme performance
The first co-branded M.2 SSD launched by T-FORCE x ASUS TUF Gaming Alliance uses PCIe Gen3x4 high-speed interface and supports NVMe 1.3 protocol. The outstanding performance of sequential read/write speed is up to 3400/3000 MB/s, and the random read/write speed is up to 450K/400K IOPS. The transfer time can be effectively reduced no matter if you are playing games, transfering multimedia files or drawing graphics.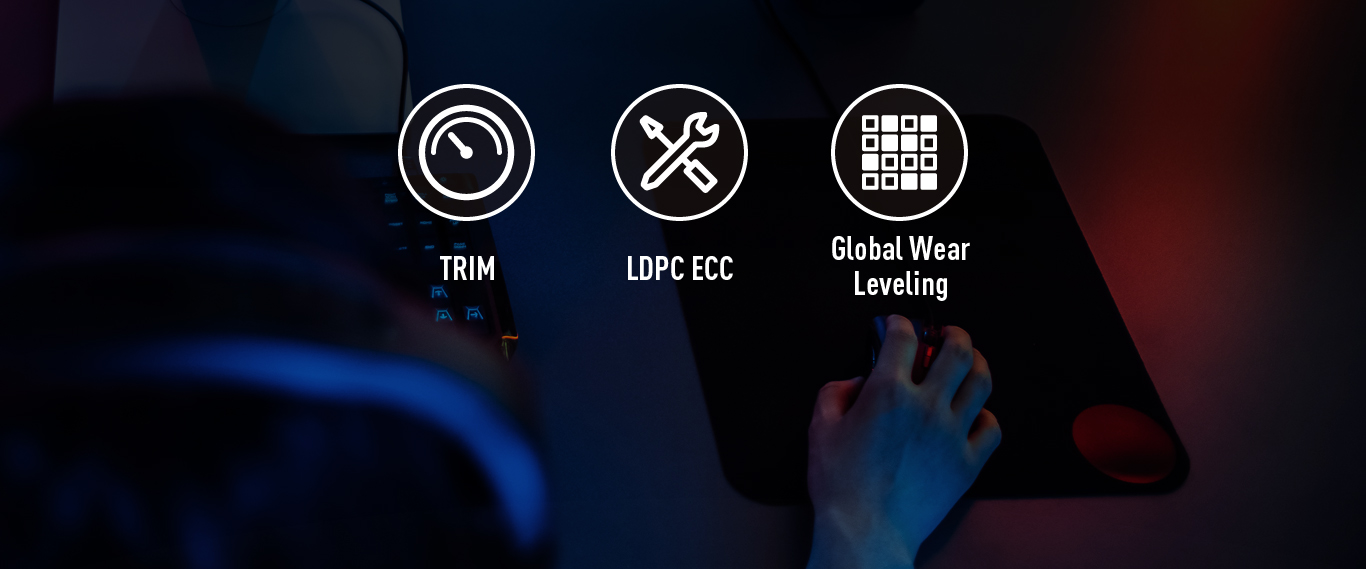 Smart algorithm for prolonging the service life
The built-in smart algorithm management mechanism has functions such as the garbage collection function which can ensure operation efficiency, the powerful Wear-Leveling technology and ECC (Error Correction Code) function which improve the reliability of data transfer. It supports Windows TRIM optimization command which can release free blocks, allowing the operating system to use them immediately when writing data. The optimized access control technology of NCQ can speed up the read and write performance, and effectively prolong the service life of the solid state drive.
Specification
Interface
PCIe 3.0 x4 with NVMe 1.3
Capacity
512GB / 1TB[1]
Color
Black
Voltage
DC +3.3V
Operation Temperature
0°C ~ 70°C
Storage Temperature
-40°C ~ 85°C
Terabyte Written
512GB / 800TB
1TB / 1665TB[2]
Performance
Crystal Disk Mark:
512GB Read/Write: up to 3400/2000 MB/s
1TB Read/Write: up to 3400/3000 MB/s[3]
IOPS:
512GB Read/Write: 350K/300K IOPS Max
1TB Read/Write: 450K/400K IOPS Max[3]
Weight
45g
Dimensions
80.1(L) x 23.4(W) x 12.9(H) mm
Humidity
RH 90% under 40°C [operational]
Vibration
80Hz ~ 2000Hz/20G
Shock
1500G/0.5ms
MTBF
2,000,000 hours
Operating System
1. System Requirements:

Windows 10 / 8.1 / 8 / 7 / Vista[4]
Linux 2.6.33 or later

2. This product has a heat sink, recommended for use in desktop only.
Warranty
5-year limited warranty
[1] Transmission speed will vary according to different hardware/software conditions, therefore the data can only be used for basic reference.
[2] 1 GB=1,000,000,000 Bytes. In OS system, it would be displayed as 1.000,000.000 Bytes/1024/1024/1024 = 0.93GB
[3] Definition and conditions of TBW (Terabytes Wnttenlare based on JEDEC standard
[4] PCIe SSD works best under WIN8.1 and WIN 10 operating system. Windows Operating Systems earlier than Windows 8.1 does not support NVMe Driver natively. Users will need to install NVMe Driver prior installing the SSD.
* All the test data is provided by TEAMGROUP's laboratory and the information of test data is only for reference.
* We reserve the right to modify product specifications without prior notice.

T-FORCE is TEAM force. The red "T" represents TEAMGROUP's passion for the storage products. The black "F" represents TEAMGROUP's over 18 years of dedication to storage products. Since we released T-FORCE gaming product line in 2016, we have won multiple product design awards, for example, iF design award, Computex d&i award, Golden Pin design award and Taiwan Excellence. The high quality and extreme performance gaming products from TEAMGROUP allow all gamers to break the speed limit and enjoy the ever-changing world of gaming.