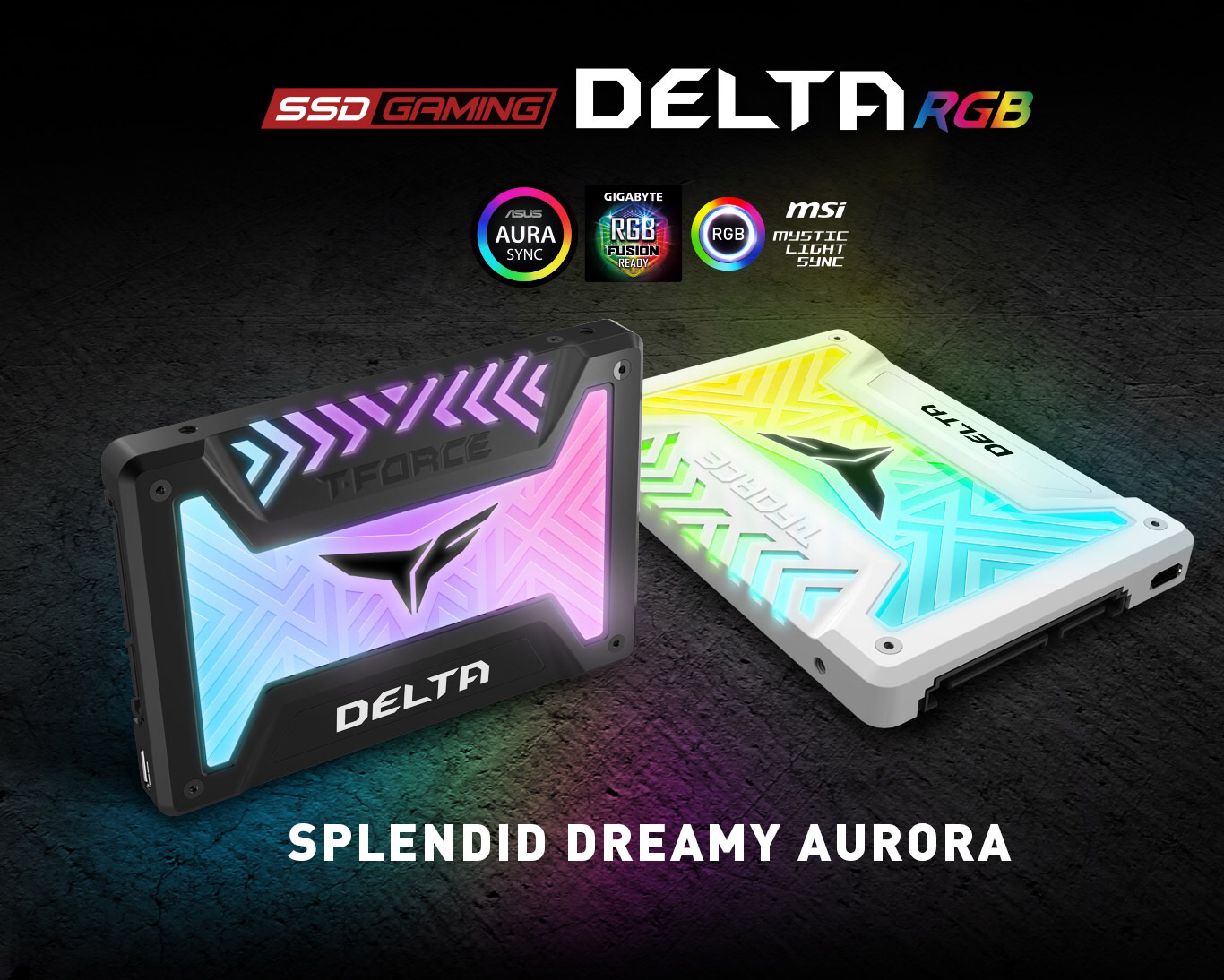 ULTRA LARGE RGB LUMINOUS AREA
TEAMGROUP T-FORCE DELTA RGB SSD has an industry leading RGB luminous panel size. The non-luminous area to luminous area ratio is 5:3, which makes your computer and storage device more colorful and brighter than ever.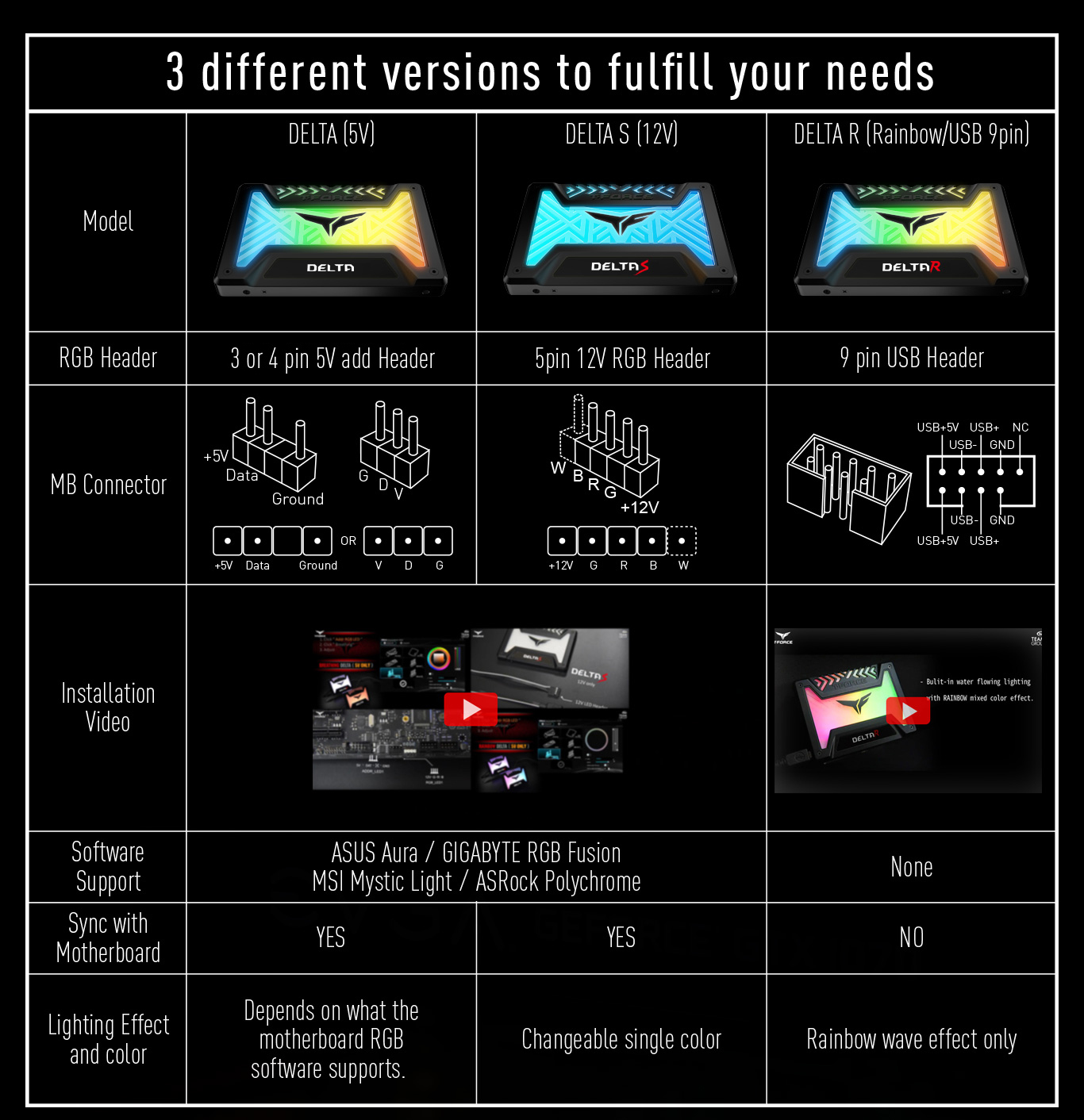 Installation Video for DELTA (5V) & DELTA S (12V)
Installation Video for DELTA R (Rainbow)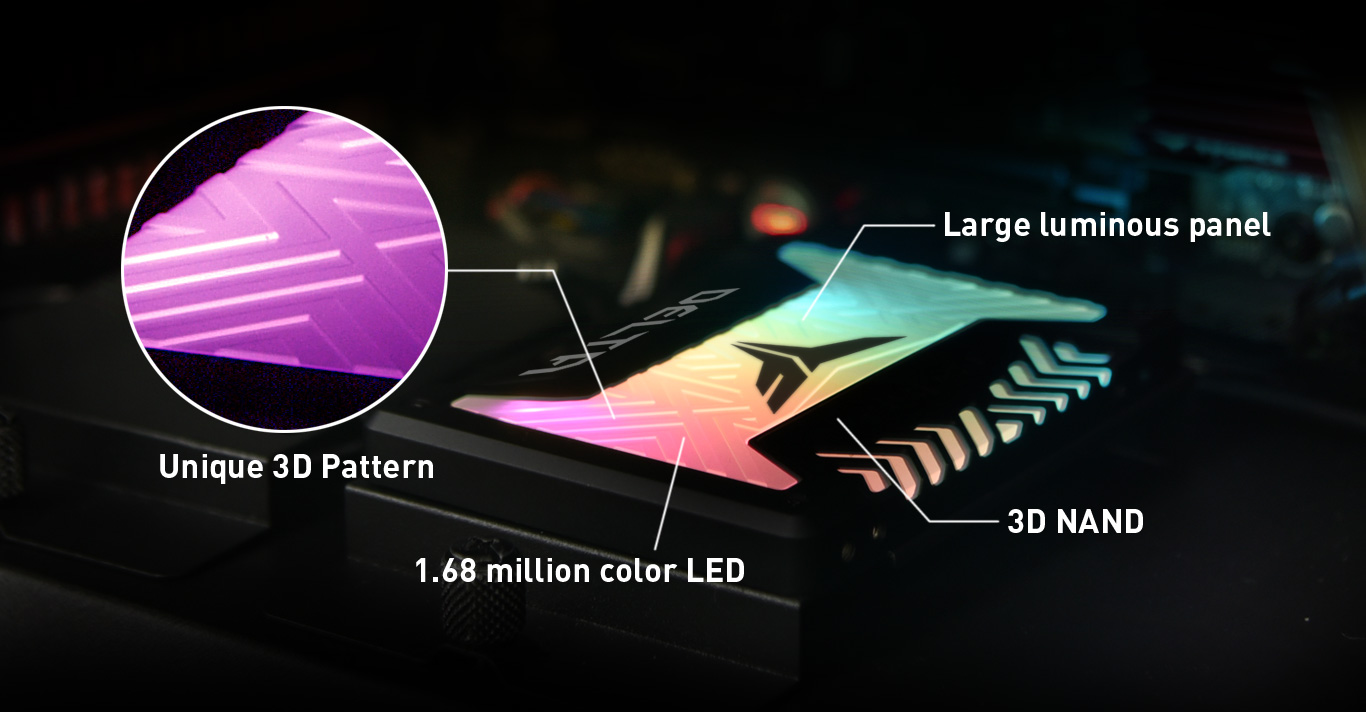 TWO COLORS AVAILABLE
There are two colors - black and white - available for consumers to choose from. You can choose the one that matches your build the most!
HIGH SPEED AND GREAT PERFORMANCE
The maximum read speed of the T-FORCE DELTA RGB SSD (Dreamy Aurora) is 560MB per second, and booting or loading games will only take a few seconds.
LIGHTWEIGHT AND THIN
The T-FORCE DELTA RGB SSD has a standard 2.5" form factor with only 9.5mm in height. Whether for a gaming laptop or desktop, upgrades can be done effortlessly.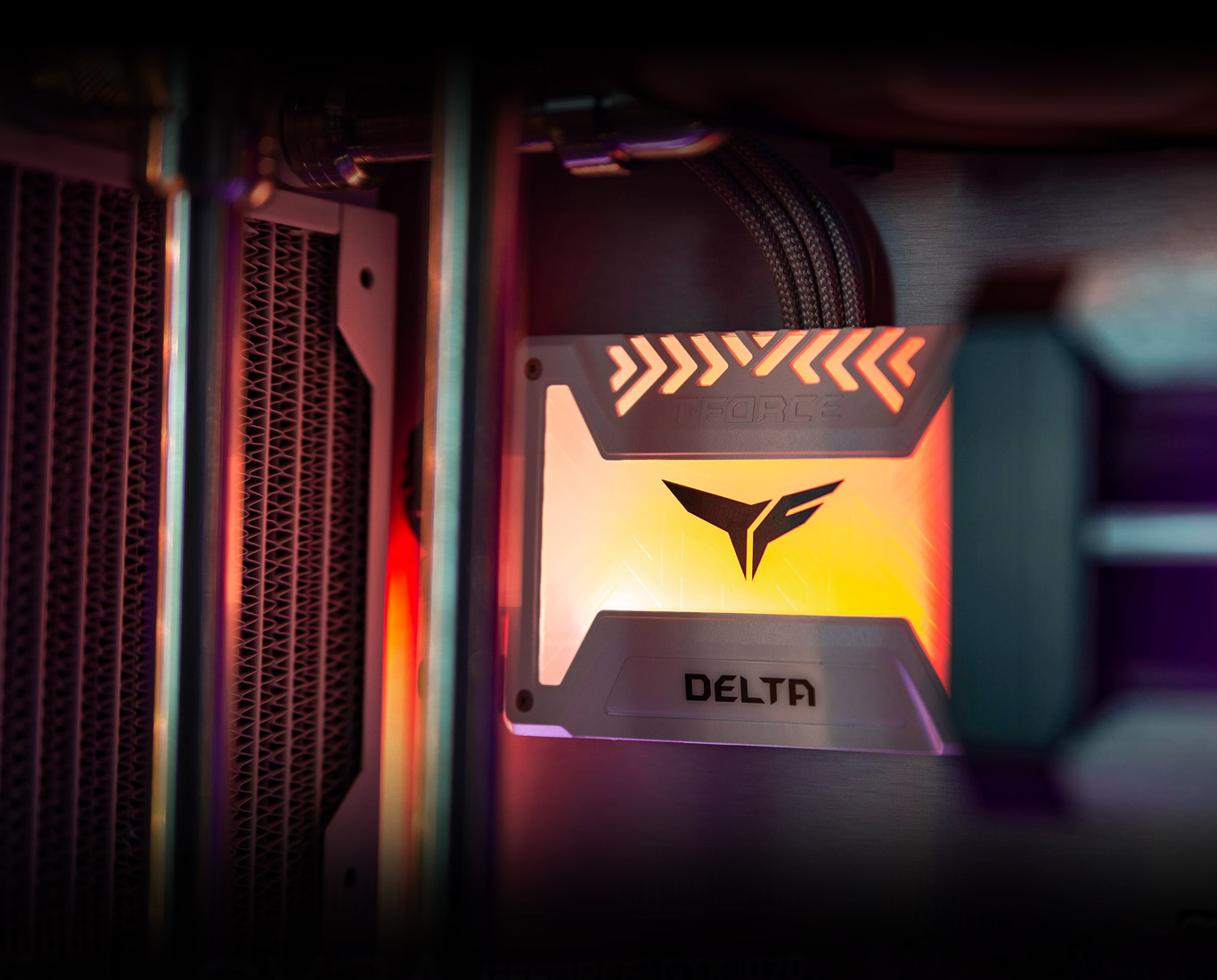 TOUGH PROTECTION
The T-FORCE DELTA RGB SSD uses 3D NAND flash memory chip, which is durable, shockproof, drop resistant, and offers a total protection for the data. Even if you accidentally drop it on a hard surface, it can still prevent damage and data corruption from accidents.
DURABLE AND RELIABLE
Effectively reduces performance degradation and wear and tear of the drive. Includes features that enhance the reliability of data transfer and prolongs the service life of the SSD perfectly.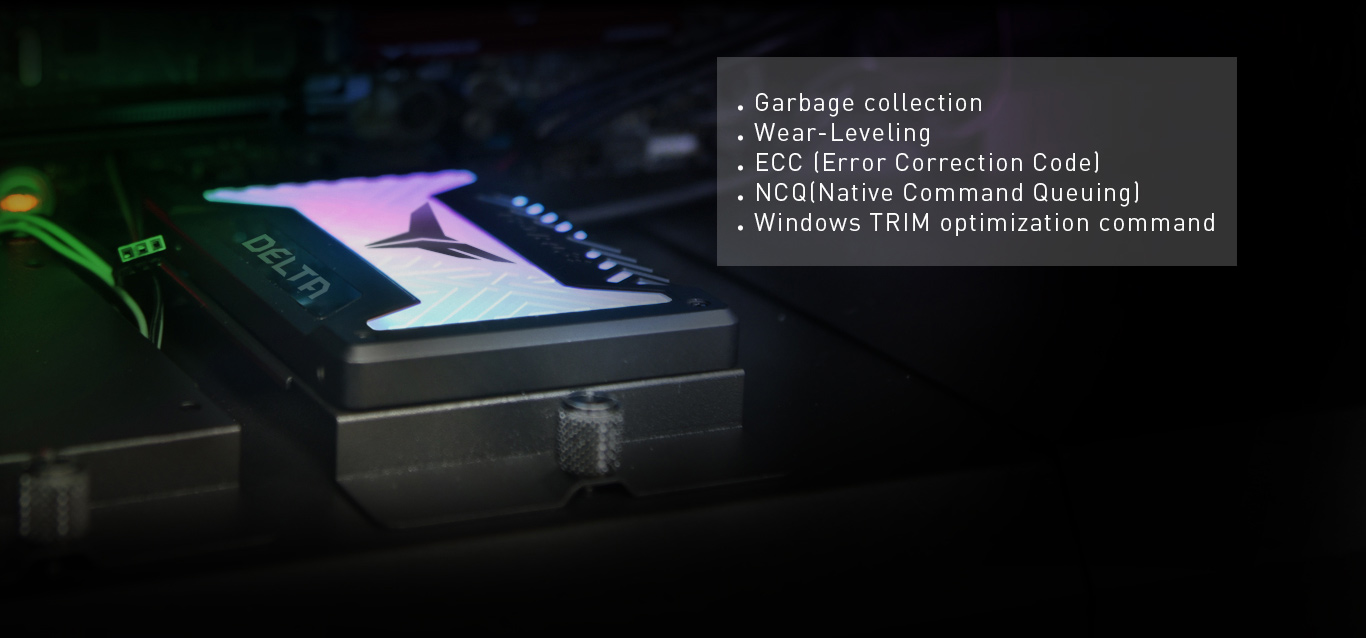 Specification
Interface
DATA: SATA Rev. 3.0 (6Gb/s) – with backwards compatibility to SATA Rev. 2.0
RGB Signal: USB Micro B type
Capacity
250GB / 500GBGB / 1TB [1]
Color
Black / White
Voltage
DC 5V
Operation Temperature
0°C ~ 70°C
Performance
ATTO / Crystal Disk Mark:
250GB Read: 560MB/s ; Write: 500MB/s
500GB Read: 560MB/s ; Write: 500MB/s
1TB Read: 560MB/s ; Write: 510MB/

IOPS:
250GB 4K Random Read/Write: 90K/80K IOPS max
500GB 4K Random Read/Write: 90K/80K IOPS max
1TB 4K Random Read/Write: 90K/85K IOPS max[2]
Dimensions
100(L) x 69.9(W) x 9.5(H)mm
Humidity
0°C - 55°C / 5% - 95% RH, non-condensing
Vibration
20G (non-operating)
Shock
1500G
MTBF
1,000,000 hours
Warranty
3-year limited warranty
[1] 1GB=1,000,000,000 Bytes. In OS system, it would be displayed as 1,000,000,000 Bytes/1024/1024/1024 = 0.93GB
Transmission speed will vary according to different hardware / software conditions, therefore the data can only used for basic reference.
[2] We reserve the right to modify product specifications without prior notice.
T-FORCE is TEAM force. The red "T" represents TEAMGROUP's passion for the storage products. The black "F" represents TEAMGROUP's over 18 years of dedication to storage products. Since we released T-FORCE gaming product line in 2016, we have owned multiple product design awards, for example, iF design award, Computex d&i award, Golden Pin design award and Taiwan Excellence. The high quality and extreme performance gaming products from TEAMGROUP allow all gamers to break the speed limit and enjoy the ever-changing world of gaming.