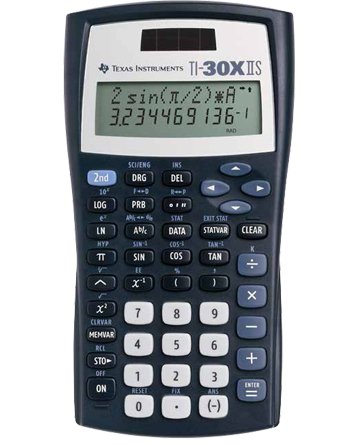 The TI-30X-IIS is another in a long line of great calculators for students and professionals who don't need graphing capabilities. It is a great choice for general math, algebra, geometry, trigonometry, statistics and science classes. A menu system lets you select settings appropriate to your needs.
The two line display shows entries and results and the top line scrolls so you can see up to 88 characters. This lets you check your equation for accuracy. Multiple conversions functions and the ability to use fractions make this calculator a highly versatile tool in and out of the class room.
This 10 pack is a cost effective way to purchase multiple units for classrooms.
Exam Acceptance
The TI-30XIIS scientific calculator is approved for use on SAT*, ACT*, and AP* exams.
* SAT, ACT & AP are registered trademarks of the College Board, which was not involved in the production of and does not endorse this product. Policies subject to change. Visit www.collegeboard.com.
Powerful Functionality
The Texas Instruments TI-30X-IIS scientific calculator combines fraction capabilities with basic scientific and trigonometric functions and more to help students explore math and science concepts.
Two-Line Display with Scrollable Entry Line
The Texas Instruments TI-30X-IIS features a large two-line display: the top line scrolls to the left or right to display an entry of up to 88 digits; the bottom line shows a result of up to 10 digits plus a 2-digit exponent.
Dual Power
The Texas Instruments TI-30X-IIS operates in well-lit areas using solar cell while in other light settings using battery power.
Built-in Functionality
Review and edit previous entries
Fraction/decimal conversions
Random number and random integer generator
Negation key
Menu settings
Change improper fractions to mixed numbers
Automatic simplification of fractions
One constant
Combinations and permutations
Trigonometry
Hyperbolics
Logs and antilogs
Convert angles from degrees to radians to grads
%, x², ¹/x, yˆx, π, x!
Fixed decimal capability
One- and two-variable statistics
EOS: (Equation Operating System)
Up to eight pending operations
Up to 23 levels of parentheses
Error recovery capability
Five memory variables
Scientific and engineering notation
Hardware
Hard plastic, color-coded keys
Two-line display, 11 digit scrollable entry line with 10-digit answer and two-digit exponent line
Dual power
Impact-resistant cover with quick-reference card