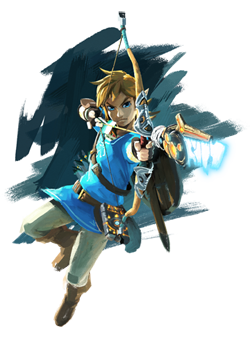 After waking from a 100-year slumber, Link must explore the wild to regain his memories and save Hyrule
This bundle is perfect for first-time heroes; it contains the game, a two-sided map, and an Explorer's Guide with lore and learnings from the Legend of Zelda: Breath of the Wild game. Time to explore the guide, the map, and the world of Hyrule!
The wilds of Hyrule make for a puzzling game of survival. Climb cliffs to scope out a destination; then cross great distances with the Paraglider or the horses you've tamed. You'll discover items for crafting, beasts to hunt, and plants to forage. So scavenge weapons and armor...or claim them from enemies! From hammers to helmets, items have specific stats, resistances, effects, and levels of durability. Use everything at your disposal to find and conquer more than 100 Shrines. Luckily, the in-game Sheikah Slate can project Runes that manipulate objects and enemies in clever ways. Forget everything you know about the Legend of Zelda series.
Discover Hyrule as never before: by making your own path, choices, and consequences
Ingenuity is the key to survival: find multiple solutions to tons of dynamic puzzles
Surprises hide around every corner: scavenge weapons, armor, plants, animals, and more
Live off the land: find weapons and armor, cook food, and brew elixirs
Utilize special technology: the in-game Sheikah Slate controls objects and enemies in fun ways
Gear up: many weapons and armor have unique stats, resistances, effects, and durability
Shrines offer hundreds of clever challenges even Legend of Zelda series veterans won't see coming