Far Cry comes to America in the latest installment of the award-winning franchise.
Welcome to Hope County, Montana. This idyllic place is home to a community of freedom-loving people – and a fanatical doomsday cult known as The Project at Eden's Gate. Led by the charismatic prophet Joseph Seed and his devoted siblings, The Heralds, Eden's Gate has been quietly infiltrating every aspect of daily life in this once-quiet town. When your arrival incites the cult to violently seize control of the region, you must rise up and spark the fires of resistance to liberate a besieged community.
Freely explore Hope County's rivers, lands, and skies with the largest customizable weapon and vehicle roster ever in a Far Cry game. You are the hero of the story in a thrilling world that hits back with every punch, and where the places you discover and the locals you ally with will shape your story in ways you'll never see coming.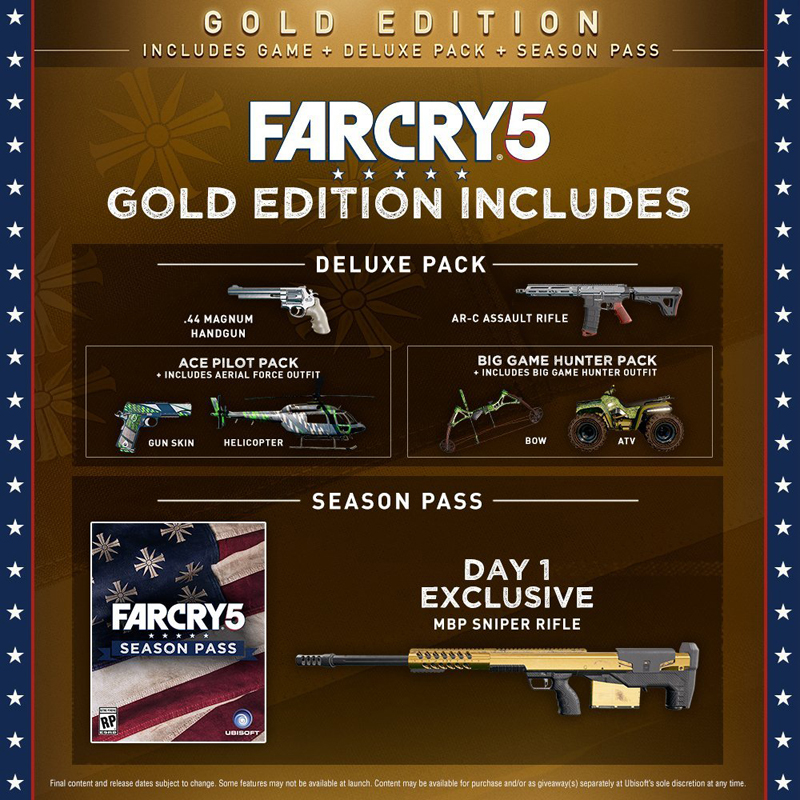 The Steelbook Gold Edition includes:
Far Cry 5 Base Game
Far Cry 5 Season Pass
Collectible Steelbook
The Big Game Hunter Pack
The Ace Pilot Pack
AR-C Assault Rifle & .44 Magnum Handgun with unique skins
Far Cry 5 - E3 2017 Official Amazing Grace Trailer
You Are In Control
Set within beautiful rural Montana and built on an open world format, Hope County truly is the land of the free. From the simple pleasures of Holland Valley to the healing wonders of the Henbane River to the raw power of the Whitetail Mountains, you'll find endless adventure the deeper you explore.
Resistance Meter Game Leveling
When you hit hard, the enemy's gonna hit back harder. Far Cry 5's dynamic AI tracks the effect you're having in the game, and alters the enemy's strategy against you. Be prepared: The cult will boost their efforts when you become less of a nuisance and more of a threat.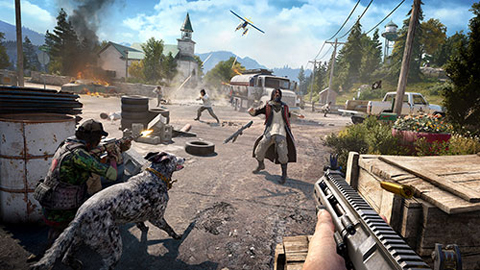 Game Activities
The fate of Hope County is in your hands. Take on the cult solo or team up with a fellow resister in co-op mode and wreak havoc upon Joseph Seed and his band of cult followers. In the biggest Far Cry release ever, you'll have everything at your disposal – from hired guns to hired fangs and the baddest arsenal this side of the Mississippi.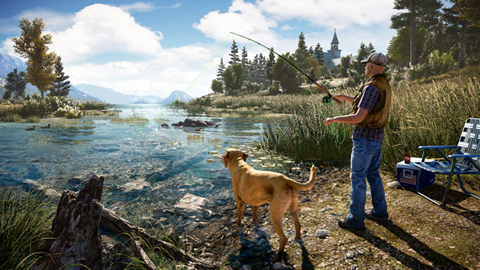 Guns and Fangs for Hire
Your posse comes in all shapes, sizes, and species. To help aid in your campaign against The Project at Eden's Gate, call upon other Resistance fighters from in town or from the backcountry, riverbeds, and blue skies of Hope County.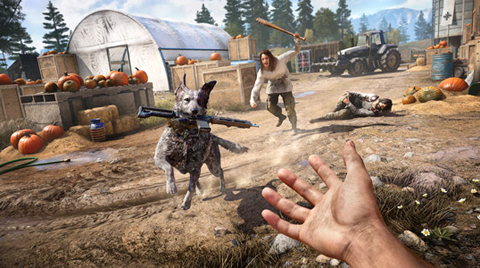 Gallery