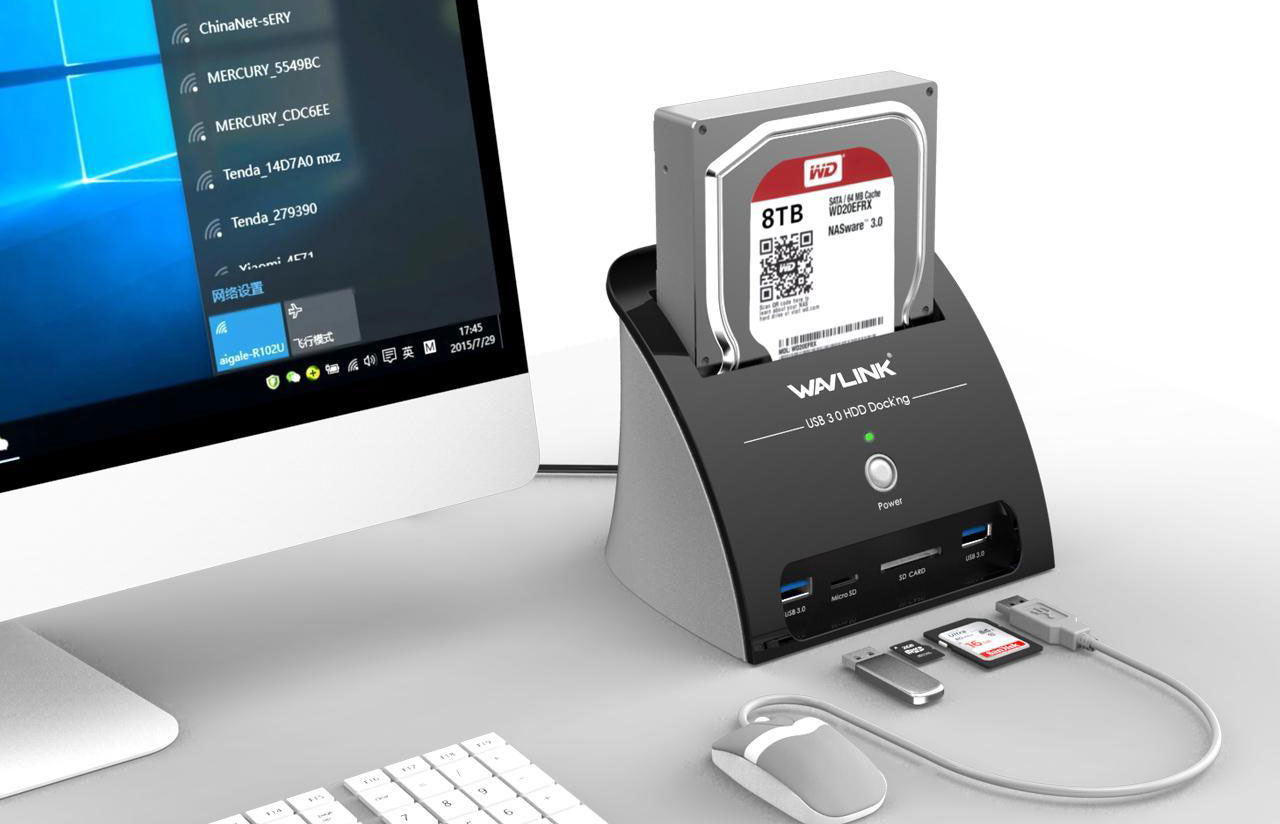 Wavlink SATA to USB 3.0 docking station
Quickly and easily access your bare 3.5"/2.5" SATA HDDs/SSDs, without the hassle of opening case or fumbling for cables. This docking station interfaces with computers through USB 3.0, at up to 5 Gbps bus bandwidth to fully support high-speed SSDs. It also comes with an SD slot, a microSD slot, and two USB-A ports on the front panel for convenience. A dedicated power button helps save power when not in use.
Top slot-loading design that supports standard desktop 2.5 and 3.5 inch SATA I/II/III Hard Drives.
Easily connect to computer with Super Speed USB 3.0 with transfer rate up to 5Gbps
Plug and play, no tools and no drivers needed. Supports hard drives up to 10 TB.
70% faster than traditional USB ports with UASP transfer protocol
Supports Windows XP / Vista / 7 / 8 / 8.1 / 10 and Mac
Micro SD card reader and SD card reader for quick access to memory cards
Function as a USB hub with two USB 3.0 ports on this docking station
The built-in LED indicator indicates power/HDD status, eliminating guesswork
SATA interface has good durability in daily use, withstanding up to 1500+ insertions
Comes with 12V/2A external independent AC power adapter.
System Support:
No drivers are required for the disk dock itself.
It can support Windows 10 through XP, Mac OS X, and Linux / Unix.
Note:
Please make sure that there aren't any bad sectors on the drives in use, as to avoid data transfer errors, overheating and damage to the station.
To avoid data loss, do not remove or insert drives when one drive is working in the docking station. Please power off the docking station before removing.