Wavlink USB 3.0 Universal Laptop Docking Station (WL-UG39DK1V-C-BL-US)
This docking station adds display, peripheral and Ethernet connectivity to your laptop through a single USB 3.0 cable, instantly turning it into a fully-fledged workstation.
Connectors: DVI, HDMI, DVI to VGA adapter, RJ-45 Gigabit Ethernet Port, DC Power Jack, USB 2.0 Ports x 4, USB 2.0 Ports x 4, USB 3.0 B Female, and 3.5 mm Lineout/Mic input
The High Performance
Supports dual monitors through HDMI and DIV /VGA ports, resolutions up to 2048 x 1152 (DVI to VGA adapters are supplied for added flexibility)
Four Video mode can be selected: Primary / Extend / Mirror Video Mode
Gigabit Ethernet RJ-45 port (10/100/1000Mbps) provides a rapid guest networking.
Four USB 2.0 ports support devices such as scanner, digital camera, keyboard, mouse, printer, etc.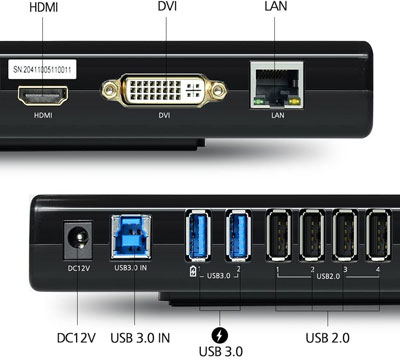 All the USB ports support hot-swap
Earphone & Mic combo audio sockets, a classical entertainment style come for you.
With two USB 3.0 and four USB 2.0 connection, you can easily achieve 5Gbps transmission speed.
One of the USB 3.0 ports supports Smart Sleep Mode of Fast Charging to 1.5A to let you charge your smartphone.
Gigabit Ethernet coming with a RJ-45 port over 10/100/1000Mbps speed, you can quickly download large files, stream movies, and more.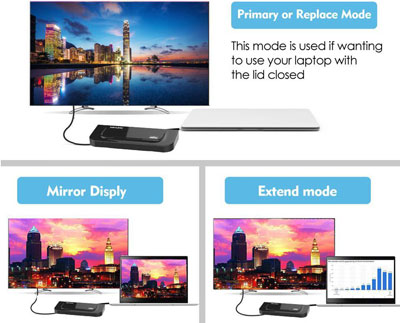 Super Strong Certified GPU Performance
Build-in USB 3.0 GPU certified by DisplayLink, DL-3900 chipset, which manages dual graphics and audio output and Gigabit Ethernet functions.
HDMI Output: up to 2048x1152@60Hz or 2560x1440p@50Hz
DVI Output: up to 2048x1152
VGA Output (through DVI to VGA converter) up to 1920x1080 @60Hz.
2560x1440@50Hz output only available when using a single HDMI display. If dual displays are connected, each will be limited to a maximum resolution of 1920x1200@60Hz.


Chip from DisplayLink
DisplayLink is a chip and software company whose technology is used in products from DisplayLink technology enables wired and wireless VR, monitors, docking stations, video adapters, and more.
This item has DL-3900 chipset which made by DisplayLink.

Supported Operating Systems:
WINDOWS: Windows 10, Windows 8, 8.1,Windows 7, Windows Vista 7.7, Windows XP 7.6
MAC OS X
Big Sur 11.0 Public Beta
macOS 10.14-Catalina 10.15
macOS 10.13 up to 10.13.3 (10.13.4 - 10.13.6 has single extended display support with AirPlay)
OS X 10.6 - 10.12
Tips (On macOS 10.15):
Some users updating to 10.15 have found their DisplayLink devices have stopped working. 5.2 software is designed to run on Mac OS 10.15, but the OS can disable our kernel extension during the update. Please check the kernel extension is enabled and screen recording is also enabled, to ensure DisplayLink enabled devices continue to work when migrating to 10.15.
ANDROID: Available on the Google Play Store. For Android v5.0 (Lollipop) or Later
CHROME: DisplayLink USB devices are supported on Chromebooks.
Note:
- HDMI port supports resolutions up to 2560x1440 @ 50Hz with a single HDMI display only. If dual displays are connected, each will be limited to a maximum resolution of 1920x1080 @60Hz.
-2.4Ghz wireless devices such as wireless keyboard/mouse receivers, Bluetooth and WiFi adapter do not work in the USB3.0 ports, please try to connect the USB2.0 ports.
-Does not provide power attached to host laptop or tablet; the host system will still require its power cable/charger.
Package Content
1x USB 3.0 Docking Station
1x USB 3.0 Type B to USB A cable
1x DVI-VGA adapter
1x 12V/2A Power Adapter