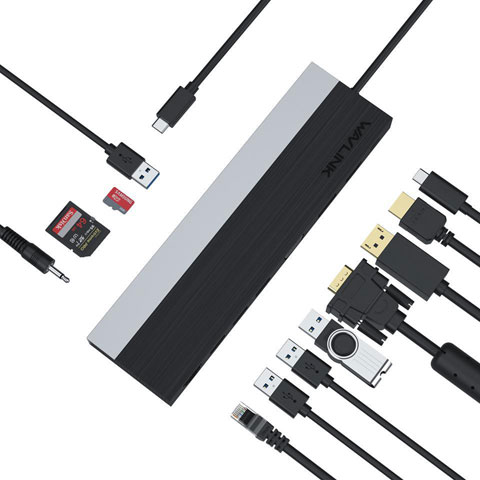 Wavlink USB-C Triple Display 12-in-1 Docking Station
This docking station connects to your laptop via USB-C* and adds a rich array of ports. Through a single USB-C connection, you can connect up to three monitors, four USB devices and an audio device, plug into Ethernet for fast, stable network, and access your SD and microSD cards. The case is built using aluminum alloy to improve heat dissipation and features a slim profile for easy portability.
* Require laptops with full-function USB-C.
Notice: When using on an Apple computer with an M1 chip, there is no sound output from the Displayport interface, and subsequent OS updates may solve this problem.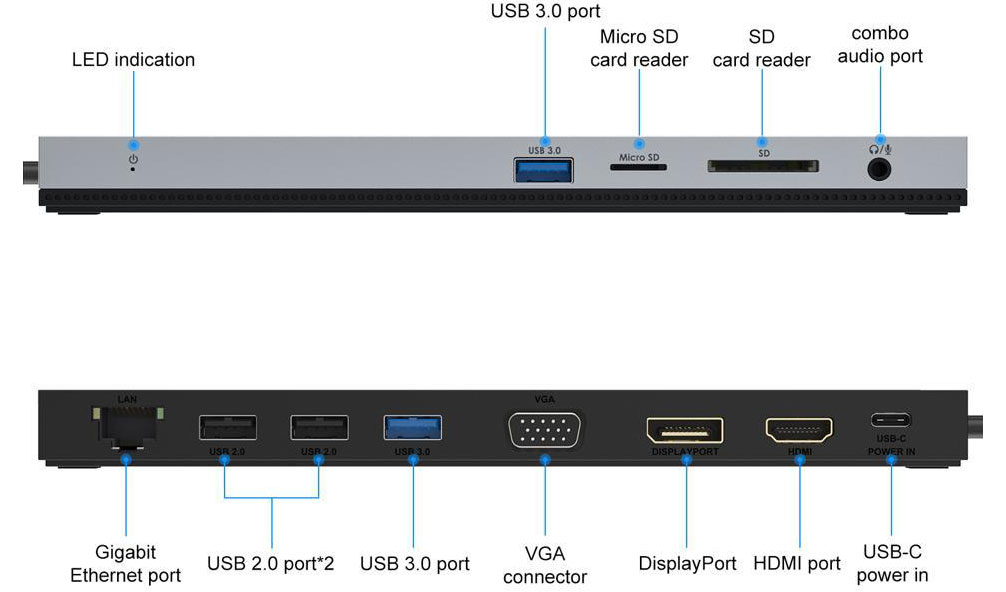 Connect the World with WAVLINK 12-in-1 MST Dock
One USB-C port supports PD 3.0 upstream power charging to PC computer with up to 100W
Both DisplayPort v1.2a and HDMI v1.4b support 4K/30Hz single display
One VGA port supports up to 2K (2048x1152) @60Hz single display
Dual displays up to 2048x1152 @60Hz; Triple displays up to 1920x1080 @60Hz
Two USB 3.0 ports and two USB 2.0 ports provide data transfer rates up to 5Gbps & 480Mbps separately
One RJ45 Gigabit Ethernet port enables stable wired connection
One built-in SD/TF card reader supports SD v2.0, SDHC up to 32GB, and SDXC up to 2TB
One audio combo jack for stereo audio out and microphone in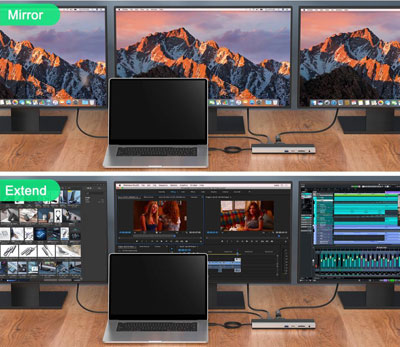 Triple Display in 2 Modes
This MST dock features one DisplayPort, one HDMI port and one VGA port, supporting single/dual/triple displays in mirror/extend mode. You can enjoy HD entertainment or multitask at the same time.
Note: VGA is not available for MacOS based laptops/PCs. For Apple computer users (MacOS ), displays are Mirror mode only.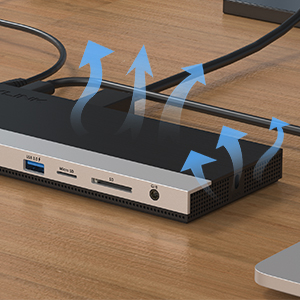 Aluminum Alloy for Better Heat Dissipation
Lightweight aluminum alloy case provides stronger heat dissipation than plastic material. It is secure and reliable, ideal for your daily use.
Working Standard
1. USB-C: PD Power Adapter I/P
2. Single DisplayPort: 4K/30Hz max.
3. Single HDMI: 4K/30Hz max.
4. Single VGA: 2K/60Hz max.
5. 2 x USB-A Port: 5Gbps
6. 2 x USB-A Port: 480Mbps
7. RJ45: Gigabit Ethernet
8. Card Reader: SD / TF
9. Phone Jack: Stereo 4pole TRRS Stereo
System Requirement:
1. USB-C computer that supports USB 3.1 full-function with data transfer, USB-C Power Delivery and Video Alternate Mode
2. Windows 7 /8 /10 or later
3. MacOS 10.X or above
Package Content
1. USB-C Triple Display MST Docking Station
2. Quick Installation Guide
Compatibility
With an outstanding MST chipset, this dock enables triple display support, but it also has a higher requirement on the PC laptops. Please make sure your computer has USB-C that supports USB 3.1 full-function with data transfer