Are you an E-Blast Insider?

Shop without retyping payment details. Secure shopping made faster.
Check out with PayPal.
Honeywell Wi-Fi 7-Day Programmable Smart Thermostat (RTH6580WF1001/W)
In stock.
Ships from Hong Kong.
Most customers receive within 4-23 days.
3.50" x 5.75" x 1.50"
White
Compatible with Google Home
Honeywell Wi-Fi 7-Day Programmable Thermostat - RTH6580WF
FEATURES
The Wi-Fi 7-Day Programmable Thermostat is designed for the way you live — connected and online. You can control it from anywhere in the house or anywhere in the world. Features such as Smart Response and precision temperature accuracy bring convenience and comfort to your home.
Connect with home comfort locally and globally
Our Wi-Fi 7-Day Programmable Thermostat — RTH6580WF connects to your home's Wi-Fi connection to give you remote access from any Wi-Fi-enabled device. You can also download the free app to your smartphone or tablet for virtual access to your thermostat. From your connected device, you can program for comfort and energy savings. Or access the thermostat's functions using the large, easy-to-read display.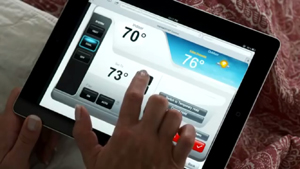 Seven-day programming with four programs for each day
Energy saving mode
Large, easy-to-read display
Real-time clock (optional)
Automatic software updates
Secure network
Permanent/temporary hold
Honeywell precision accuracy to +/-1 degree F
Auto change from heating to cooling
One-year limited warranty
DIY installation
Total Connect Comfort voice command
Remote Access
Remote access to thermostat from anywhere with Wi-Fi-enabled device or free app on smartphone or tablet
Smart Response
Thermostat learns your heating/cooling cycles, then optimizes to deliver the right temperature at the right time
Specs
Model number: RTH6580WF
Color: White
Dimensions: 3-1/2 in. High X 5-3/4 in. Wide X 1-1/2 in. Deep
SETUP
Setup is simple and easy. Verify compatibility with your home heating and cooling system, and then remove your existing thermostat.
Compatible with systems
This thermostat works with virtually any system.
It is not compatible with electric baseboard heat (120/240V).
Now you're ready for the step-by-step instructions for installing the Wi-Fi 7-Day Programmable Thermostat. Simply choose the installation instructions option you prefer:
App-Guided Installation
Search "Total Connect Comfort" in the App Store or Google Play. Download the app to your smartphone or tablet to learn how to install and use your thermostat.
Video-Guided Installation
Watch a series of short videos that help you install your thermostat, including determining your system type, the installation process in steps, registering your thermostat and more.See Video's Below.
Installation Guide PDF
Download PDFs of manuals and guides in the resources section below, such as Quick Start and User Guides.
FREQUENTLY ASKED QUESTIONS
I am having difficulty removing my old thermostat?
Often, the thermostat will separate from the wallplate with moderate pressure. Other times, there might be small screws holding the device in place. If you are unable to pull it off, please refer to your thermostat manufacturer's website or manual for removal instructions.
NOTE: Do not place your old thermostat in the trash if it contains mercury in a sealed tube.
I have additional wires in my wall that were not connected to my old thermostat. Do I need them to install my new thermostat?
An extra unused wire in the wall can be used as the C wire for your new thermostat. The extra wire will also need to be connected to the C (common) terminal at the heating and cooling system. This will provide power to your new thermostat. Please refer to the video section for more information.
My metal jumper wire fell out of my new thermostat, which terminals does the jumper need to be connected to on the thermostat wallplate?
The jumper wire can easily be replaced connecting it to the "R" and "RC" terminals on your thermostat wallplate. If you are unable to find the factory installed jumper, a short piece of wire can be used in its place. Please refer to step 1.7 in the Quick Start Guide.
What tools or materials are necessary for the installation of my new thermostat?
In most cases, the only tools and materials required are a small flat edge screwdriver, #2 phillips screwdriver, your thermostat ID card (located in the box), and your home Wi-Fi Network password.
How do I know if my old thermostat contains mercury?
The thermostat will have a glass tube with a silver liquid inside of the tube. Mercury is typically found in older mechanical thermostats like the Honeywell Round T87 and rectangular T8090.
NOTE: Do not place your old thermostat in the trash if it contains mercury in a sealed tube.
Do the color of the wires correspond to the letters on my new thermostat?
There is no code governing wire colors and thermostat connections. The thermostat should be wired by the letters found next to the wire screw terminal block. If you do not know the letter labels, then you can trace the wires back to the air handler/furnace or heat pump/ac unit. That will allow you to determine the function of each wire at the system and then allow you to attach it to the matching terminal on the thermostat.
I cannot connect to my guest network. What do I need to do?
Some wireless routers have advanced features like guest networks. It is recommended that you connect your thermostat to your home network. If you must connect to your guest network, then you will need to contact the router manufacture to assist in unblocking port 443 in the guest network firewall.
While connecting to Wi-Fi, my model RTH6580WF or TH6320WF thermostat is stuck on the screen that shows "Connection Successful" and "Wait"?
Please try the following steps to get past the this screen: Power down the thermostat for 3-5 minutes by removing it from the wall plate or turning power off at the circuit breaker. Then turn the thermostat back on and verify that the "set time" screen is shown. If the "set time" screen is not shown repeat this process for longer period of time. After repowering, press the "fan" and the "up" arrow at the same time for five seconds. Press "Next" until ISU "39" is displayed, set it to option "0" with the arrow buttons, and press "Done." This will cause the Wi-Fi radio to reset. Please restart the Wi-Fi enrollment steps from the beginning.
Are the MAC ID and MAC CRC case sensitive?
No, the MAC ID and MAC CRC are not case sensitive. Upper and lower case characters will work.
Why am I not seeing my Wi-Fi setup page?
You are probably connected only to your router, not to your thermostat. Try connecting to the thermostat again. - OR - The Wi-Fi thermostat works with the new iOS 6, operating system, however iOS 6 does not work for the initial thermostat installation. Please use a Wi-Fi connected computer, Android tablet or smart phone for the initial installation.
Warranty & Returns
Warranty, Returns, And Additional Information
Warranty
Limited Warranty period (parts): 1 year
Limited Warranty period (labor): 1 year
Manufacturer Contact Info
Support Phone: 1-800-332-1110