Silent Cooling Solution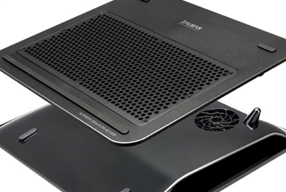 The Zalman Ultra Quiet Notebook Cooler ZM-NC1500-B is an aerodynamically-designed notebook cooler with minimized noise and enhanced user convenience. Two-body design (top segment with large vents and bottom with feet) melds comforting simplicity with superior cooling function.
The Zalman Ultra Quiet Notebook Cooler ZM-NC1500-B reduces the notebook's temperature and noise level simultaneously.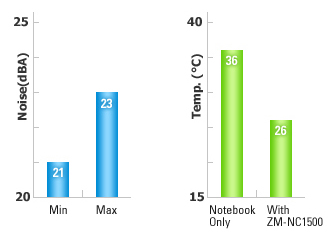 *Test Environment: LG Notebook Computer Xnote R500 Maximum Load, ZM-NC1500 operating on minimum RPM
2mm Thick Aluminum Panel with Large Amount of Vents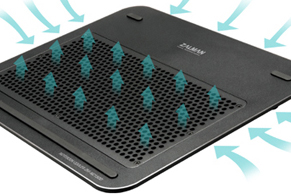 Sleek design incorporates premium high quality 2mm thick aluminum which was treated with Sand Blasting, Anodizing (S.A.) Surface Processing. The aluminum panel with a fine curvature has up to 724 high capacity perforations on top to evenly distribute the flow of cold air to cool the entire notebook.
Two Centrifugal Fans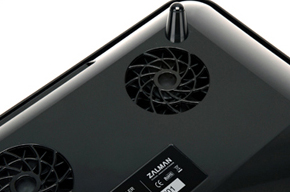 Two centrifugal fans deliver consistent high air pressure and fast cooling performance.
Cooler Stands Firmly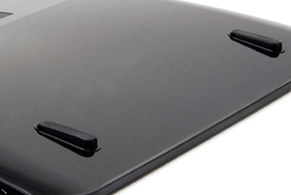 Silicon "shoes" on feet to prevent slippage and provide cooler stability.
Secures Your Notebook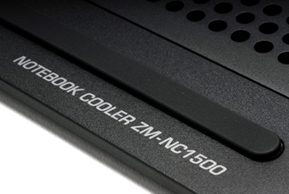 The Rubber Grip Strip prevents the notebook from sliding.
Ergonomically Designed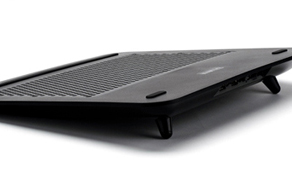 Ergonomically designed to minimize user fatigue.
Ideal for Quiet Environments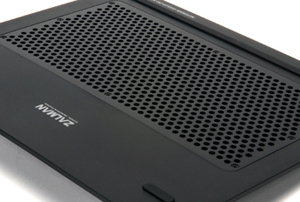 Using Zalman ZM-NC1500-B notebook cooler to cool your notebook allows the internal fan of the notebook to operate quietly at low RPM. This cooler is ideal for quiet environments such as libraries and offices.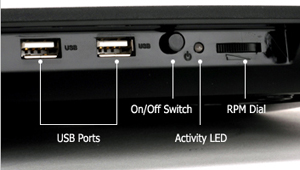 USB Powered
The Zalman ZM-NC1500-B notebook cooler is powered by the notebook's USB port, eliminating the need for a separate power adaptor. The cooler includes one available USB port, which can be used for indirectly connecting a USB device to the notebook computer.
Fan Speed Adjustable
The fan speed controller allows you to adjust fan speed to cool your notebook accordingly. Cool aggressively when you games and cool moderately when you do paperwork.
| | |
| --- | --- |
| Dimensions (L x W x H) | 13.5in. x 11.75in. x 2in. (345mm x 299mm x 52mm) |
| Weight | 1.75lbs (789g) |
| Base Materials | Pure AL, ABS, nylon, rubber synthetic, silicon |
| Noise | 18.0dBA - 23.5dBA ±10% |
| Input Voltage | 5V (USB powered |
| Color | Black |
| | |
| --- | --- |
| Type | Centrifugal Fan |
| Units | Two |
| Bearing Type | FDB (Fluid Dynamic Bearing) |
| RPM | 1,100rpm - 1,500rpm ±10% |