SenseVision - Multi Streaming Transport Hub

CSV-5300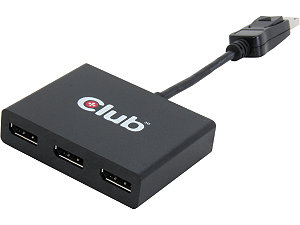 Description
Leveraging the micro-packet architecture of DisplayPort™, DisplayPort™ 1.2 adds the capability to address and drive several display devices through one DisplayPort™ connector. This feature has often been referred to as daisy-chaining or addressable displays.
The Club 3D MST hub is a hub device that receives a DisplayPort™ 1.2 MST signal from the source device and splits up and routes the video streams independently to each display device. Using this type of configuration also allows the use of non-DisplayPort™ 1.2 monitors. For non-DisplayPort™ outputs, such as VGA, DVI or HDMI®, the Club 3D MST hub is DP++ and can actively convert the DisplayPort™ signal to the other types of display interface signals.
Multi-display technologies DisplayPort™ 1.2, a new display interface, boasts features such as tremendous bandwidth and daisy-chaining capabilities. Combined, these features complement the AMD Eyefinity multi-display technology very well.
The new MST hub display technology is part of the ecosystem in the Club 3D AMD Radeon™ graphics cards.

Supported graphics cards can be found on the following AMD RAdeon series:
HD 5000 Series (HBR)
HD 6000 Series (HBR2)
HD 7000 Series (HBR2)