KB-460
It doesn't just perform the commands from your keystrokes, the KB-460 mechanical keyboard keeps you on your toes thanks to the rapid and responsive mechanical switches geared towards all styles of game play.. Ready to be plugged in and put to use straight out of the box or can be customized in a variety of ways to fit your unique gamestyle through the accompanying software. The KB-460 brings forth a perfect balance of performance, quality and customization options.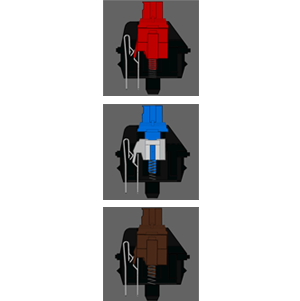 CHERRY MX MECHANICAL SWITCHES

Available with different switch types to fit you're your personal likings.

RED CHERRY SWITCHES

Red switches are Linear switches have the simplest operation, moving straight up and down without any additional tactile feedback or loud clicking noise. They have a light weight allowing for more rapid actuation, and have become increasingly common in gaming keyboards.

BLUE CHERRY SWITCHES

Blue switches are tactile clicky switches that add a deliberately louder 'click' sound to the existing tactile bump, allowing for greater feedback. Blue switches are favored by typists due to their tactile bump and audible click.

BROWN CHERRY SWITCHES

Brown switches are Tactile switches which provide additional tactile feedback as the key actuates. As you press the key down, there is a noticeable bump which lets you know that your key press has been registered.