TATUNG TICT-1502MW Portable Induction Cooktop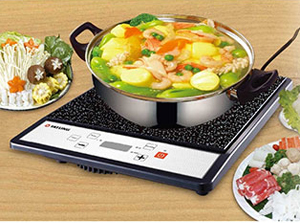 Tatung's TICT-1502MW Portable Induction Cooktop is fast and easy to use. You can easily entertain guest. It is safe to use indoor and features nine temperature levels, reaching up to 430-degrees. The ceramic cooktop also makes it easy to clean.
Induction cooktops use an electromagnetic field to generate the heat within the pan or pot you place on the cooktop (the cooktop itself doesn't get hot). With induction cooking, your cookware heats up fast, reducing your cooking time dramatically. These are great for hot-pots or cooking food outdoors when you don't want to smell up the house deep frying or cooking fish!