Are you an E-Blast Insider?

Shop without retyping payment details. Secure shopping made faster.
Check out with PayPal.
Borderlands 2 [Online Game Code]
In stock.
Limit 5 per customer.
Ships from United States.
2K Games
ESRB Rating M - Mature (Blood and Gore, Intense Violence, Language, Sexual Themes, Use of Alcohol)
Genre Shooter
DRM Steam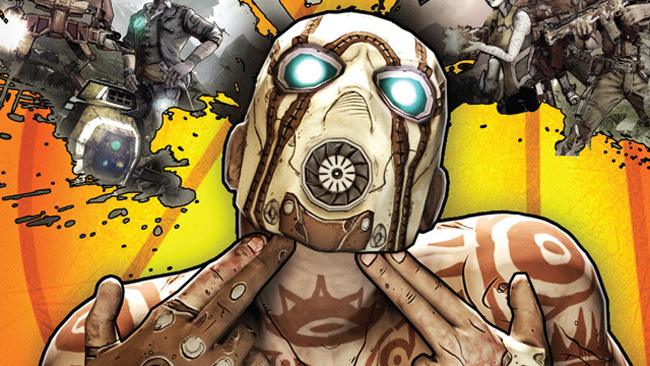 Product Overview:
---
Borderlands 2 furthers the distinct blending of the First Person Shooter and Role Playing genres to create the true evolution of the Role Playing Shooter. Join up to three other players for four-player online goodness, or go old-school with two-player split-screen couch sharing mayhem as you spend hours leveling-up your character and equipping them with one of millions of badass weapons. This second edition of Borderlands features a new, visually stunning array of procedurally generated guns, shields, grenades, artifacts, enemies and more. Choose one of four new character classes to be taken through a carefully crafted and connected story to all new and surprising environments across the living planet of Pandora. Make new friends, arm them to the teeth, and fight alongside them on your relentless quest for revenge and redemption.
Features:
---
Gunzerker Leads a Cast of All-New Characters and All-New Classes: Step into the role of the Gunzerker, whose highly deadly skills allow him to dual-wield any two weapons found in the game. Not only that, you will build on that skill to do more things with two guns than you ever imagined possible. Dual machine guns? Cool. Dual rocket launchers? Of course! Dual Sniper Rifles? Sure, if that's your thing! Want to try other styles? More tactical perhaps? There are multiple classes to choose from!
Dynamic Co-op Online - Split-screen and LAN: Share your adventures with friends both online and via LAN. Features a seamless system enabling you to drop in and drop out of a campaign without ever having to restart the game. On top of that you can even take your new gear from any game to any other!
World Connected Story: You find yourself left for dead in the frozen tundra of Pandora as you begin your quest of revenge and redemption. Expose the evil surrounding the Hyperion Corporation and take on the perpetrator of a universe-wide grand deception - the nefarious Hyperion CEO, Handsome Jack. (Oh yeah... he's also stolen credit for the opening of the Vault.)
New Badass Gun System: An entirely new take on the groundbreaking procedural system means millions upon millions of possible weapons. The variety and style of guns is staggering, and you'll see tons of new and innovative ways to engage foes on Pandora. Fire, electricity, corrosive acid, and much more will all be at your disposal as you fight your way through Hyperion Corporation's forces!
87 Bazillion...Everything: In addition to the new gun system, you will lust after procedurally generated shields, grenades, Alien Artifacts, class mods and much, much more. And you thought the original Borderlands had a ton of loot!
Brand new environments on Pandora: Hunt through entirely brand new areas of Pandora that are more alive than ever! From the arctic tundra, through the dangerous grasslands, past the mysterious corrosive caverns and beyond, you'll be surprised by the unpredictable world of Pandora at every turn!
Brand new enemies: A whole slew of new enemies are out there to kill you. Hulking, gorilla-like Bullymongs, vicious predatory Stalkers, and the Hyperion mechanical army, run by Handsome Jack, are just some of the new enemies you will be facing on Pandora. New strategies will need to be created for every fight, as enemies now interact and aid each other to ensure you don't get far in the world of Pandora.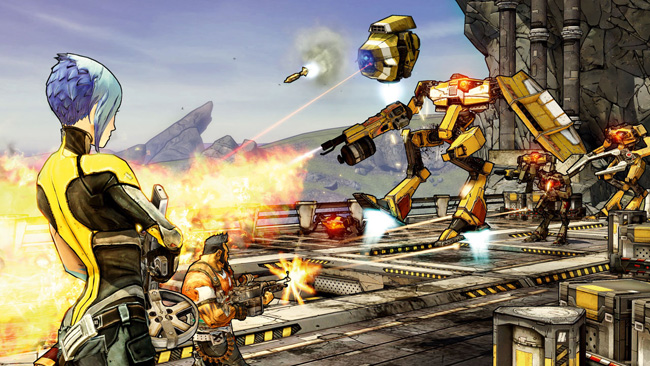 PC System Requirements
Minimum:
OS: Windows XP SP3
Processor: 2.4GHz Dual Core Processor
Memory: 2GB(XP)/ 2GB(Vista)
Hard Disk Space: 13GB free
Video Memory: 256MB
Video Card: NVIDIA GeForce 8500 / ATI Radeon HD 2600
Sound: DirectX 9.0c Compatible
Other Requirements: Initial installation requires one-time internet connection for Steam authentication; software installations required (included with the game) include Steam Client, DirectX 9, Microsoft .NET 4 Framework, Visual C++ Redistributable 2005, Visual C++ Redistributable 2008, Visual C++ Redistributable 2010, and AMD CPU Drivers (XP Only/AMD Only)
Recommended:
OS: Windows XP SP3/Vista/Win 7
Processor: 2.3GHz Quad Core processor
Memory: 2GB
Hard Disk Space: 20GB free
Video Memory: 512MB
Video Card: NVIDIA GeForce GTX 560 / ATI Radeon HD 5850
Sound: DirectX 9.0c Compatible
Mac System Requirements
Minimum:
Operating System: 10.7.5 (Lion), 10.8.2 (Mountain Lion)
CPU Processor: Intel Core 2 Duo (Dual-Core)
CPU Speed: 2.2GHz
Memory: 4GB RAM
Hard Disk Space: 13GB
Video Card (ATI): Radeon HD 2600
Video Card (NVidia): Geforce 8800
Video Memory (VRam): 256MB
Peripherals: Macintosh mouse and keyboard
Supported Video Cards: NVIDIA GeForce® 8800, GT 120, 320M, 330M, 650M; ATI Radeon HD 2600, HD 3870, HD 4670, HD 4850, HD 5670, HD 5750, HD 5770, HD 5870, HD 6630, HD 6490, HD 6750, HD 6770, HD 6970; Intel HD Graphics 3000, 4000
CPU Processor: Intel Quad Core
CPU Speed: 2.4GHz
Memory: 4GB RAM
Video Memory (VRam): 512MB
Note: The following video chipsets are unsupported for:
ATI RADEON HD 2400
NVIDIA 8600m
NVIDIA 9400m, 9600m
Intel Integrated GMA 950
Intel Integrated x3100
Fact Sheet
| | |
| --- | --- |
| Publisher: | 2K Games |
| Developer: | Gearbox Software |
| Platform: | Xbox 360® video game and entertainment system from Microsoft, PlayStation®3 computer entertainment system, Windows PC |
| ESRB Rating: | M |
| Release Date: | 9/18/12 |
Legal Statement
© 2009 - 2012 Gearbox Software, LLC. Published and distributed by 2K Games. Gearbox Software, Borderlands, and the Gearbox and Borderlands logos are trademarks of Gearbox Software, LLC. 2K Games and the 2K Games logo are trademarks of 2K Games in the US and/or other countries. Unreal, the circle-U logo and the Powered by Unreal Technology logo are trademarks or registered trademarks of Epic Games, Inc. in the United States and elsewhere. NVIDIA and the NVIDIA logo and The Way It's Meant To Be Played are trademarks and/or registered trademarks of NVIDIA Corporation. This software product includes Autodesk® Scaleform® software. © 2012 Autodesk, Inc. Autodesk and Scaleform are registered trademarks or trademarks of Autodesk, Inc. and/or its subsidiaries and/or affiliates in the USA and/or other countries. Powered by Wwise (ce) 2006 – 2012 Audiokinetic Inc. All rights reserved.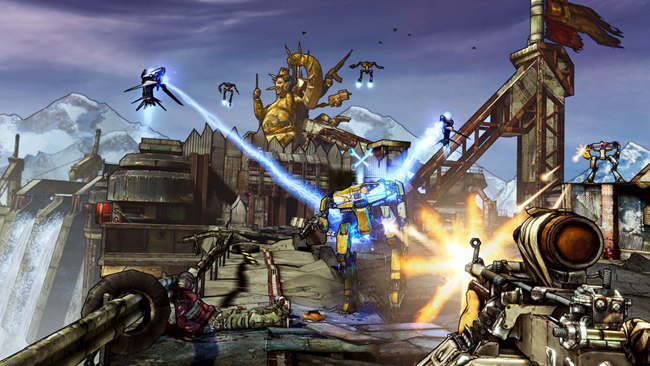 Warranty & Returns
Warranty, Returns, And Additional Information
Manufacturer Contact Info
Digital Download Disclaimer