MSI Radeon R7 240 DirectX 12 R7 240 2GD3 LP 2GB 128-Bit DDR3 PCI Express 3.0 x16 HDCP Ready Low Profile Video Card
The MSI R7 240 2GD3 LP is the weapon of choice for gamers. Powered by AMD Radeon R7 240 GPU, it delivers high performance and visual realism while playing your favorite on-line games. MSI offers the best support for the AMD Radeon R7 240 GPU in software and hardware. The MIS's solid capacitors ensure maximum stability and an extra-long lifespan. MSI Afterburner overclocking utility makes it simple to adjust the video card's parameters for even more performance. With Bundle MSI Developed Driver and Utilities, the MSI R7 240 2GD3 LP Video Card keeps you ready to win on the battlefield.

Low Profile Design
Low profile design saves more spaces. User can build slim or smaller system more easily.

All Solid Capacitors
Currently there are two types of capacitors, including electrolytic capacitors and solid capacitors. Compared to electrolytic capacitors, solid capacitors have a longer lifespan, and provide a more stable power under high temperatures. Most importantly, solid capacitors do not have any liquid materials inside, and thus will not suffer a leak which would infringe upon the product's stability. Solid capacitors ensure a dramatically extended lifetime and ultra-low ESR.

MSI Afterburner Overclocking Utility
MSI Afterburner is the world's most recognized and widely used graphics card overclocking utility which gives you full control of your graphics cards. It also provides an incredibly detailed overview of your hardware and comes with some additional features such as customizing fan profiles, benchmarking and video recording.
Even better, the Afterburner mobile App allows you to control key performance settings and view information from your IOS or Android smartphone or tablet. Make sure you have MSI Afterburner Remote Server installed and running on your system.
Powered by AMD Radeon R7 240 GPU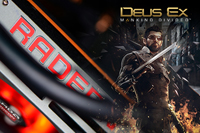 DirectX 12, Vulkan & OpenGL 4.5 APIs
The AMD Radeon R7 240 GPU is battle-ready with optimized performance for next-gen APIs (DirectX 12, OpenGL 4.5, Vulkan, Mantle), and is designed from the ground up to give you everything you need to enjoy the latest games today and tomorrow.
28nm GCN Architecture
Based on 28nm GCN architecture, the AMD Radeon R7 240 GPU is primed to enable astonishing performance and breathtaking image quality, making it a top choice for gamers who expect the best.
AMD Eyefinity Technology
Enjoy the ultimate immersive gaming experience with innovative "wrap around" multi-display capabilities.
AMD CrossFire Technology
With outstanding performance scaling, a system equipped with AMD CrossFire technology keeps you fragging while everyone else is reaching for an upgrade.
AMD HD3D Technology
AMD HD3D technology is supported by an advanced and open ecosystem that, in conjunction with specific AMD hardware and software technologies, enables 3D display capabilities for many PC applications and experiences.
stereoscopic 3D display/glasses and Blu-ray 3D support
stereoscopic 3D gaming support
3rd party Stereoscopic 3D middleware software support

Video Output Function
Single-link DVI-D x 1
HDMI x 1 (version 1.4a)
HDMI x 1 (version 1.4a)
Bundle MSI Developed Driver and Utilities
MSI Live Update Series(Live Graphics Card BIOS & Live Graphics Card Driver)
Automatically online download & update Graphics Card BIOS & Drivers, reduce the risk of getting the wrong files, and never have the trouble on web site searching.
MSI Graphics Card Driver
MSI StarOSD
StarOSD can monitor system information, adjust monitor figuration, and overclock system.
MSI Dual Core Center
MSI Live
MSI Live including all real time life information you need, such as Live MSI Product News, Live Daily Information, Live Personal Schedule Manager, Live Search and more.
Adobe Acrobat Reader
Microsoft DirectX
Norton Internet Security 2008 60 days Trial
Blocks online identity theft by phishing Web sites
Detects and eliminates spyware
Removes viruses and Internet worms automatically
Protects against hackers