OptiPlex 745
POWERFUL, FEATURE-RICH DESKTOPS
THAT MEET DIVERSE BUSINESS NEEDS.
Power, Management, Security… Everything You Need at the Price You Want.
The Dell OptiPlex 745 is designed to meet the needs of a wide variety of business users. It provides impressive performance, easy management, maximum security, and easy accessibility and connectivity in a slim, small form-factor, giving busy workers the edge they need to stay ahead.
Intel Core 2 Duo Performance
The OptiPlex 745 (model # 15VFDEDT0346) features a powerful Intel Core 2 Duo processor (2.0 GHz), which can provide better system level performance and consumes less power than previous Intel dual-core processors. This dual-core processor allows your system to split tasks between two processor cores so that they can share the load and get more done in less time. They can deliver a substantial performance increase over single-core processors for multi-threaded applications, multi-tasking environments or very demanding single-threaded applications, allowing you to work with noticeably quicker results.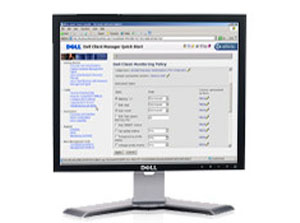 Remote Monitoring and Management
OptiPlex remote control solutions offer simple central management of your business assets. Dell's system management tools address IT issues and can give you comprehensive control over the computing environment. Dell Client Manager Standard (DCM) (available 10/06) is a no-charge console download that gives IT administrators a range of remote management capabilities - including hardware discovery and inventory, configuration control and BIOS patch management - that help them streamline remote management of Dell client assets and reduce desk-side visits.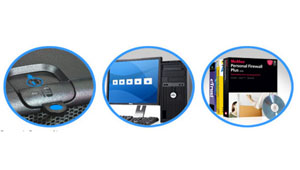 Smart Security
Your data and your assets are the foundation of your business. Dell understands that protecting these things from vulnerability in a cost-effective way is one of the most important elements of managing your IT environment. The OptiPlex 745 has been designed with this in mind. Not only does the 745 offer a wide variety of cost-effective security software solutions, but it is also designed to protect your information with physical security options, data encryption options, as well as user-authentication and network security technologies.
The 745 offers multi-factor authentication and data encryption using Wave EMBASSY software in combination with TPM 1.2-compatible safeguards like biometric and smart card readers to protect your business assets against both internal and external threats.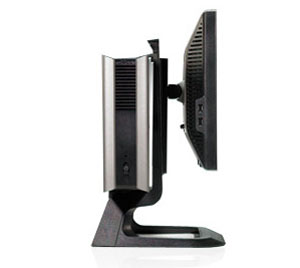 Excellent User Experience
Dell offers dependable, customer-driven chassis designs with the OptiPlex 745, delivering reliability and ease of access. You can take advantage of single-latch internal access, convenient connectivity options (USB ports, VGA port and more), front-panel diagnostic, and the ventilation and cooling benefits of Dell's recent BTX chassis design.
For truly space-constrained environments, the slim, ultra-small form factor can be configured with the innovative all-in-one monitor stand, which puts your OptiPlex 745 together with a Dell 17" flat panel monitor in a space smaller than most CRT monitors alone.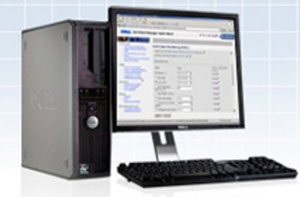 Simplify Your Operations
The OptiPlex 745 helps you simplify your IT operations by delivering globally-consistent configurations, long purchase lifecycles and managed transitions, so you can spend less time planning and get back to your business. Plus, with a flexible set of remote management tools and security options, system maintenance is quick and simple, further reducing the strain on your IT budget.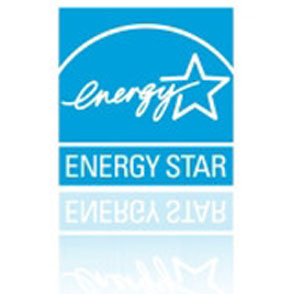 Save Energy, Save Costs
The Energy Star-compliant OptiPlex 745 is extremely energy efficient. With the new Energy Smart configuration, OptiPlex default power settings exceed the worldwide mutually recognized Energy Star standard, which means that each desktop is designed to further reduce power consumption and energy costs, right out of the box. This high level of power management, combined with Power Factor Correcting power supplies, flat panel displays, Intel Core 2 Duo processors and thermally efficient BTX chassis designs, means that the OptiPlex 745 uses up to 70% less power than previous generations of OptiPlex desktops, so it helps you conserve your resources and the earth's resources at the same time.