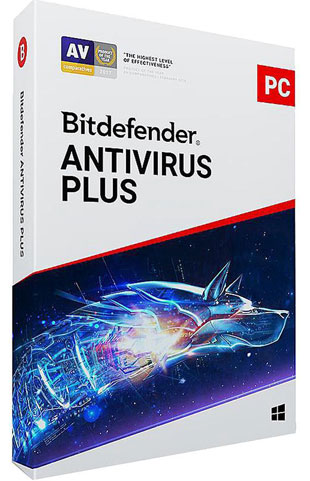 Bitdefender Antivirus Plus 2020
With Bitdefender Antivirus Plus 2020, you get advanced protection against various threats on your Windows PC. The multi-Layer Ransomware Protection & Remediation and the Network Threat Prevention deliver a solid shield against a variety of attacks. Trusted by 500 million users worldwide, Bitdefender gives you true peace of mind in regards to security.
Multi-Layer Ransomware Protection & Remediation
Bitdefender Total Security 2020 delivers multiple layers of protection against ransomware. It uses behavioral threat detection to prevent infections, and protects your most important documents from ransomware encryption.
The new Ransomware Remediation feature acts as a remediation layer that ensures data such as documents, pictures, videos, or music will be protected against any kind of ransomware attack.
Stopping attacks before they even begin
Network Threat Prevention. The new network-based adaptive layer of protection prevents exploitation of vulnerabilities in your system, detects and blocks brute-force attempts, prevents your device from being compromised in botnet attacks, and prevents sensitive information from being sent in unencrypted forms.
Security for Windows
Bitdefender Antivirus Plus 2020 protects Windows PCs against the most dangerous e-threats without draining system resources.
Protection
Bitdefender consistently scores best protection in malware detection tests run by independent labs.
Performance
Bitdefender security software offers optimized speed and the best cross-platform performance.

Privacy
Bitdefender complete protection takes care of your online privacy and personal information.
Choose the Best Security, and Never Worry Again

Automatic Upgrades
Every Bitdefender product is designed to update automatically, and protect you against the most advanced cyber threats on the planet.
Upgrades to the latest version are included as part of your subscription.
This way, you'll never miss out on new and improved features, even if you're halfway through your subscription period.
Continuous Protection
Bitdefender's continuous protection service* is designed to save you time and effort, and reduce risk of infections by automatically renewing your subscription.
It's a hassle-free way to eliminate any possible lapses of security between subscription periods, therefore ensuring your devices, files and identity are always protected.
*Continuous Protection is an opt-out service that you can turn off any time you want.
Bitdefender Central
One account to protect what matters
Activate Bitdefender protection on your devices
Manage from your browser and iOS or Android phone
Scan your network from Bitdefender Central mobile app

NEW

Get security updates 24/7
Get direct access to Bitdefender's support team