ASUS ROG Swift 360Hz PG259QN eSports NVIDIA G-SYNC Gaming Monitor — 24.5 inch FHD (1920 x 1080), 360 Hz, Fast IPS, 1 ms (GTG), HDR, NVIDIA ULMB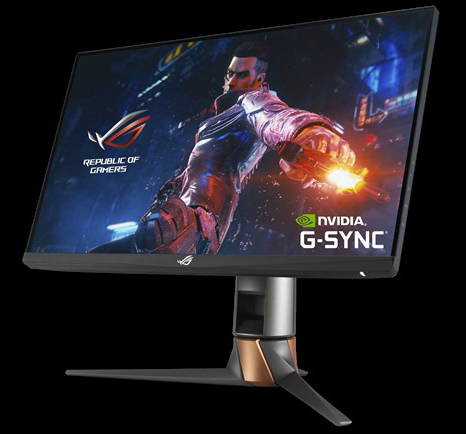 24.5-inch FHD (1920 x 1080) fast IPS gaming monitor with 360 Hz refresh rate designed for professional esports gamers.
ASUS Fast IPS technology enables a 1 ms response time (GTG) for sharp gaming visuals with high frame rates.
NVIDIA G-SYNC processor provides smooth, tear-free gaming at refresh rates up to 360 Hz
An intelligent cooling system featuring a custom heatsink provide more surface area for heat exchange, ensuring efficient cooling during marathon gaming sessions.
HDR10 compatible for color and brightness that exceed that of ordinary monitor.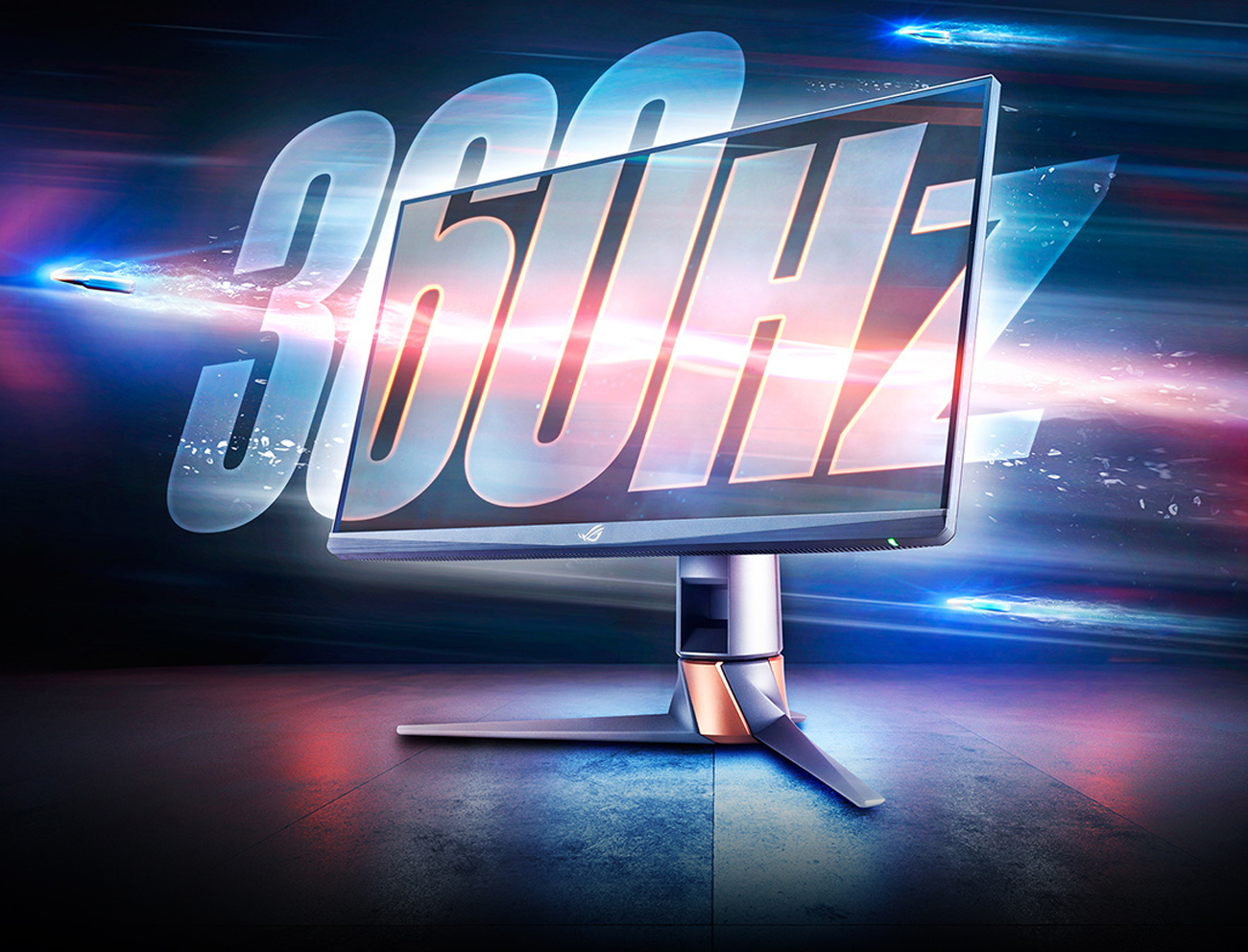 The World's Fastest Esports Gaming Monitor

ROG Swift 360 Hz PG259QN is the perfect gaming monitor for esports and fast-paced action games. This FHD (1920 x 1080) display features a Fast IPS panel with up to a 360 Hz refresh rate, 1 ms gray-to-gray (GTG) response time and NVIDIA G-SYNC processor for silky-smooth gameplay and ultra-realistic visuals. And of course, it has that distinct ROG design that lets everyone know that this is no ordinary gaming monitor.
Test footage: Shoot with a 480 FPS camera, Playback shown in slow motion
Source: Blur Busters UFO Motion Tests

ROG Swift 360 Hz PG259QN is ideal for fast-paced esports titles like Counter-Strike: Global Offensive, Rainbow Six: Siege, Overwatch, and Fortnite. In a world where milliseconds count, the blazing-fast 360 Hz refresh rate is the difference between victory and defeat.
In the world of competitive sports, a 4% difference is a game changer. To put this into context, in the 2016 Summer Olympics, 1% determined the difference between silver and gold in both men's and women's 100m and 200m dashes.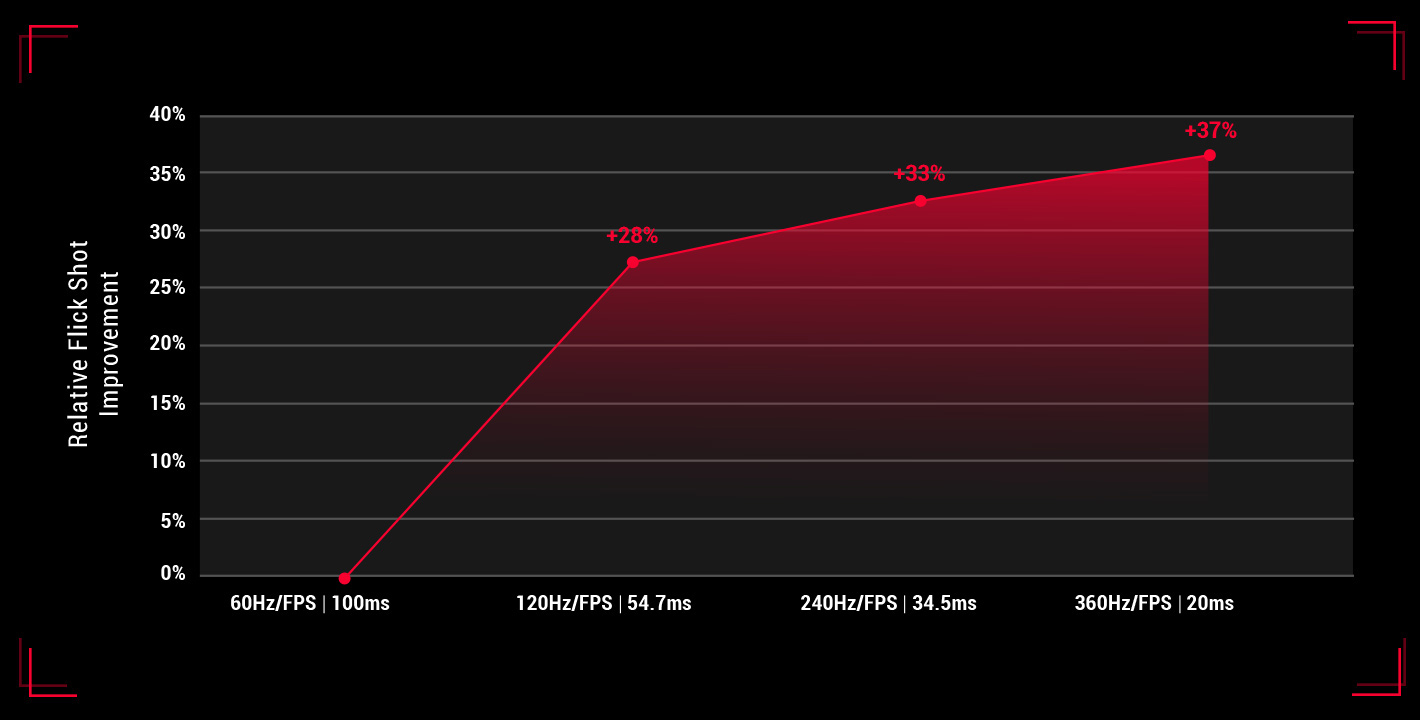 End to end system latency measured in ms using click to photon response time in Overwatch.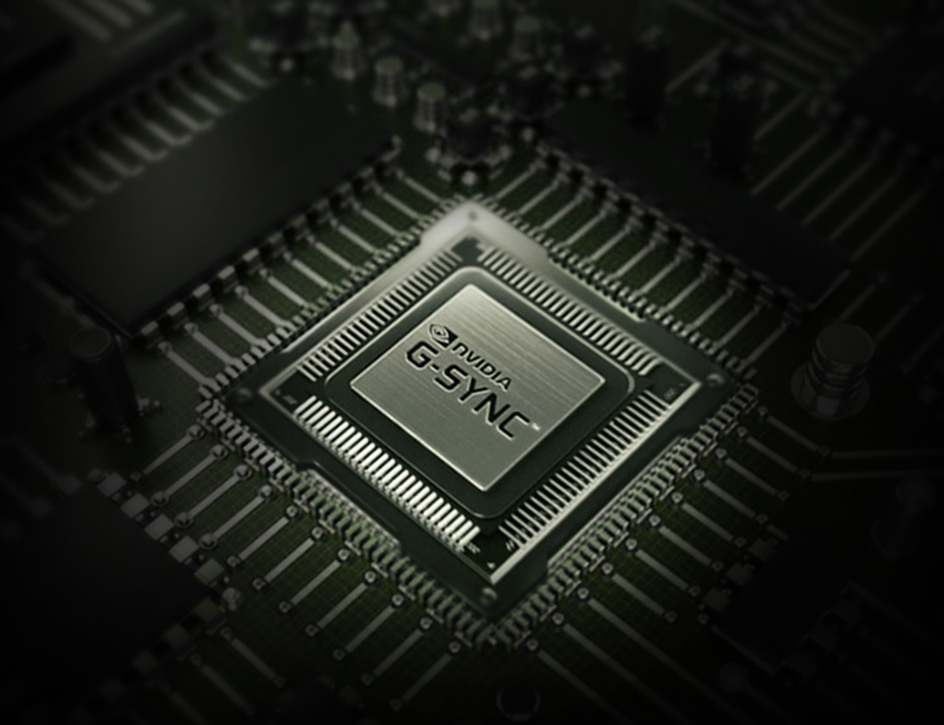 ULTRA-RESPONSIVE PERFORMANCE - NVIDIA G-SYNC Processor
NVIDIA G-SYNC Processor gives you more of what you want in a gaming experience. Experience incredibly smooth, tear-free gameplay at refresh rates up to 360 Hz, ultra-low motion blur.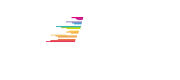 FAST, RESPONSIVE & VIVID - ASUS FAST IPS DISPLAY
ASUS Fast IPS panel technology allows liquid crystal elements in the display to turn on and off up to four times faster than conventional IPS panels, giving ROG Swift 360 Hz PG259QN a 1 ms GTG response time and little-to-no smearing or motion blur.
FOCUS ON WHAT'S THE MOST MATTER - PRODUCT DESIGN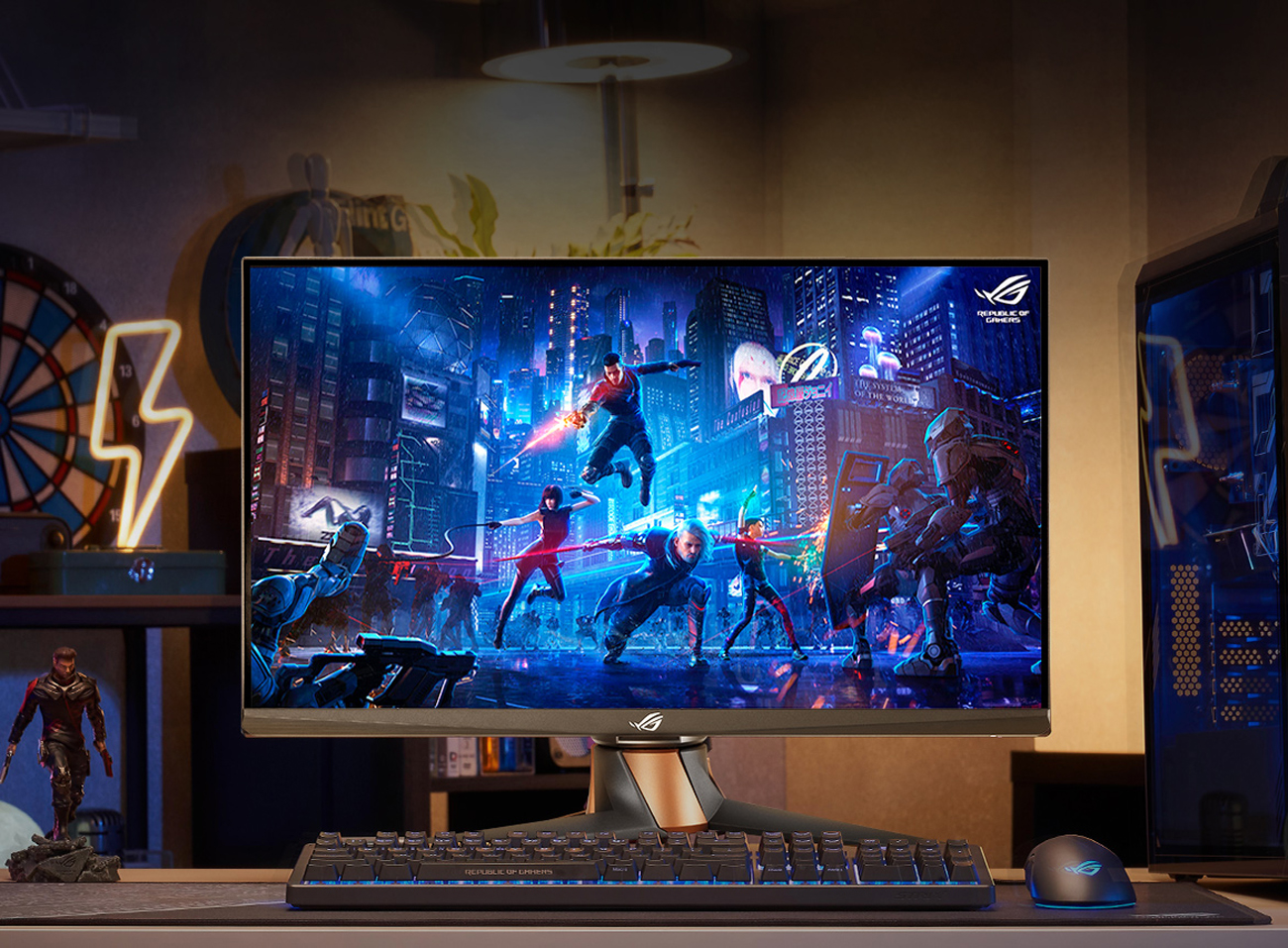 Anti-glare Bezel
A special non-reflective coating on the bottom bezel helps reduce onscreen reflections.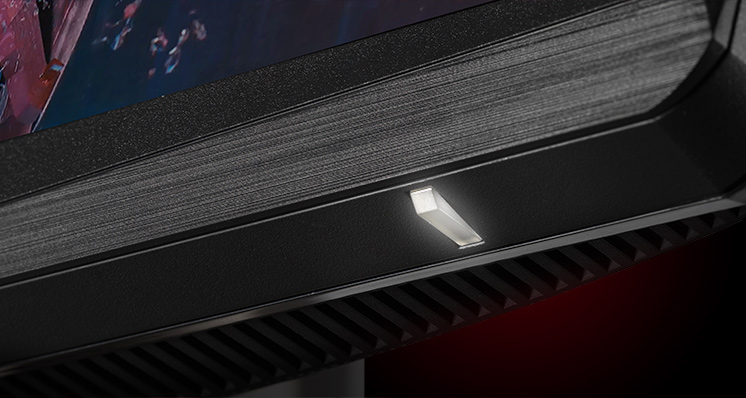 Repositioned indicator light
The indicator light has been moved to the underside of the bezel, so there are no distractions in your line of sight.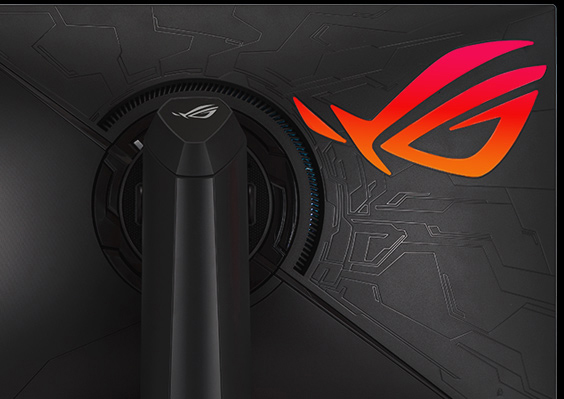 Asus Aura Sync Lightin
Asus Aura Sync Lightin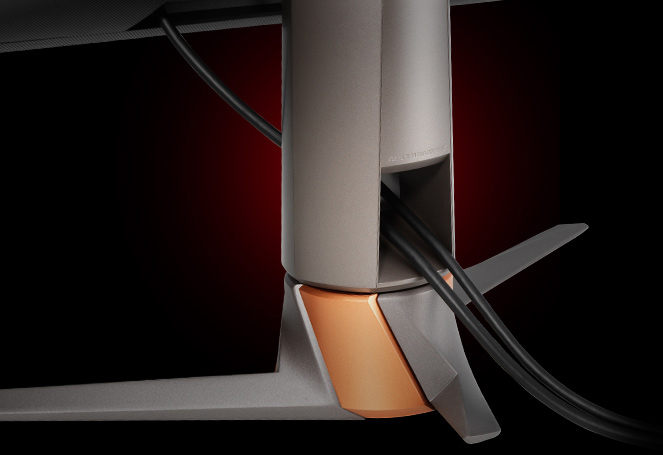 Smart Cable Management
Organize and hide your cables to keep your gaming area tidy.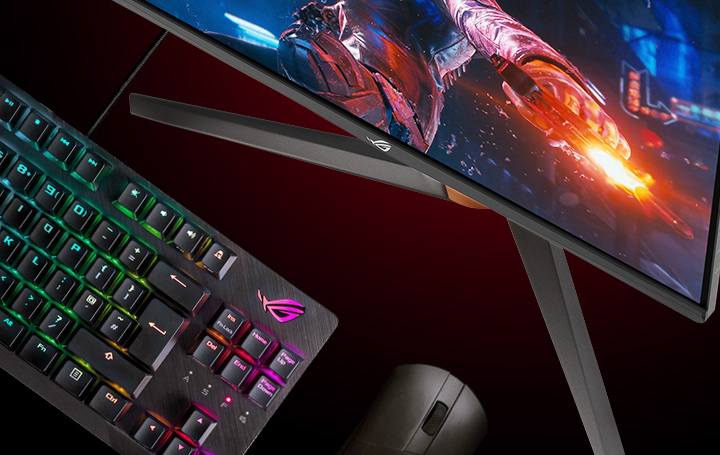 Space-saving Stand
The redesigned stand allows you to move your keyboard and mouse closer to the monitor, freeing up more space for your gaming setup.
INTELLIGENT COOLING SYSTEM
Large Custom Heatsink
The custom heatsink found in ROG Swift 360Hz PG259QN offers more surface area for heat exchange, ensuring efficient cooling during marathon gaming sessions.
SILKLY- SMOOTH AND CRYSTAL-CLEAR GAMEPLAY
- NVIDIA Ultra Low Motion Blur
NVIDIA Ultra Low Motion Blur technology uses backlight strobing to reduce motion blur to give you supersmooth moving visuals.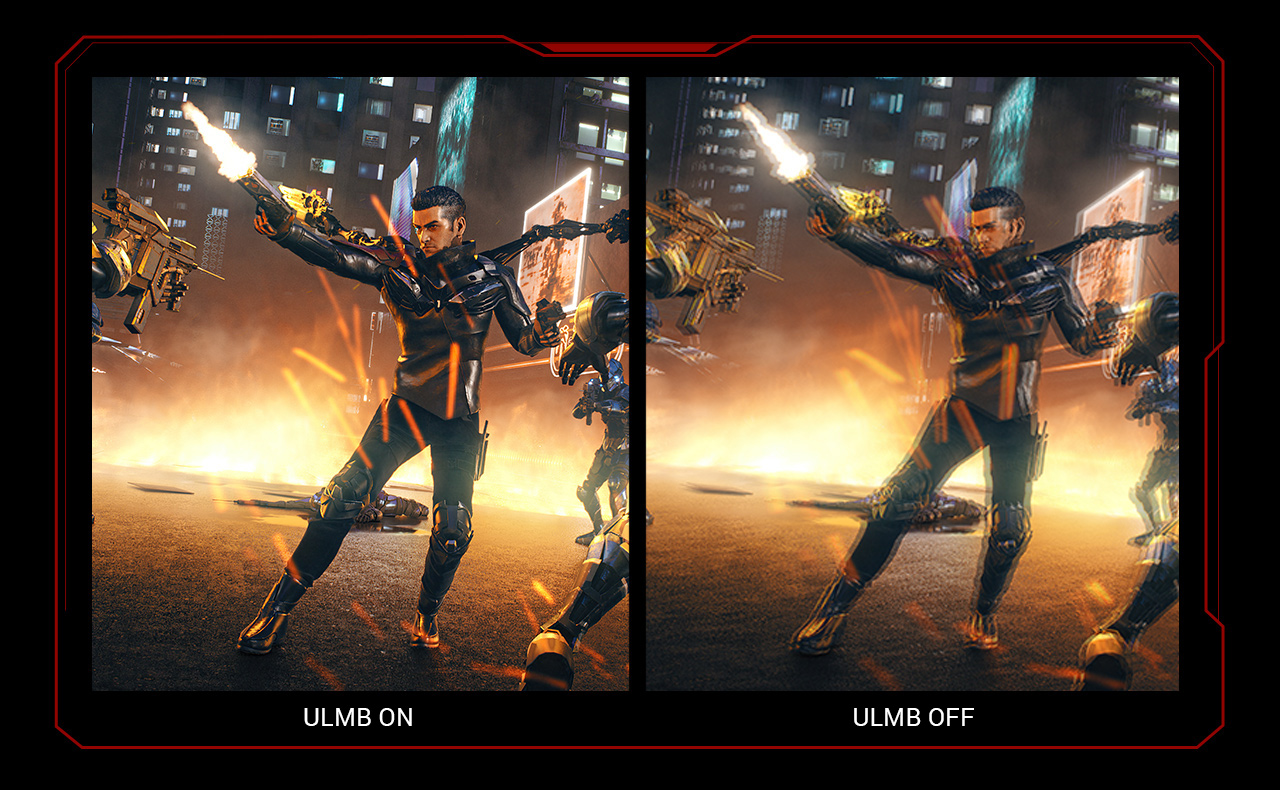 HIGH DYNAMIC RANGE (HDR)
HDR technology delivers visuals with a wider color range and higher contrast than traditional monitors for more realistic visuals. ROG Swift 360 Hz PG259QN features HDR10 to give you color and brightness that exceed that of ordinary displays.
In-game enhancements
GamePlus
The ASUS-exclusive, integrated GamePlus hotkey offers in-game enhancements that help you get more out of your game. This function is co-developed with input from pro gamers, allowing them to practice and improve their gaming skills.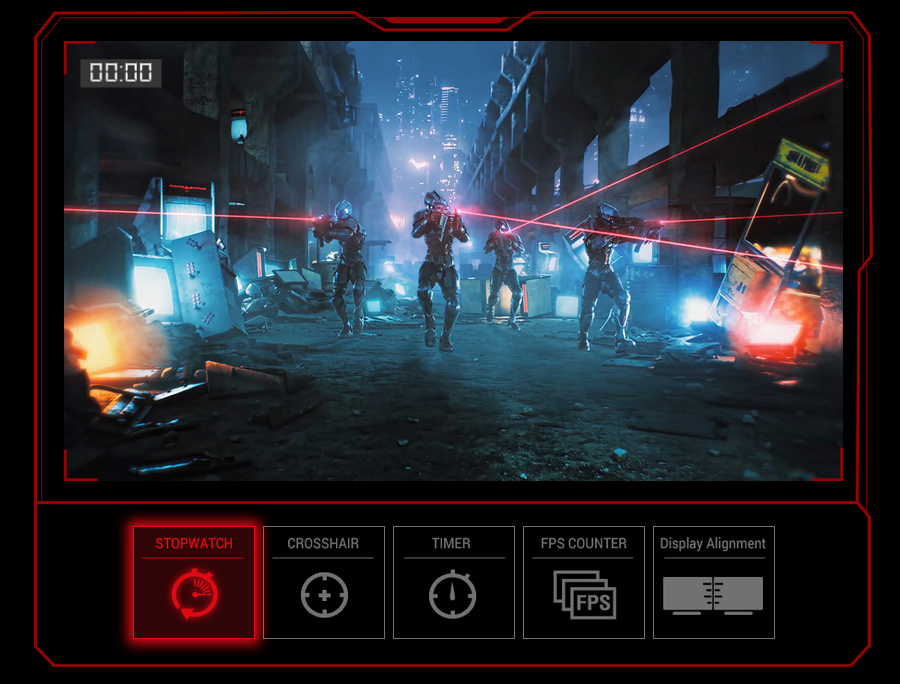 GameVisual
ASUS GameVisual Technology has seven pre-set display modes to optimize visuals for different types of content. This unique feature can be easily accessed through a hotkey or the on-screen display settings menu.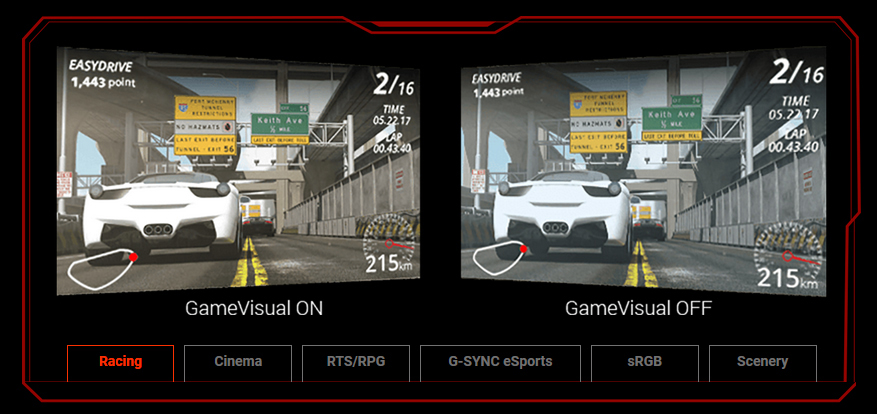 Reduces input lag, making it ideal for racing games when G-SYNC technology is on.
Flicker-Free technology
Flicker-Free technology reduces flicker to minimize eyestrain for improved comfort when you're embroiled in long gaming sessions.
Ultra-Low Blue Light technology
ASUS Ultra-Low Blue Light technology reduces the amount of potentially harmful blue light emitted by the display. Four different filter settings are available to control the amount of blue light reduction.
USABILITY
Rich connectivity
Extensive connectivity options, including, I/O: DisplayPort1.4, HDMI (v2.0) support a wide array of multimedia devices.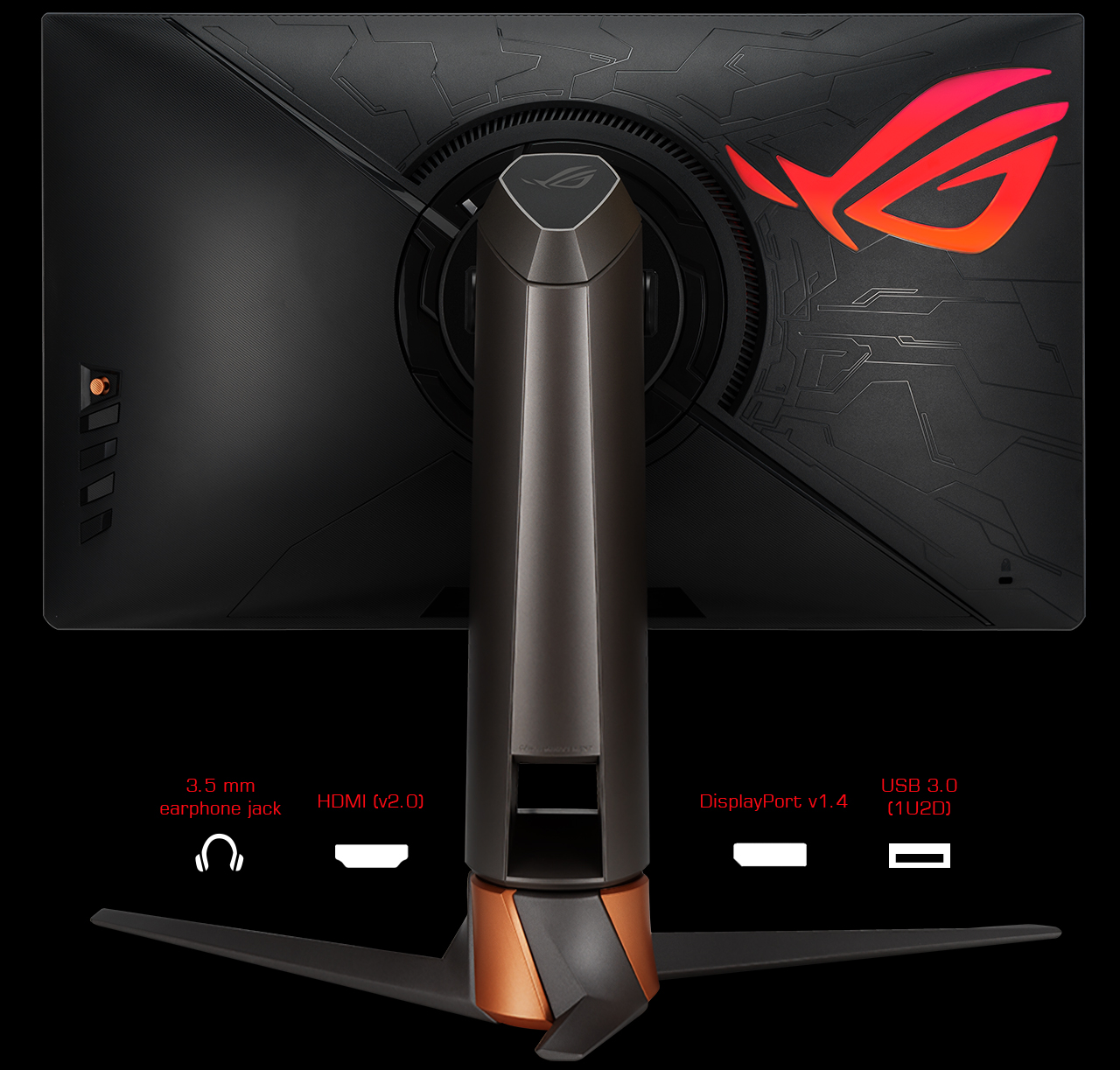 Ergonomic design
With an ergonomically-designed stand, it provides tilt, swivel, pivot, and height adjustments so you can easily find your ideal viewing position. The display is also VESA-compatible for wall mounting.
Height adjustment (0~120mm)