Maximized Your Visuals: 13.3" super narrow-bezel touch screen (1920x1080) native resolution. IPS technology for wide viewing angles. Convertible design - allows you to switch between high-functioning laptop and portable tablet forms. The durable hinge makes it quick and simple to transfer to tent, stand, and tablet mode.
Powered by 2021 Newest Upgraded Intel N4120 processor up to 2.6GHz (4 Cores, 4 Threads, 4M Cache), running faster and more stable, thank to 256GB Solid State Drive and 8GB high-bandwidth DDR4 RAM, large storage for best performance, enhance all day productivity.
Built to Connect: Comes with 2xType-C port for your speedy data transfers, power delivery and video out, what's more, build in fast charger DC port, lastest 802.11ac Wi-Fi, Bluetooth 5.0, Windows 10 64-Bit, stereo speakers, Micro SD card reader, SSD expansion slot plus headset jack and integrated webcam.
4.Awesome Backlit Keyboard: Works in two states: On/Off, 2-level adjustable backlight allows you to adjust your keyboard's brightness manually by "F2", provide you with better visibility in low light environments or even no light.
5.Ultra-Thin and Light laptop: Typical weight of 2.8 lb/1.25Kgm for 13.3". Elegantly slim at 12.1"x8.2"x0.6", all mental body design makes it both portable and stylish.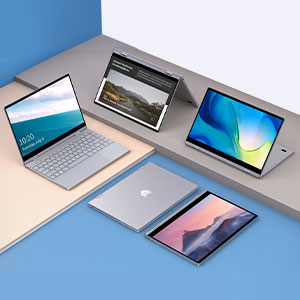 Rotate, fold, axis 360 degrees with your work freely. One notebook, 6 modes:
Notebook Mode: Full keyboard for maximum productivity.
Support Mode: It not only keeps you closer to the screen when watching a movie, but also a wonderful photo frame.
Mode: Perfect mode for use in confined spaces such as airplanes or kitchens.
Tablet mode: Windows 10 offers a complete tablet experience.
Laptop: Easy to carry, easy to play.
Reason mode: Let your creativity jump to the paper.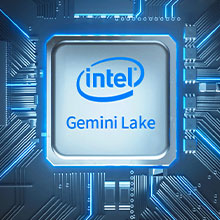 Generation 8 Intel Gemini Lake processor
Powered by Generation 8 Intel Gemini Lake processor, Y13 is very powerful. There is no need to worry about its excellent performance and connotations.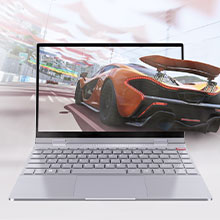 Novena Generation 600 Intel UHD Graphics
The video engine decodes H.265 / HEVC (8b and 10b) and VP9 completely in hardware, allowing you to play 4K Ultra HD video at 60fps smoothly.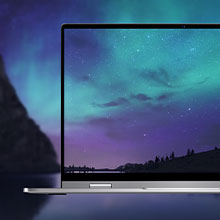 Full HD LCD IPS touch screen.
Y13 is equipped with a 13.3 "touch screen. IPS FHD technology offers wide angle view and better color quality. The Full HD touch screen of Y13 is operated with full lamination technology, it is also an IPS LCD screen with low reflection with an ultra thin frame.
Big memory and SSD
The standard 8GB of RAM is sufficient for general processing and gaming without causing serious speed or performance issues. This way you can save whatever you want on the 256GB SSD.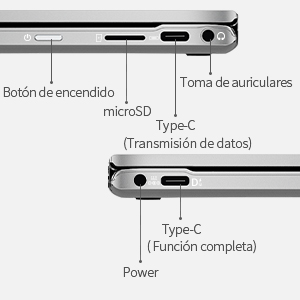 Humanized work efficiency
Outstanding performance and beautiful design so you can enjoy the BMAX MaxBook 13 for all day productivity.