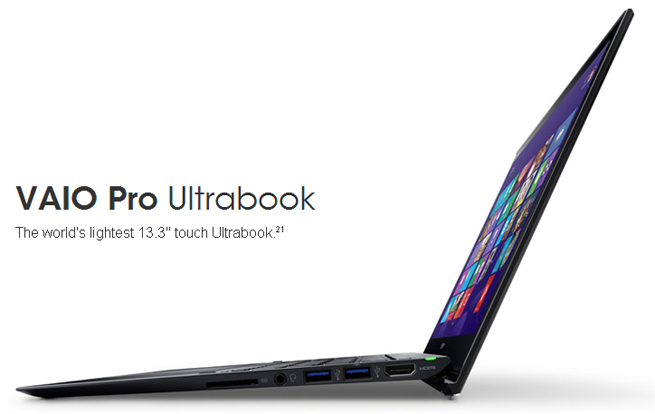 Light as a Feather and Fully Loaded with Great Features

The world's lightest 13.3-inch touch Ultrabook (as of June 5, 2013), the SONY VAIO Pro 13 redefines your on-the-go work and play with a full evolution in performance and style. Wrapped in super-light, extra-durable carbon fiber, the VAIO Pro boasts Sony's latest Full HD TRILUMINOS Display for Mobile technology with more brilliant color than ever before. Add an ultra-fast solid SSD (solid state drive), a comfortable infinite palm rest design, plus long battery life, and you've got a computer that's never looked this good or done so much. Ultrabook. Inspired by Intel.
Features
4th Gen Intel Core i7 processor available
Windows 8 Pro available
Full HD TRILUMINOS IPS touchscreen (1920 x 1080)
Super fast 512GB PCIe SSD available
Ultra-light at just 2.34lb
Durability Meets Intelligent Design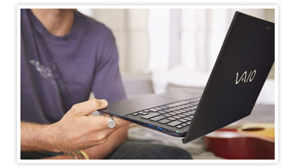 The Pro Ultrabook is an expertly engineered, extremely durable powerhouse as a result of meticulous attention to detail and a passion for design. A slender-yet-sturdy carbon fiber exterior provides an impressive level of protection against daily wear-and-tear, while still managing to keep things light – the Pro 13 weighs just 2.34 pounds. The infinite palmrest's extremely low profile provides a comfortable place to rest your hands, while the backlit keyboard's illuminating glow helps minimize typos – even when typing in the dark.
More Brilliant Color than Ever Before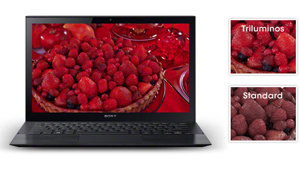 Enjoy a new level of realism and brilliance in photos, movies, and webpages on the Full HD 1920 x 1080 touchscreen LCD. Unique to Sony, the all-new TRILUMINOS Display for Mobile technology creates incredibly true, natural shades of color – just the way you'd want. Vibrant hues appear purer with a wider color range, giving images a heightened sense of depth. Equipped with IPS (in-plane switching) technology, crisp images can be enjoyed from virtually any viewing angle – perfect for sharing an important presentation or the latest blockbuster hit. And with X-Reality for Mobile technology video quality is vastly improved, making your favorite clips and movies appear even sharper.
Everything Just Got Faster.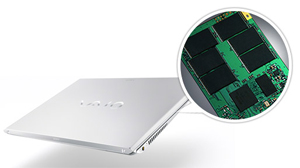 Buckle up. A super-speedy PCIe SSD drive comes standard on all Pro 13 models. Boot up faster, launch apps at lightning speeds, and enjoy snappier overall performance capabilities versus a traditional mSATA SSD drive. Both VAIO Pro models feature SSD (Solid State Drive) technology with no moving parts, making for a more durable storage solution less prone physical damage.
All-Day Mobility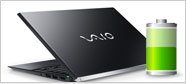 Enjoy extended work and play with the longer battery life of the VAIO Pro. With the optional large-capacity sheet battery, leave behind the traditional bulky, protruding long-life batteries of the past. Seamlessly attached to the bottom, it operates in tandem with the VAIO Pro for up to double the battery life – meaning you can go for that much longer on a single charge.
Never Shut Down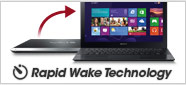 Get back to your task, where your left off, quickly without restarting an operating system. Featuring Sony's Rapid Wake technology, simply enter into the energy-saving sleep mode that helps keep data safe and secure. Battery drain is minimal, so your PC can stay asleep for days. Ready to rouse it from slumber? Pop open the lid, and get right back to business in about two seconds.
Become a Digital da Vinci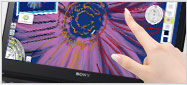 Create gorgeous "paintings" on the VAIO Pro's touchscreen with pre-installed ArtRage Studio software. Get a host of digital tools that simulate real-world art instruments – like paintbrushes, oils, watercolors, pencils, and ink pens – making it simple to produce natural-looking artwork on your computer. Best of all, there's no need to spend time learning complex processes and techniques. With an easy-to-understand interface, creating art is fun and intuitive.
Loud and Clear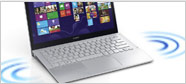 Your laptop audio will not be the same with ClearAudio+ mode. One simple operation activates the perfect sound settings for your favorite music, blockbuster movies, and the latest games. With Sony's unique sound processing technologies, turn up dynamic bass and soaring highs with less distortion for an unmatched video watching, music listening experience.
Wondrous Webcam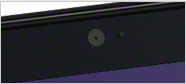 Engage in face-to-face communication as if your friends are just next to you. The built-in HD web camera features Sony's Exmor R CMOS sensor technology for a crisper, clearer picture – even when chatting with friends and family in dimly lit rooms. It's perfect for snapping self-portraits, video conferencing with a client, or simply sharing smiles across the miles.
One-Touch Connection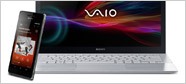 Effortlessly connect to NFC-enabled wireless devices with a simple touch. It's all about wireless connectivity that's so easy, anyone can do it. Share and display websites from your compatible smartphone to your VAIO Pro Ultrabook. Stream your favorite playlist to a wireless speaker instantly. Near Field Communication (NFC) makes it all possible, with more fun and less hassle.
Quick on the Draw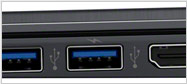 Charging your phone or MP3 player is easier and more convenient than ever. Just plug it into the USB sleep charge port: even if your laptop is shut down or unplugged, your device will still draw a charge. And with the USB 3.0 port, you can transfer data from an external hard drive at blazing speeds of up to ten times faster than USB 2.0.
Stay Secure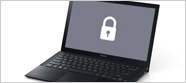 Your stored files, business documents, contracts, and other information are safe from attacks or even physical theft. Get serious about secure information management and enhanced protection for your business with VAIO Pro's TPM (Trusted Platform Module). Built into every VAIO Pro with Windows 8 Pro, TPM stores important cryptographic information, like encryption keys. And because TPM uses its own internal firmware and logic circuits for processing instructions, it's less exposed to external software vulnerabilities.