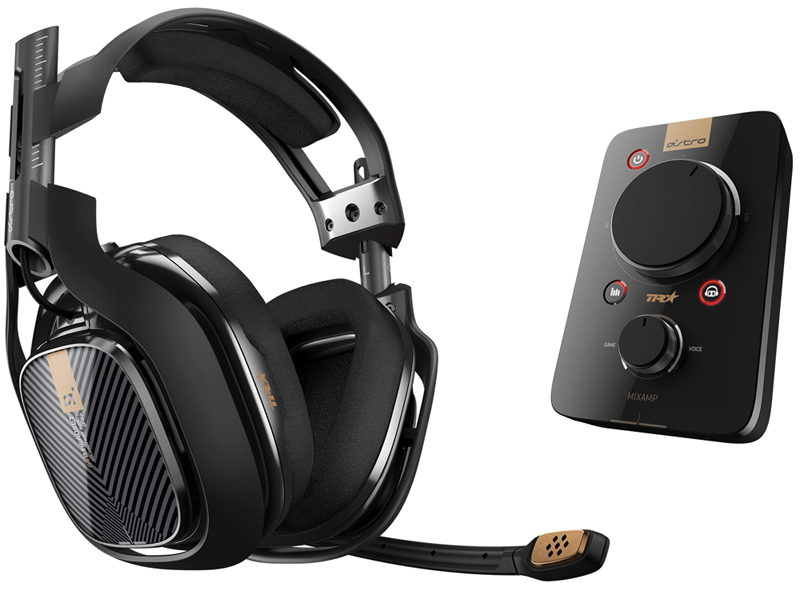 ASTRO A40 TR Headset + MixAmp Pro TR
Consisting of an ASTRO A40 TR headset and a MixAmp Pro TR mixer/amplifier, this kit is the premium gaming audio solution for professional gamers. The headset delivers serious gaming sound from its 40mm drivers. The swappable parts offer you the ability to customize with extra mic, speaker tags, ear cushions and headband (all sold separately), for different acoustics and looks.
The MixAmp Pro TR mixer/amplifier features Dolby Digital Surround Sound processing and enables lag- and interference-free delivery of game sound and voice communication to the A40 TR headset. Easily adjust the game-to-voice balance, select one of four EQ modes to match the game genre, and customize stream output to control what your stream audience hears.
This kit is compatible with PS4, PC and Mac.
Get To Know The A40 Tr Mixamp & Mod Kit

Comfort & Durability
Lightweight, rugged construction with premium materials for a highly adjustable, pressure-free fit.
Pro Quality Audio
Tuned for Gaming, ASTRO Audio was developed with pro gamers and game designers to deliver clarity and detail at every frequency and volume level.

Mod Kit Ready
Features synthetic leather noise-cancelling ear cushions, voice isolating mic, padded headband and closed back Speaker Tags.
Customizable Speaker Tags
The magnetic Speaker Tag system lets you personalize your pair. Buy special editions or design your own using the Speaker Tag Customizer.
Swappable Boom Microphone
Highly sensitive uni-directional mic that focuses on your voice and minimizes background noise.
USB Sound Card Functionality
USB sound card functionality with game:voice balancing, game and voice streaming. No Optical needed.

Dolby Headphone 7.1 Surround Sound
Dolby Headphone 7.1 Surround delivers cinematic, 3D gaming audio experience, and broadcasts Dolby out to streaming audiences.

Game:Voice Balance
A feature that ASTRO pioneered, game:voice balancing allows easy adjustment of the ratio of game audio to voice chat players experience.

Customizable Stream Output
Control what your stream audience hears, including chat and game audio levels. Broadcast in 2-channel Dolby Surround Sound.

Digital Daisy Chain
Faster than the speed of sound, this fully digital connection enables interference- and lag-free local voice communications.

ASTRO Command Center Software
Customize input/output levels, adjust Noise Gate and Sidetone, and create & share custom EQ presets with the free software.