ASUS All-in-One Computer ET2230IUT-07
Enjoy Elegance. Enjoy Life.
ASUS All-in-One Computer ET2230IUT-07 features everything you need - unrivalled processing power, a superb Full HD display and professional-grade sound system, as well as ample storage, combined in one sleek and stylish package. This high-octane PC lets you blast through any tasks with ease, while bringing a fashionable accent to the center of your home/office/or store. Multiple I/O ports are combined in one space at the back of the screen to keep all cables neat and tidy, further helping minimize desktop clutter.
Uncompromising Performance
Make your everyday tasks faster and easier. Embrace the world of high efficiency thanks to the latest technology.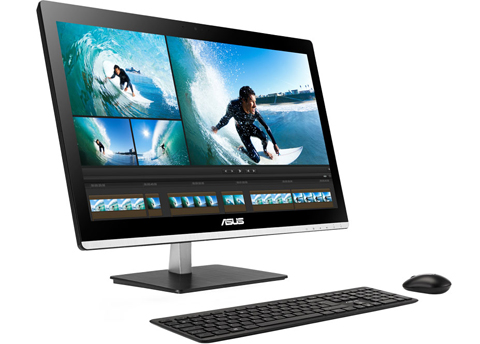 Powerful Intel Dual-core Processor
Powered by 4th-generation Intel Core i3 processor, the ET2230IUT-07 consumes less energy but still delivers outstanding performance. Coupled with 8 GB of RAM, this all-in-one PC switches seamlessly between applications for effortless multitasking whether you're web surfing, creating multimedia-rich presentations or home video editing.
Intuitive Windows 8.1
Start up in an instant, quickly switch between applications, and manage files easier, with the fast and fluid Windows 8.1. If you want a Windows desktop PC, ASUS All-in-One PC is a good choice.
Stunning 21.5-inch Full HD Display
Immerse yourself in vibrant high-definition images
The stunning edge-to-edge 21.5-inch widescreen display makes everything you see vivid and vibrant. Enjoy true-to-life colors with every image, whether it's a beautiful sunset, a clear blue sky or gorgeous skin tones. Full HD 1920x1080 resolution lets you enjoy games and movies in impeccable detail with amazing color and contrast.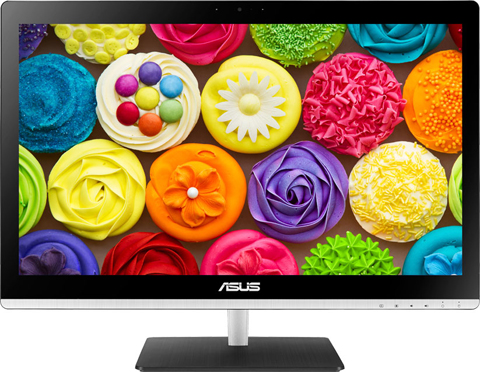 SonicMaster Technology
High-fidelity sound optimized by industry experts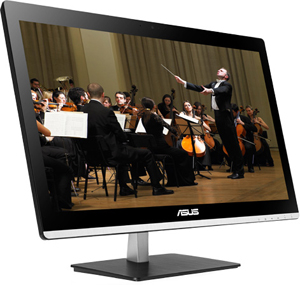 Ear-pleasing Audio
The ET2230IUT-07 has built-in stereo speakers, featuring the renowned ASUS SonicMaster technology. Together with MaxxAudio from Waves, recipient of a Technical GRAMMY Award, it delivers an amazing audio experience. Enjoy deeper and richer bass, a wider range, true-to-life surround, powerful output, distinct vocals, and pristine clarity. Every song, movie, and game sounds better, thanks to carefully balanced dynamic audio.
Fine-tune the Sound to Suit You
ASUS AudioWizard has five selectable modes for music, movie, gaming, recording, and speech. It suits your preferences and listening environment, so you can always enjoy life-like sound in music, movies and games. With an intuitive friendly user interface you have quick and direct access to your content with the flexibility to optimize it to your liking.
Stay Connected
Connect quicker with amazing ASUS technology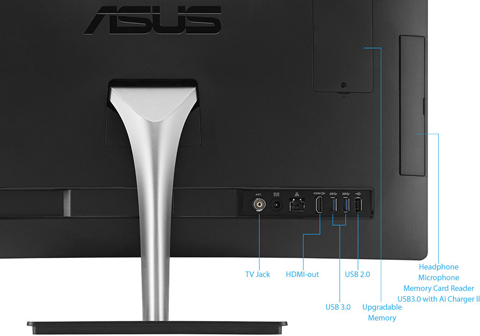 Connect and share with Family and Friends
With Miracast [1] you can wirelessly display your photos and videos on a bigger TV or display, allowing for easy sharing with your friends and family. While streaming, you still can edit files, surf the Internet, read mails, and even play games. An optional TV tuner lets you watch your favorite shows with plug and play ease, while the Electronic Program Guide with scheduled recording means you'll never miss a moment [2].
Expandable Memory. Super-fast Charging.
The ET2230IUT-07 features Dual In-Line Memory Module door (DIMM door), this allows you to seamlessly expand your PC's memory in seconds! Another awesome feature is ASUS Ai Charger II. This exclusive technology charges your smartphones and tablet without having to leave your PC switched on giving you convenience as well as saving power. Your devices will be charged in super-quick time too. It lets you recharge your smartphones, tablets, and other USB devices up to 50% faster [3] as well as transfer data between devices up to 10 times (10x) faster than USB 2.0 [4].
Stylish Design
Makes your desktop shine with stylish look
The stunning sculpted design with metallic stand gives a graceful and elegant appearance. This All-in-One PC not only looks stylish and chic, but blends into your home and office spaces with equal ease.
Note:
1. Actual performance may vary depending on Wi-Fi signal strength.
2. TV tuner option available in select regions only. Check an ASUS reseller for exact specifications.
3. By optimized USB 3.0 port of Ai Charger ll.
4. USB 3.0 performance for reference purpose only. Actual performance may vary by product settings.