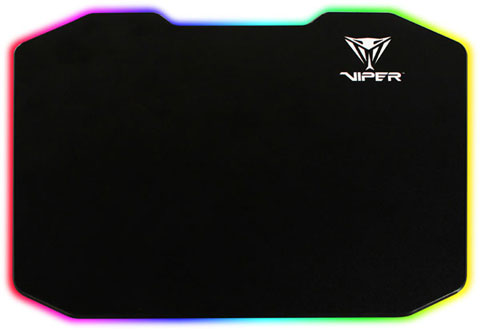 Patriot Viper Gaming LED Mouse Pad, Model # PV160UXK
With brilliant LED lighting at the outer rim, this mouse pad offers a perfect complement to your gaming system while adding to the gaming ambiance. It features six LED zones and six lighting effects, and is powered by USB with a controller located on the braided cord.
The mouse pad has a low-profile, large-format design for continuous movement across the largest high-resolution monitors. The high-performance polymer surface provides a durable, smooth surface for fast and accurate tracking. The high-grip, rubber backing anchors the pad on any surface, guaranteeing non-slip performance during intense gaming sessions. Couple this pad with your high end gaming mouse and fully unleash your gaming prowess.
Continuous LED backlighting around entire pad
Six-color LED illumination
Six LED lighting effects
High-performance rigid polymer surface
High-grip rubber backing for non-slip performance
Low-profile, large-format, professional design
Micro USB connector
Braided cord