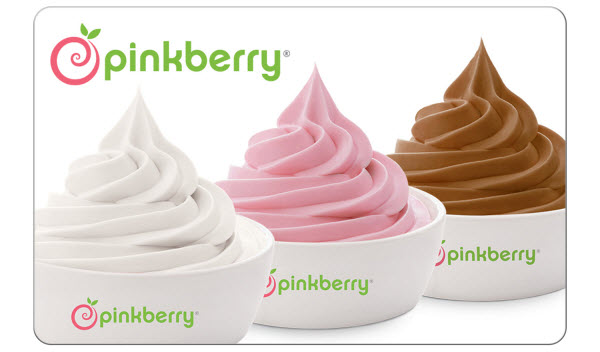 Give the Gift of Pinkerry
A Pinkberry gift card is the perfect gift for any occasion, such as birthdays and holidays. Gift it to your loved ones and let them enjoy yummy frozen yogurt, smoothies, fruit parfait and more.
Redemption Instructions
Present this gift card to a crew member. Crew member will swipe or key in the 19-digit gift-card number into the terminal to redeem the balance of the order. Any remaining balance will remain on the gift card for a future purchase.
In-Store Mobile Redemption Instructions
Recipient: To redeem your eGift card from a mobile device, display the gift card number and associated PIN (if applicable) to the cashier at the time of purchase.
Crew Member: Hand-key the gift-card number and associated PIN (if applicable) into the POS.
About Pinkberry
Pinkberry is the tart frozen yogurt brand from Los Angeles, CA. In 2005, the brand reignited the frozen-yogurt phenomenon. The unique selection of flavors are the perfect balance of tart and sweet resulting in a light and refreshing taste that is truly craveable. Pinkberry takes pride in offering better-for-you options for health-conscious lifestyles. Pinkberry's dedication to uncompromising quality has garnered great appeal—many have imitated, but no one has duplicated.
Pinkberry. It Tastes as Good as it Makes You Feel.