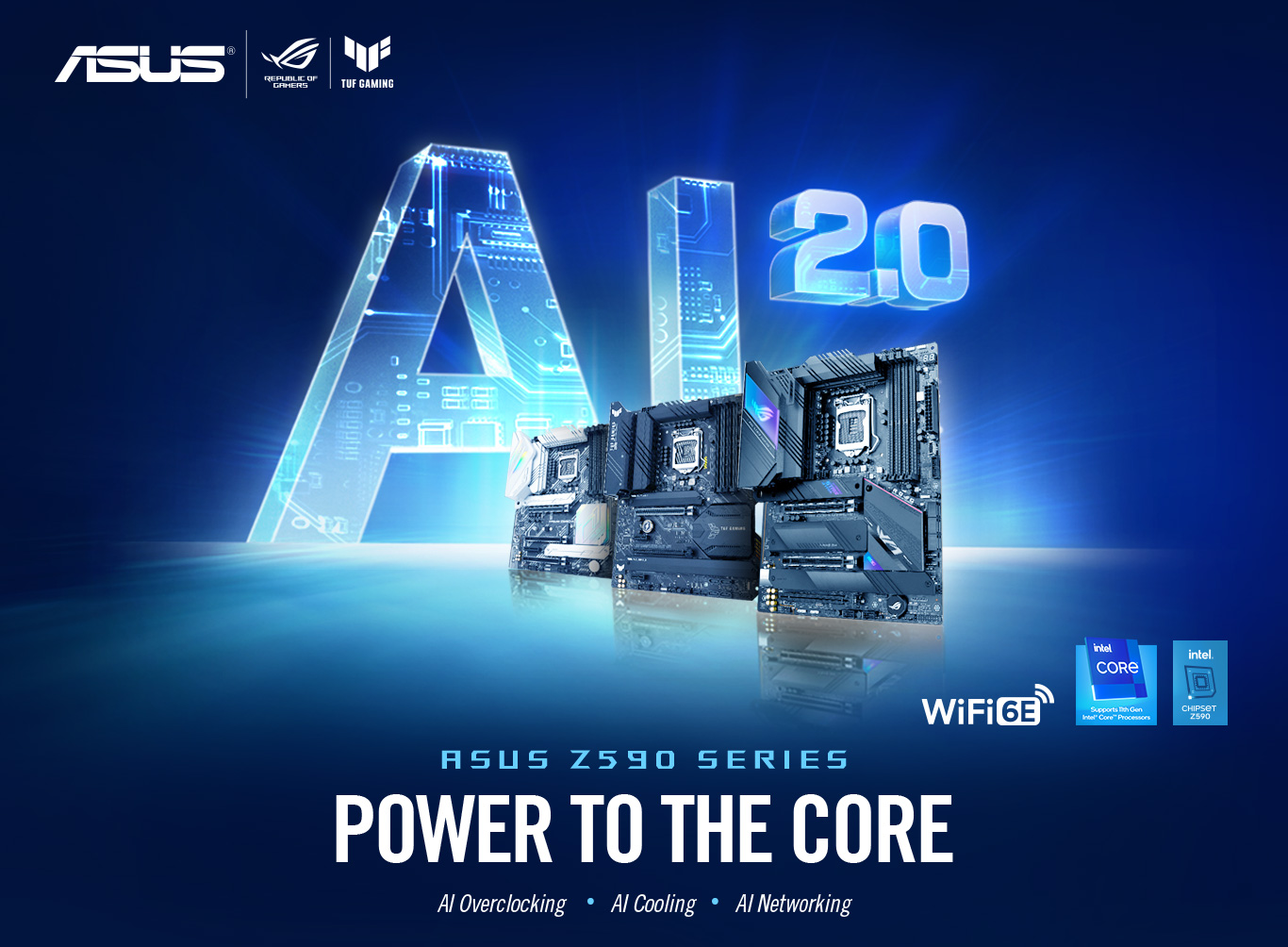 ASUS Z590 series motherboards are designed to extract every ounce of performance from the latest 11th Gen Intel® Core™ processors. Updated power designs underpin the entire lineup, which is further enhanced with the latest connectivity options and boosted by slick features that leverage Artificial Intelligence to put advanced performance at your fingertips.
AI Motherboards
ASUS Z590 motherboards feature exclusive software and firmware utilities that leverage machine learning and Artificial Intelligence (AI) to improve the user experience. On select motherboard models, the latest ASUS AI enhancements span four distinct pillars of performance, including overclocking, cooling, networking and even onboard audio, making advanced tweaks and optimization more accessible to both new recruits and savvy PC DIY veterans.
AI Overclocking
AI Overclocking unleashes the full potential of your CPU by utilizing onboard intelligence to profile characteristics and expertly tune the frequency and voltage. With quick, reliable results, AI Overclocking eliminates the painstaking time-consuming process of manual tuning.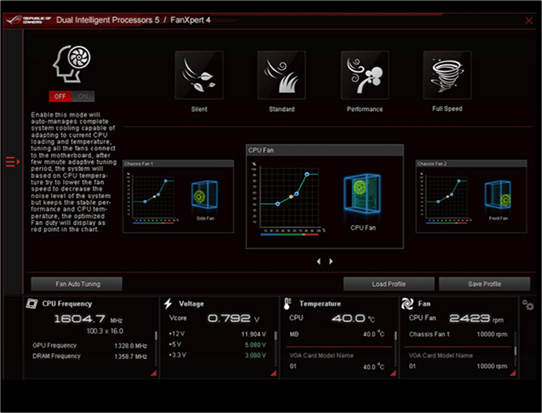 AI Cooling
AI Cooling enables new recruits to effortlessly balance the thermals and acoustics of your system. With a single click, the proprietary algorithm reduces unnecessary system noise by monitoring CPU temperature and dynamically adjusting fans to the optimal speeds.
AI Networking
AI Networking optimizes networking performance by allocating bandwidth in real time based on application usage scenarios and corresponding learning algorithms. This smart adjustment saves you the time and effort of configuring computer and router settings to achieve the fastest networking speeds.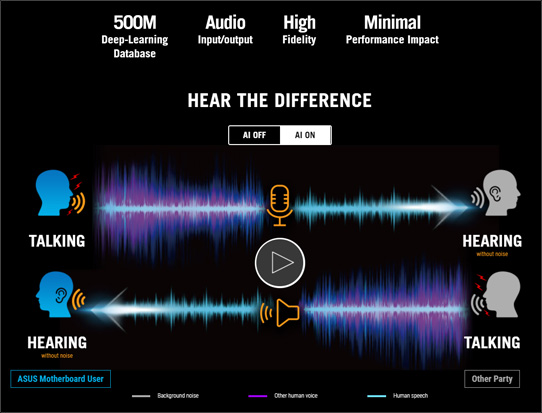 AI Noise Cancelation
Our latest audio utility leverages a massive deep-learning database to reduce background noise from the microphone* and incoming audio. Distracting keyboard clatter, mouse clicks and other ambient noises are smartly pared back, so you can hear and be heard with crystal clarity while gaming or in calls.
*An audio splitter (3.5mm audio jack Y-cable) is necessary when using a 3.5mm headset.
UNLEASH THE FULL POTENTIAL OF THE LATEST Intel 11th Gen CPUs WITH BEST IN CLASS VRM & COOLING DESIGN
ROBUST POWER DESIGN
Digital power control and an array of teamed power stages with ProCool II connectors, high-quality alloy chokes and durable capacitors provide reliable power when pushing CPU performance to the limit.
Enhanced Heatsink
To ensure system stability under heavy CPU loads, ASUS Z590 motherboards employ large VRM and chipset heatsinks that strike the right balance between surface area and mass. That same philosophy also extends to onboard M.2 heatsinks, ensuring readiness for the next wave of PCIe 4.0 SSDs.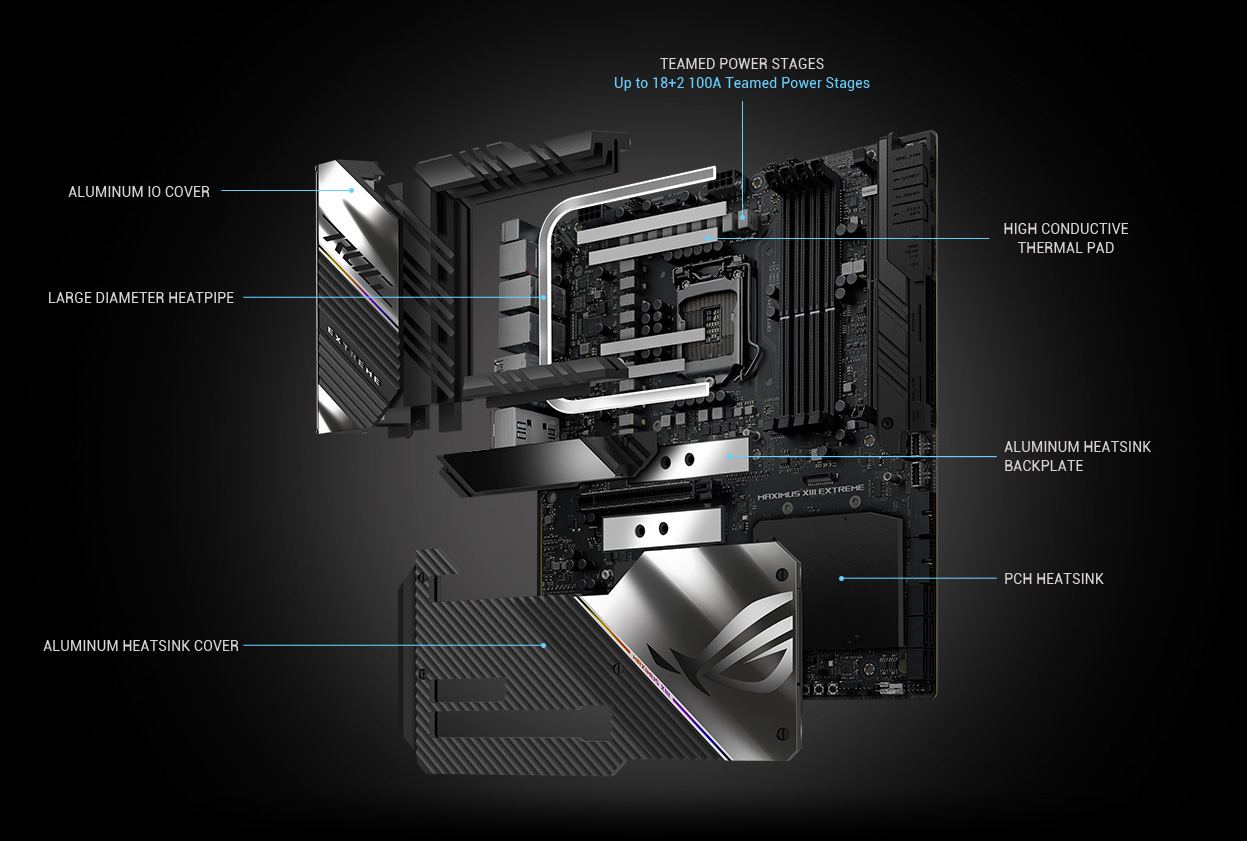 NEXT GEN CONNECTIVITY
World's First Wi-Fi 6E Ecosystem
Wi-Fi 6E (802.11 ax)
The ROG Z590 series features Wi-Fi 6E technology, which takes advantage of the newly available radio spectrum in the 6GHz band. Wi-Fi 6E has triple the bandwidth of the 5GHz band and up to seven 160MHz frequency bands to deliver ultrafast wireless-networking speeds, improved capacity and better performance in dense wireless environments.


Thunderbolt 4
ASUS Z590 motherboards offer up to two onboard Thunderbolt 4 USB-C® ports, each providing up to 40 Gbps of bidirectional bandwidth for the latest high-speed devices and drives.


PCIe 4.0 Ready
Designed specifically for 11th Gen Intel Core CPUs, ASUS Z590 motherboards are fully validated to support PCIe 4.0 and ready for the latest GPUs and high-speed SSDs.


Intel Ethernet
Ready for the latest high-performance routers, Intel 2.5G Ethernet provides up to a 2.5x improvement over standard Ethernet connections, delivering blazing file transfers, smoother lag-free gaming and high-res video streaming.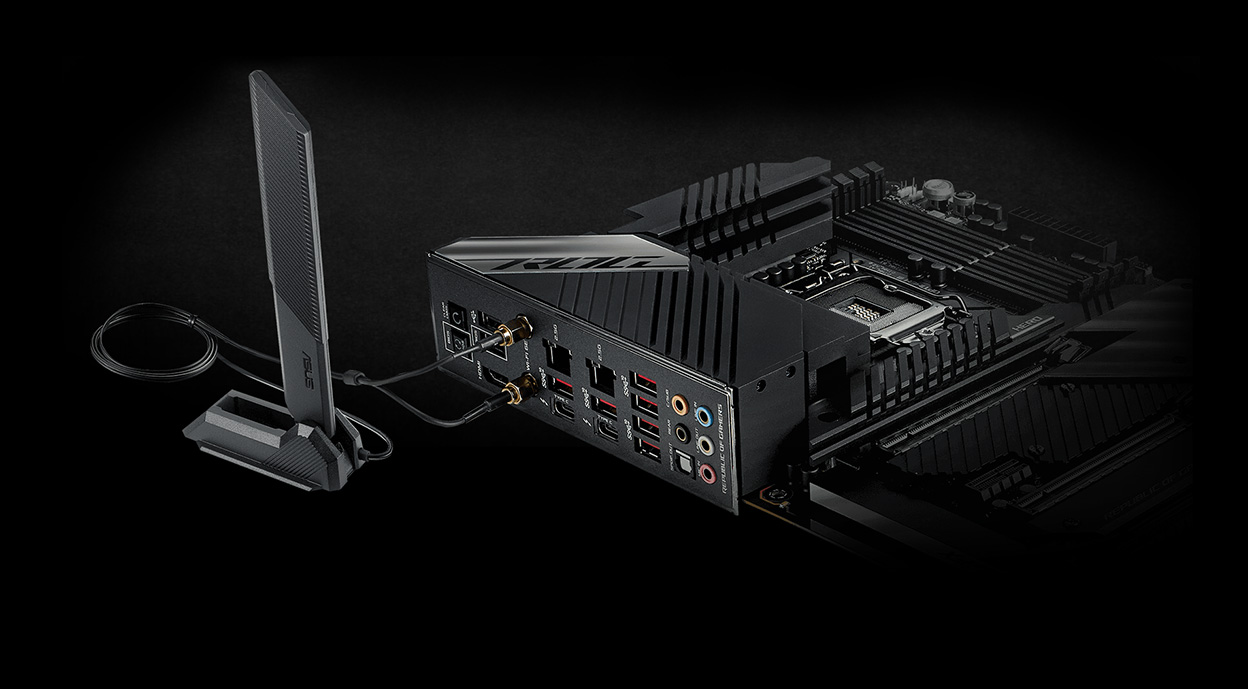 CHOOSE YOUR Z590 MOTHERBOARD
Model
ROG Maximus
XIII Hero


ROG Strix Z590-E
Gaming WiFi


ROG Strix Z590-A
Gaming WiFi


ROG Strix Z590-I
Gaming WiFi


PRIME
Z590-A


TUF Gaming
Z590-PLUS


TUF Gaming
Z590-PLUS WIFI


Form Factor 
ATX
ATX
ATX
Mini-ITX
ATX
ATX
ATX
Teamed Power Architecture
14+2
14+2
14+2
8+2
14+2
14+2
14+2
Pre-mount I/O shield
V
V
V
V
V
V
V
Memory
# Slots, Maximum Capacity
4 x DIMM, Max. 128GB
4 x DIMM, Max. 128GB
4 x DIMM, Max. 128GB
2 x DIMM, Max. 64GB
4 x DIMM, Max. 128GB
4 x DIMM, Max. 128GB
4 x DIMM, Max. 128GB
Speed (MHz)*
5333(OC)
5333(OC)
5133(OC)
5133(OC)
5133(OC)
5000(OC)
5000(OC)
Graphics Out
HDMI 2.0
DP 1.4/HDMI 2.0
DP 1.4/HDMI 2.0
HDMI 2.0
DP1.4/HDMI2.0
DP/HDMI
DP/HDMI
Expansion Slots
PCIe 4.0 x16
2 x PCIe 4.0/3.0 x16 SafeSlot
2 x PCIe 4.0/3.0 x16 SafeSlots
3 x PCIe 4.0/3.0 x16 SafeSlots

1 x PCIe 4.0/3.0 x16 SafeSlot
3 x PCIe 4.0/3.0 x16 SafeSlots
1 x PCIe 4.0/3.0 x16 SafeSlot 
1 x PCIe 4.0/3.0 x16 SafeSlot
PCIe 3.0 x16
1 x PCIe 3.0 x16(max. @x4)
1 x PCIe 3.0 x16(max. @x4)
-
-
-
1 x PCIe 3.0 x16
1 x PCIe 3.0 x16
Thunderbolt 4 Support
2*onboard
1*header
1*header
1*header
1*header
1*header
1*header
Storage & Connectivity
SATA 6Gb/s
6
6
6
4
6
6
6
M.2
1 x 22110 (PCIe 4.0 x4)
1 x 2280 (PCIe 4.0 x4)
1 x 2280 (PCIe 3.0 x4)
1 x 22110 (PCIe 3.0 x4 & SATA)
1 x 22110 (PCIe 4.0 x4)
1 x 22110 (PCIe 4.0 x4)
1 x 22110 (PCIe 3.0 x4)
1 x 2280 (PCIe 3.0 x4 & SATA)
1 x 22110 (PCIe 4.0 x4)
2 x 22110 (PCIe 3.0 x4 & SATA)
1 x 2280 (PCIe 4.0 x4)
1 x 2280 (PCIe 3.0 x4 & SATA)
1 x 22110 (PCIe 4.0 x4)
2 x 22110 (PCIe 3.0 x4 & SATA)
1 x 22110 (PCIe 4.0 x4)
1 x 22110  (PCIe 3.0 x4 & SATA)
1 x 2280 (PCIe 3.0 x4 & SATA)
1 x 22110 (PCIe 4.0 x4)
1 x 22110  (PCIe 3.0 x4 & SATA)
1 x 2280 (PCIe 3.0 x4 & SATA)
Front Panel Type-C Connector
1 x USB 3.2 Gen 2X2
1 x USB 3.2 Gen 2x2
1 x USB 3.2 Gen 1
1 x USB 3.2 Gen 2
1 x USB 3.2 Gen 1
1 x USB 3.2 Gen 1
1 x USB 3.2 Gen 1
USB 3.2 Gen 2x2
1 (1C@F)
2 (1C@F, 1C@B)
1 (1C@B)
1 (1C@B)
1(1C@B)
1(1C@B)
1(1C@B)
USB 3.2 Gen 2
6 (6A@B)
3 (2A1C@B)
4 (4A@B)
2 (1A@B, 1C@F)
4(3A1C@B) 
2(2A@B)
2(2A@B)
USB 3.2 Gen 1
4 (4A@F)
6 (4A@F, 2A@B)
3 (2A+1C@F)
3 (1A@B, 2A@F)
3(2A1C@F) 
4 (2@B, 2@F)
4 (2@B, 2@F)
USB 2.0
6(2A@B,4A@F)
6(2A@B,4A@F)
9 (4A+1C@B,4A@F)
6(4A@B,2A@F)
8(4A@B,4A@F)
6 (2@B, 4@F)
6 (2@B, 4@F)
Wireless
Intel® Wi-Fi 6E AX210
Intel® Wi-Fi 6E AX210
Intel® Wi-Fi 6
Intel® Wi-Fi 6E AX210
-
Intel® Wi-Fi 6
Intel® Wi-Fi 6
Networking
Ethernet
2 x Intel® I225-V 2.5Gb
2 x Intel® I225-V 2.5Gb
1 x Intel® I225-V 2.5Gb
1 x Intel® I225-V 2.5Gb
1 x Intel® I225-V 2.5Gb
1 x Intel® I225-V 2.5Gb
1 x Intel® I225-V 2.5Gb
Audio
Audio Codec
ALC 4082
ALC 4080
ALC 4080
ALC 4080
Realtek S1220A
Realtek ALC1200A
Realtek ALC1200A
Cooling
Onboard Fan Headers
8
7
7
3
7
6
6
RGB Header
3*ARGB; 1*RGB
3*ARGB; 1*RGB
3*ARGB; 1*RGB
1*ARGB; 1*RGB
3*ARGB; 1*RGB
2*ARGB; 2*RGB
2*ARGB; 2*RGB