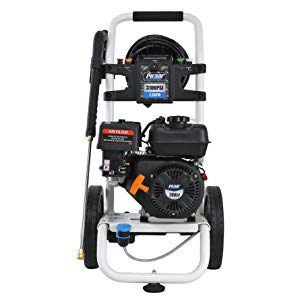 Pulsar 3,100 PSI 2.5 GPM Gas-Powered Pressure Washer
with 5 Quick Connect Nozzles & On-Board Detergent Tank
Power, versatility, and convenience come together in Pulsar's W31H19 to give you more effective outdoor cleaning capability where you need it most. With 3,100 PSI and a 2.5 GPM flow rate this pressure washer is capable of tackling even the toughest of jobs. Designed with over-sized wheels and a cushion grip handle for easy storage and maneuverability. Features like the added quick connect nozzles and on-board detergent tank allow you to quickly and efficiently clear way caked on dirt and debris from a variety of different surfaces. The ergonomic spray gun and 30' high pressure hose provides a wider range of motion and make those hard to reach places a thing of past. Whether at home or at work the W31H19 is the clear choice for all your outdoor cleaning needs.
Specifications
Max Pressure: 3,100 PSI/ 2.5 GPM Flow Rate
Built-in EZ-Start Pump Valve
Includes On-Board Detergent Tank & 5 Quick Connect Nozzles
30' High Pressure Hose & Ergonomic Spray Gun
12" Never-Flat Wheels & Cushion Grip Handle
3-Piston Axial Cam High Pressure Pump
208cc/ 7 HP
Features
Detergent Tank
The convenient on-board detergent tank allows you to utilize your favorite cleaner to clear away tough dirt and debris.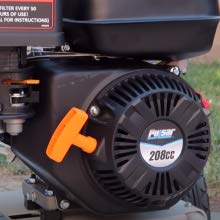 Powerful Engine
W31H19 comes equipped with a durable 208cc engine with a handy recoil start for easy operation.
Quick-Connect Nozzles
Includes 5 added Quick Connect Nozzles (0°, 15°, 25°, 40°, Standard Soap Nozzle) for optimal versatility.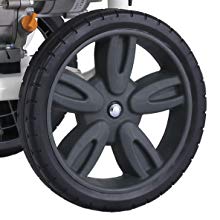 Added Portability
Large 12" Never-Flat Wheels and added Cushion Grip Handle make storing and maneuvering the W31H19 a breeze.