Working on a computer system can require very specific tools. Rosewill understands, and brought them together in a convenient collection. This 45-Piece Premium Computer Tool Kit is designed with the most popular tools needed to fix and upgrade your computer. With this collection you may never be left waiting, and paying, for someone to work on your computer again. A quality case keeps all the piece protected and neatly organized, making storage and transport a breeze.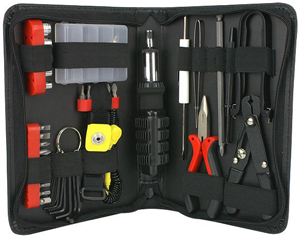 All-in-one Kit
The Rosewill RTK-045 premium computer tool kit comes with everything you need to work with, including a reversible ratchet driver with a 21-piece bit and socket set, a 6" #1 Phillips screwdriver, a spare parts box, a reversible 1/8" #0 mini screwdriver, 9 hex key set, 5" long nose pliers, 5" wire cutter/stripper, anti-static wrist strap, IC insertion-extraction clipper, three prongs holder, tweezers, and a black zipper case to store them all.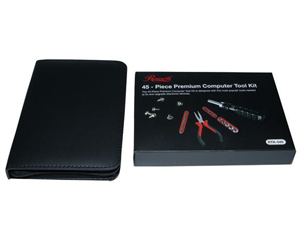 Fully Demagnetized
All tools are demagnetized to prevent damage to your system, peripherals and magnetic media.