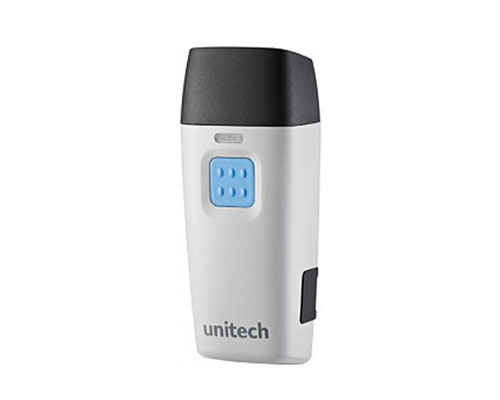 Unitech MS912+
Wireless Pocket CCD Scanner
Unitech MS912+ wireless pocket CCD scanner can efficiently capture 1D barcodes in any lighting condition, even those on the screens of mobile devices. The compact design and wireless technology make it ideal for any scanning applications such as in retail, healthcare and office automation.
Ultra-portable and durable
The MS912+ features the high-speed decoder paired with an aggressive scan engine which provides outstanding scanning performance up to 650 scans per second. MS912+ also delivers a high quality barcode scanning experience that can capture 1D barcode data with a 4 mil resolution and a scanning width up to 140mm. The scanner has capability to scan barcodes on the screen of mobile phone and it can automatically capture barcodes within its field of view in any lighting conditions from darkness to direct sunlight (100,000 lux). Furthermore, the MS912+ weighs in at just 30.2g and is about the size of a single pack of gum. Not only with an ultra-compact size, but also it has a 1.5 meter drop threshold. Combining high performance and compact design, MS912+ gives mobile worker many places to keep it conveniently and safely while on the go.
Easy pairing with wireless technology
The MS912+ provides the convenience of wireless technology with the simplicity of a single-button scanning design which makes barcode data collection simple, reliable for all users. With wireless communications, MS912+ is easy to pair with your smart phone (including apple or android system) or tablet. Moreover, this device is available to facilitate a data transfer from scanner to computer via USB port and it delivers the flexibility with the 10 meters operating range that helps users to improve efficiency in mobile work place.
Extended Storage Capacity
Beyond its versatility, the MS912+ can be utilized with an auto mode that ensures no data is lost while it is out of range of the wireless signal, also upload the data to the back-end system with a simple setting, allowing users to complete their tasks without interruption. In addition, the MS912 series allows you to charge the internal Lithium-Ion battery by utilizing a standard USB port. With full compatibility with most every wireless enabled device, including Apple devices, it makes the MS912+ a best product for any mobile worker or business professional. There is no doubt that the compact MS912+ is an excellent auto data collection solution which is the smallest and smartest in its class.