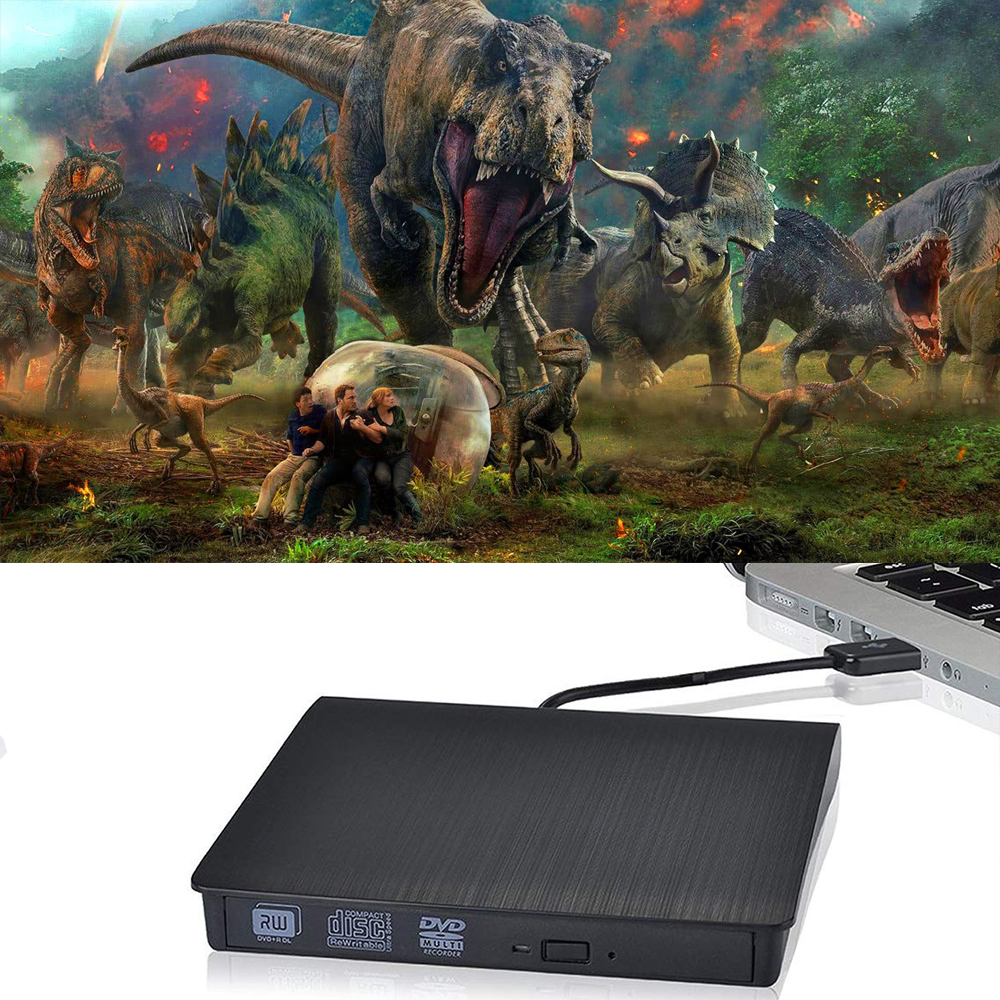 Currently, it's the best way to get an external DVD RW Burner, if your slim laptop or desktop has no internal DVD drive. Not need any additional software and extra power supply, plug and play. High-speed USB 3.0 CD DVD RW Burner with low impedance and anti-interference ability, bringing you smooth and fast experience for watching movies, listening to music, installing softwares or system, burning discs. Portable Compact Design:Slim, lightweight, shock-resistant design, and just slips easily into your travel bag.
Faster delivery: It usually takes about 3-7 days to deliver from United States/Canada local warehouse.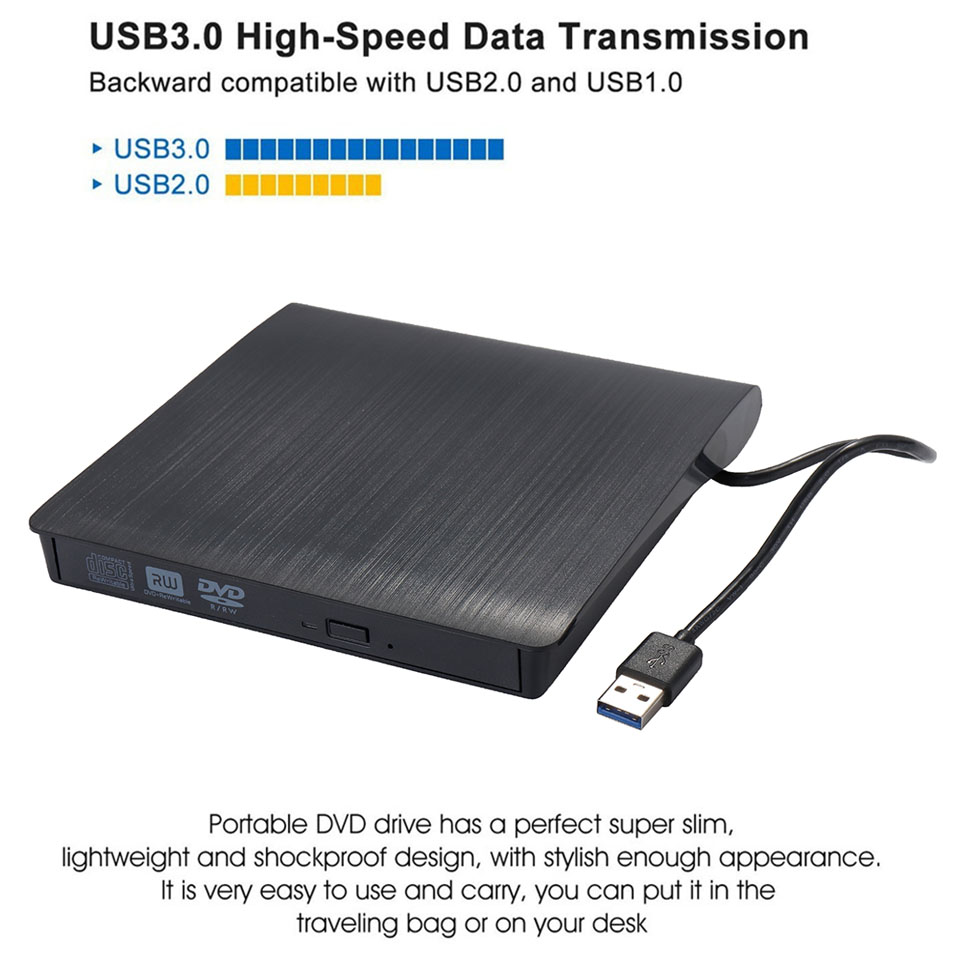 [High Writing and Reading Speed] Max 8x DVDR Write Speed and Max 24x CD Write Speed provide high writing and reading speed
[Wide Compatible] This external dvd cd drive is compatible with Windows 98 / SE / ME / 2000 / XP / Vista / Windows 10/8/7,Mac ios(ios 8.6 to 10.14). And perfect for PC, Laptop, Comprehensive Computer, Internal PC hard disk reader
[Plug and Play Technology] Powered by USB port so just plug it into your USB port and the DVD driver will be detected. Do not need to install software to set up driver
[Advanced USB3.0 Technology] USB 3.0 provides fast data transfer speed and stable performance to record CD/ music/ videos/ install software or create CD/DVD backup disc.
[Ingenious Design] This ultra-slim CD/DVD player for laptops equipped with an eject button so that you needn't worry about your disc getting stuck inside this external CD/DVD drive.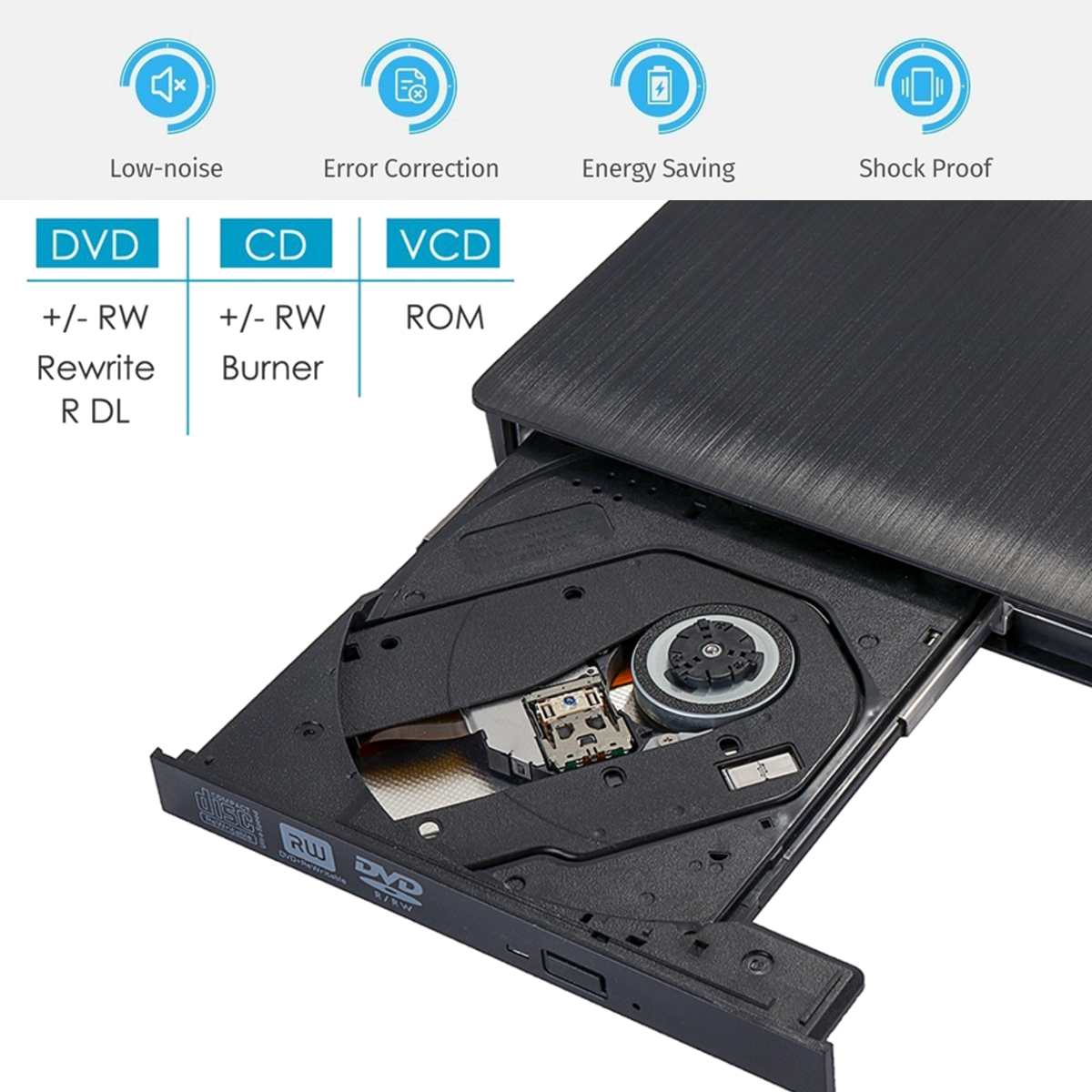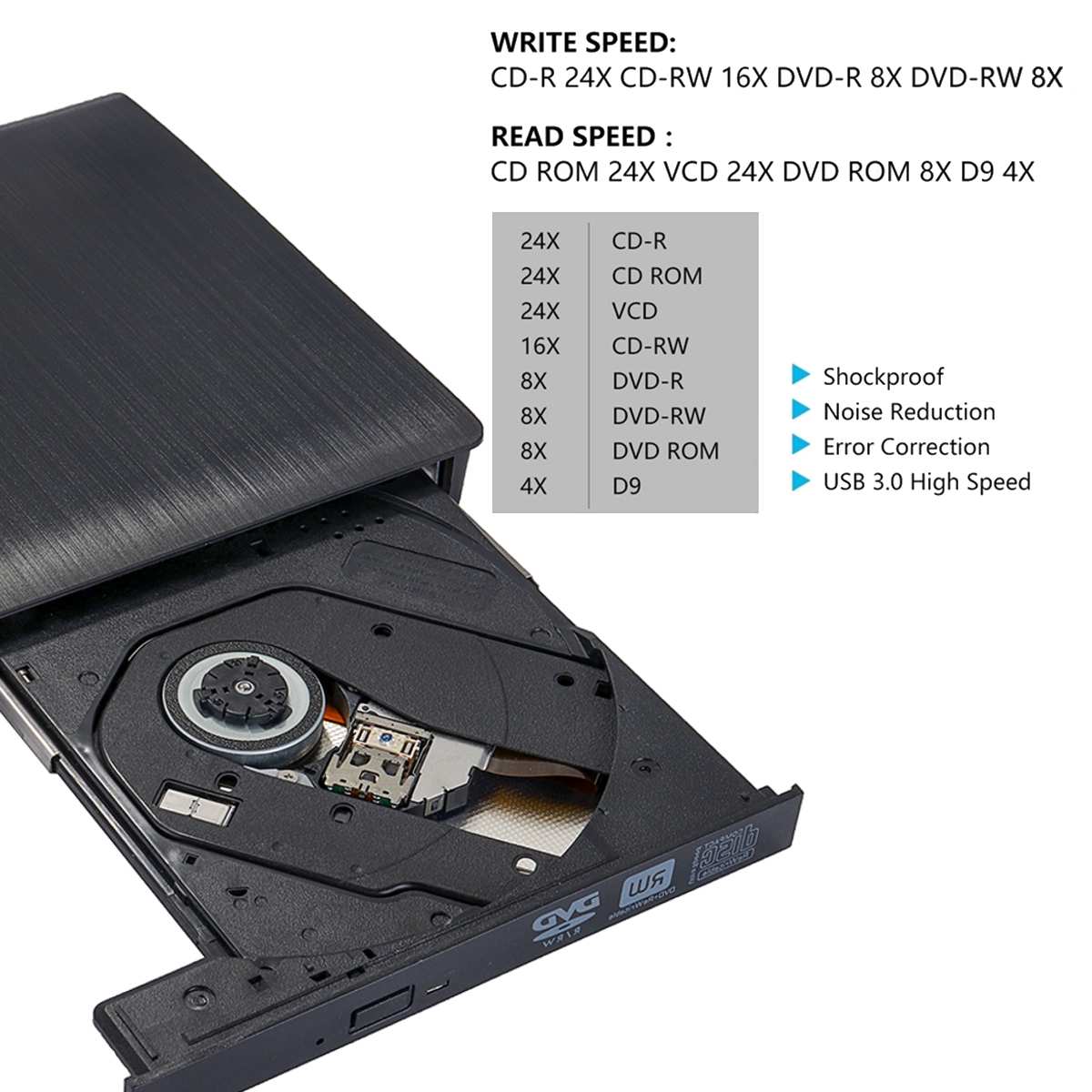 *USB Interface: USB 3.0 (Backwards Compatible with USB 2.0.1.0)
*Supported formats: DVD-ROM, DVD-video, CD-R/RW, CD-ROM/XA, CD-ROM, CD-EXTRA, CD-TEXT
*Supported media types : CD-ROM, CD-R, CD-RW, DVD-ROM, DVD-R, DVD-RW, DVD+RW, DVD+R, DVD+R DL, DVD-R DL, DVD RAM
*Read Speed : CD-ROM: 24x Max; DVD-ROM: 8x Max; DVD-ROM (DL): 6x Max;
*Write speed :24x CD-R , 8x CD-RW, DVD?R: 8X Max; DVD?R DL: 4X Max; DVD-R?9: 2.4x Max
*Rewrite Speed : DVD+RW: 4X Max; DVD-RW: 4x Max; CD-RW: 10X Max; DVD-RAM: 3x Max
*Memory Cache: 2M
*Voltage:5V
*Dimensions: 5.6 x 5.4 x 0.6
1.This is a universal CD/DVD drive burner, not a Blu-ray drive, can not play Blu ray discs.
2.Please connect the laptop external power supply when you use this external optical drive.
3.Because of the limitations of the Chrome OS, this external optical drive can not work with Chrome OS and Chromebook.
4.This protable CD/DVD drive can not work with TV, car, smartphone.
5.Before you using the External CD/DVD Drive, please make sure your computer has a "Media Player''.
6.If you find the External CD/DVD Drive start out a little slow, please wait for 5-10 seconds.
7.Windows 10 system is advised to install VLC Media player to play DVD and CD. We suggested that you download the 3.0 drive for windows 10, then it will work. For the desktop, please connect the device to the USB port of the motherboard for normal use.
8.If your windows 10 start up delay, please connect both USB 3.0 data cable and power supply cable to make sure it has enough power.
Supported OS: Windows XP/2003/Vista/7/8.1/10/10.1, Linux, MacOS system, MacBook Air and Mac mini
The new released Windows 10 system have discontinued the internal DVD media player software, customer using Windows 10 and above are advised to Install a Media Player to Play DVD and CD.(DVD Drive: static.yunbaoit.net/download01.html)
For ios system using the mac commands to eject the disk. Ios system refuse to perform the command made by the drive ( press ejection button can not eject disc).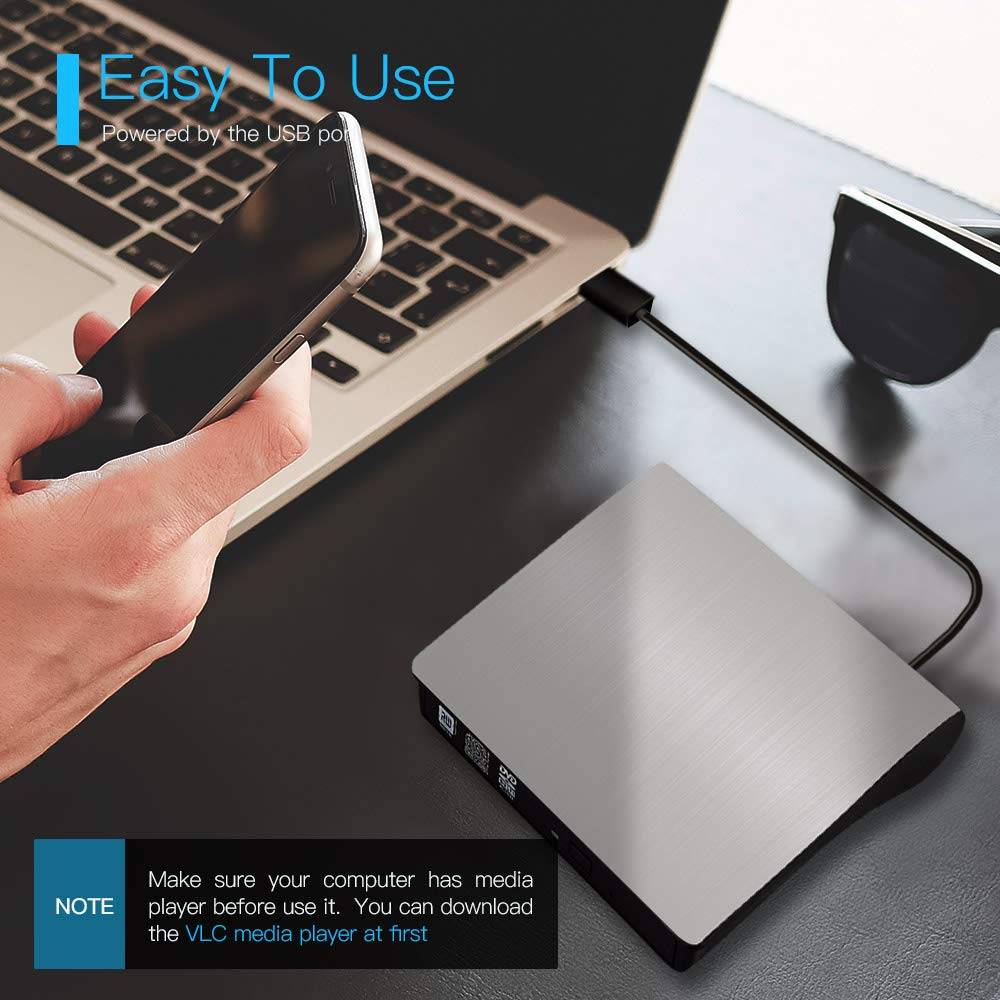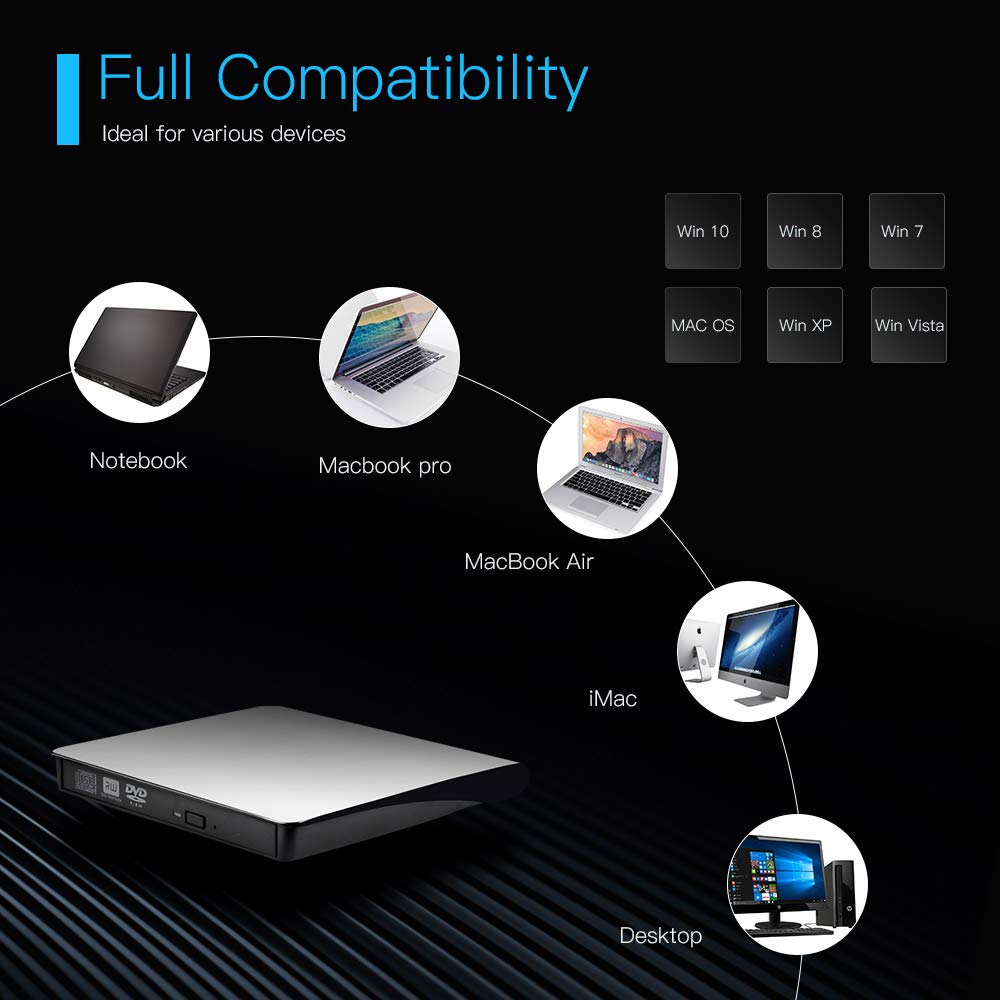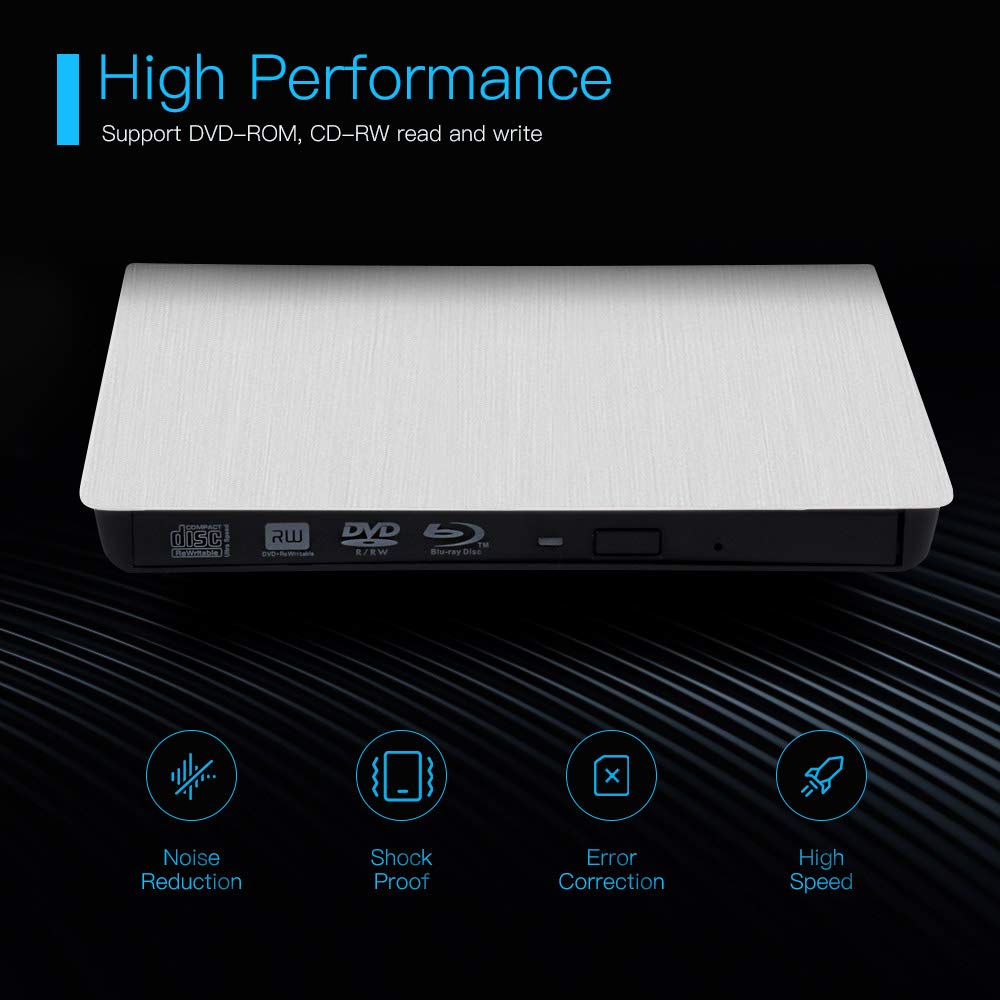 Please make sure your electronic device has a program [Media Player]. Please plug the USB interface to the USB port of the electronic devices directly, otherwise it may cause the drive can not be recognized by the devices. Please make sure your laptop or desktop is in the charging. Otherwise it may also cause the drives can not be run due to the low power of the devices.