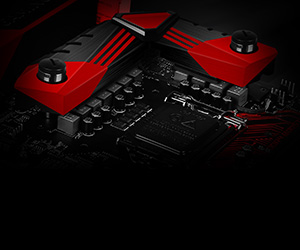 HEAVY PLATED LIQUID COOLING
Keeping your system cool in the heat of battle, the heatsink includes the option to use watercooling for additional thermal control.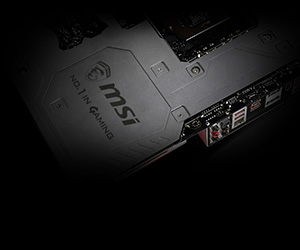 ARMORED BACKPLATE
Besides looking formidable, the Reactive Armor backplate strengthens the board so you can use the biggest and heaviest graphics cards and CPU coolers available.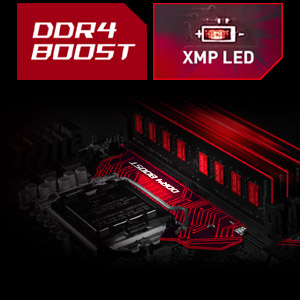 UNMATCHED MEMORY PERFORMANCE AND STABILITY
With traditional memory design the memory signals are often distorted by electromagnetic signals from other components, making the system perform slower or become unstable. MSI introduces DDR4 Boost technology with optimized traces and fully isolated memory circuitry. This design ensures the memory signals stay pure for optimal performance and stability.
An added XMP LED highlights an active Extreme Memory Profile for the best memory speed and stability setting.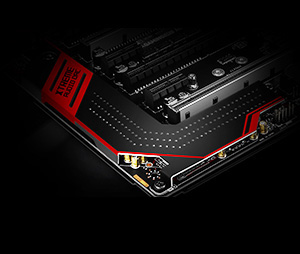 EMI SHIELDED PREMIUM AUDIO
EMI SHIELDED PREMIUM AUDIO
KILLER™ DOUBLE SHOT PRO
Killer™ DoubleShot Pro allows the Killer™ Ethernet connectors and the Killer™ Wi-Fi adapter to work together for the ultimate high speed attack. The Killer Network Manager decides which apps runs on which connection for gaming traffic optimization. This will give you the max throughput as high as 1.867 Gbps.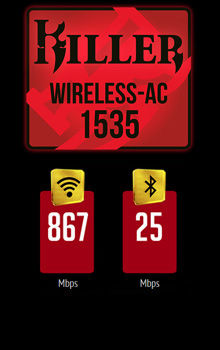 KILLER™ WIRELESS AC 1535 WITH ExtremeRANGE™
Killer™ Wireless-AC 1535 with ExtremeRange™ Technology delivers industry-leading speed, intelligence and control for PCs. Killer's Lag and Latency ReductionTM Technology combined with Killer's ExtremeRange™ Technology revolutionizes the user experience by driving better throughput, lower latencies, and longer WiFi ranges. Play your game, stream your game, and enjoy your HD video – all at the same time and uninterrupted.
BENEFITS
- Lag and Latency Reduction™
- ExtremeRange™ Technology
- Cutting edge 11AC performance
- Bluetooth 4.1
- Advanced Stream Detection™
- Visual Bandwidth control™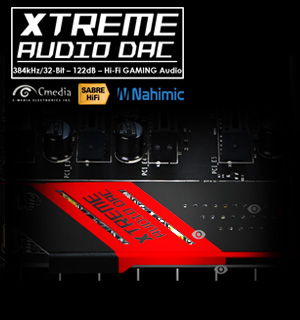 STUDIO GRADE SOUND WITH XTREME AUDIO DAC
With Xtreme Audio DAC, powered by a C-Media 122dB 384kHz/32-Bit HD Audio Processor, ESS SABRE HiFi dedicated DAC, Nahimic Sound Technology and other high quality audio components, we're delivering the highest sound quality. That way, you can enjoy breathtaking, crystal clear sound through 8-channel HD Audio or high impendence headphones and truly dominate the game.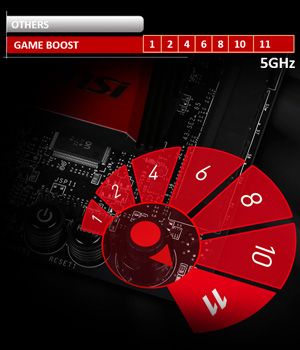 11 LEVELS OF 1-SECOND OVERCLOCKING WITH GAME BOOST!
Need more FPS? Need more CPU and memory power? With Game Boost' one-second overclocking option we're giving you even more performance. Just turn the dial and your PC gets another adrenalin shot. With Game Boost going up to 11, a performance increase up to 5GHz is possible!
LAN Protect
Featuring 15KV anti-surge protection to shield your network from lightning strikes and static electricity, LAN Protect is a LAN connector designed to give you the best networking experience. It's highlighted with a red LED inside the RJ45 connector to show its functionality.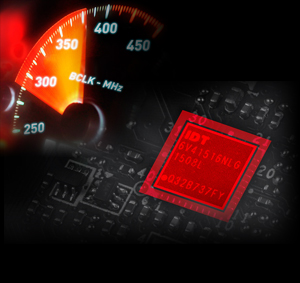 SKY'S THE LIMIT WITH OC ENGINE 2
OC Engine has been beefed up for MSI Z170 motherboards. This external clock generator gives you even more freedom to achieve the absolute maximum overclock for your setup. OC Engine 2 also offers lower jitter and lower power consumption resulting in even higher stability under extreme conditions. The sky is the limit!