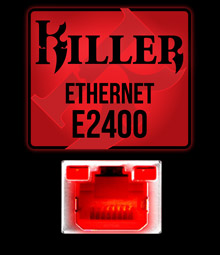 TRUE GAMING LAN WITH KILLER™
Designed with gaming DNA, Killer™ LAN is optimized for championship level online and LAN eSports.
The new Killer E2400 Intelligent Networking Platform, featuring Advanced Stream Detect 2.0, is built for maximum networking performance for online games and high-quality streaming media. Killer™ LAN automatically detects and accelerates game traffic ahead of other network traffic for smoother, stutter-free in-game performance and the competitive edge.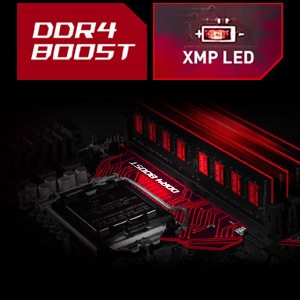 UNMATCHED MEMORY PERFORMANCE AND STABILITY
With traditional memory design the memory signals are often distorted by electromagnetic signals from other components, making the system perform slower or become unstable. MSI introduces DDR4 Boost technology with optimized traces and fully isolated memory circuitry. This design ensures the memory signals stay pure for optimal performance and stability.
An added XMP LED highlights an active Extreme Memory Profile for the best memory speed and stability setting.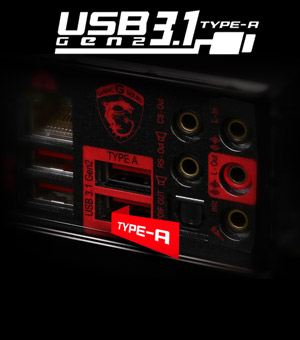 2X FASTER MSI USB 3.1 GEN2
Transferring your favorite games, music and movies over USB has never been faster. USB 3.1 enables lightning fast transfer speeds up to 10Gb/s!
BENEFITS
-2X faster than USB 3.0
-20X faster than USB 2.0
-Up to 10Gbps data transfer bandwidth
-Boost transfer rate for your PC and peripherals
STUDIO GRADE SOUND WITH AUDIO BOOST 3
With Audio Boost 3, powered by Nahimic Sound Technology, we're delivering the highest sound quality through the use of premium quality audio components. That way, you can enjoy breathtaking, crystal clear sound and music through 8-channel HD Audio or high impedance headphones and truly dominate the game.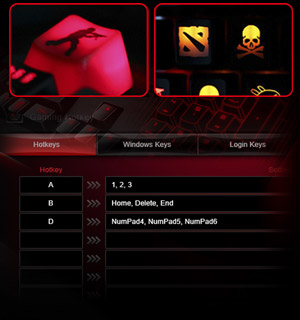 GAMING HOTKEY
Gaming Hotkey provides you with more functionality from your existing keyboard. Simply load your favorite apps with 1 key, load overclocking profiles, do real-time overclocking by just using your keyboard, the possibilities are endless. You can even customize the F1 to F10 keys to function as Macro Keys, to perform any desired action you program. Quick load up of your favorite game? Press F2. It's that simple!
- Customize any key on your keyboard
- Up to 8 steps macro programming
- User friendly, easy to use application
- 1 key load up of your favorite game
- 1 key overclocking
MILITARY CLASS 5 COMPONENTS
Military Class 5 is the latest evolution in high quality components. The Titanium Choke, DrMOS mosfet, Hi-c CAP and Dark CAP ensure that your PC runs stable under extreme gaming conditions.
TITANIUM CHOKE
Titanium Choke uses a Titanium core that has better ability in thermal and higher temperature tolerance. This allows the Titanium Choke to run at a 220 degree Celsius high temperature, have a 40% higher current capacity, a 30% improvement in power efficiency and better overclocking power stability.
DARK CAP
With their aluminum core design, Dark CAPs has been a staple in high-end motherboard designs and provides lower Equivalent Series Resistance (ESR) as well as its over-10-year lifespan.