SAPPHIRE HD 7770 FleX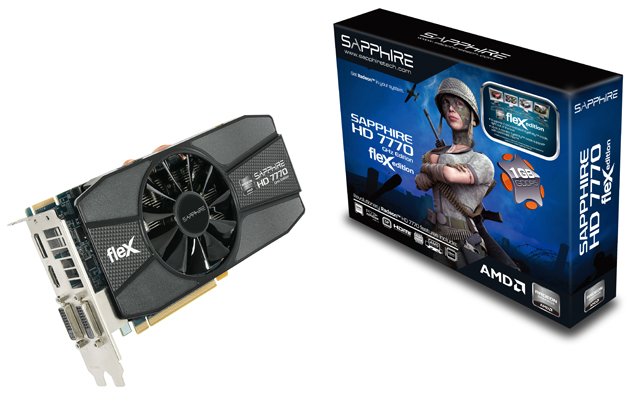 THE ULTIMATE IN FLE

X

IBILITY
The SAPPHIRE HD 7770 FleX gives you all the features and performance of AMD's GCN (Graphics Core Next) technology along with SAPPHIRE's FleX technology. This enables you to connect low-cost DVI monitors for the first three screens in landscape or portrait mode providing a cost-effective solution for multiscreen gaming and increased productivity in content creation and editing applications. Using the DisplayPort output, the SAPPHIRE HD 7770 FleX supports four screens in Eyefinity, providing additional display options.
INNOVATION FOR OVER 11 YEARS!
SAPPHIRE Technology is a global manufacturer and supplier of graphics cards, small form-factor PCs, mainboards, and more since 2001 and has consistently been the worldwide market leader with its graphics products.
SAPPHIRE HD 7770 FLE

X
Key Features:
SAPPHIRE FleX is the most economical solution for Eyefinity as it supports many combinations of multiple display outputs simultaneously. Everything you need is in the box!
AMD HD3D Technology: Enjoy the most immersive experience possible with full support for High Definition Stereoscopic 3D, a technique that presents 2D images (movies, games, photos) in a format that creates the illusion of three-dimensional depth when using compatible 3D displays, glasses, & software.
AMD HD Media Accelerator: Optimize and dramatically improve video playback on your computer by taking advantage of hardware video acceleration from your AMD Radeon GPU. With full 3D stereoscopic decode you can enjoy it all in 3D. AMD HD Media Accelerator speeds up the decode of one 1080p and one 1080i HD video stream simultaneously by hardware, and the new hardware encodes/transcoder processes your media content faster than ever!
AMD Eyefinity 2.0: Get support for stereoscopic 3D-multi-display via DisplayPort 16K X 16K maximum display; group resolution output: up to 268 megapixels per GPU. Perfect for powering HD displays.
Accessories: DVI to VGA Adapter
Dimensions: 220mm long x 95mm wide x 35mm high; requires 2x slot