Expand your cable TV from the living room to kitchen, backyard or garage with the SiliconDust HDHomeRun PRIME CableCARD.
Equipped with three digital TV tuners, the SiliconDust HDHomeRun PRIME allows you to watch TV from any computer on your network just by connecting the HDHomeRun PRIME to your home router. So you can enjoy the premium programs in 100% digital quality without monthly set-top box rental. The HDHomeRun PRIME is compatible with Windows Media Center on Windows 8 and other DVR application including MythTV, which means you can record your favorite TV shows or schedule future recordings easily and effortlessly, and never miss your favorite shows. Check out the HDHomeRun PRIME today, and add a new dimension to your computer.

Compatible with iPad 2.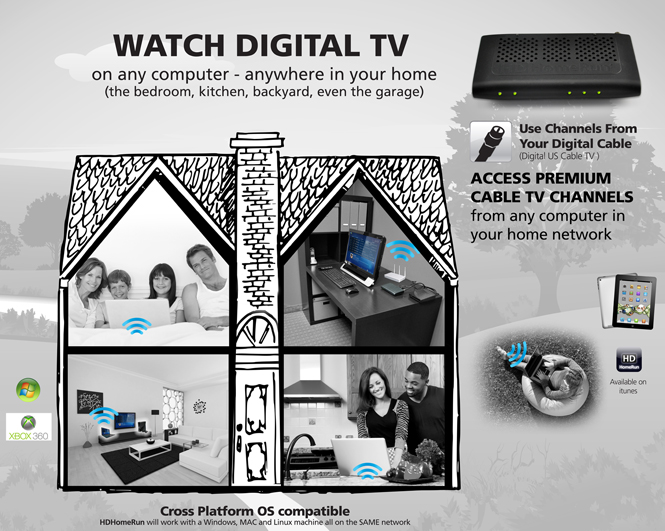 Any computer on your home network HDHomeRun PRIME is a cable TV tuner for computers – Ethernet attached. Once connected to your home router you can access the HDHomeRun Tuners from any computer, anywhere in your home. Watch / Record TV from you Family Room / Kitchen / Garage / Backyard, anywhere you have a computer.
Premium Digital Cable TV HDHomeRun PRIME supports CableCARD conditional access, providing access to the premium cable channels from your PC. Insert an M-Card from your cable provider and you'll be able to watch and record all the digital cable channels you subscribe to, including HD and premium channels in 100% digital quality. Do away with that $16-22 per month set-top box rental.
Support for Windows8 Media Center & Xbox 360 HDHomeRun Prime works with Windows 8 Windows Media Center, providing the full DVR experience. Watch/Pause/Record live TV, schedule recordings by name, set up season passes, and watch any time. Don't have a PC next to your TV? No problem. Use an Xbox360 or other Media Center Extender and you'll have access to live TV and all the recorded TV on your main PC.
DVR Applications HDHomeRun PRIME supports streaming access-controlled copy-freely channels to other DVR applications including MythTV. These are channels that you subscribe to, are encrypted on the cable system (access-controlled), and do not impose restriction on use inside the home (copy-freely).
iPad 2 Compatible The InstaTV Pro app supports direct streaming from HDHomeRun devices to iOS devices and Android devices. (Portable device apps are not provided by nor supported by Silicondust. Access is limited to non-copy-protected channels.)
DLNA and UPnP Support DLNA certified and with UPnP support, the HDHomeRun PRIME can easily integrate into your home network for convenient TV streaming to multiple devices.