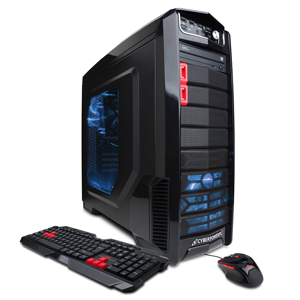 About the Company

CyberPowerPC is an award-winning global manufacturer of custom gaming PCs, gaming laptops, and performance workstations. With over 15 years of experience, CyberPowerPC is a leading innovator in the custom gaming computer industry. Our company features a constantly evolving product lineup to meet the needs and demands of the gaming market. All CyberPowerPC computers are assembled, tested and supported in the United States of America.
The CyberPowerPC Gamer Xtreme 1385 Gaming Desktop

Don't hold yourself back with a slow computer. The Gamer Xtreme 1385 will give you the performance you need to play at your absolute best. Featuring the lightning-fast Intel Ivy Bridge-E Core i7-4820K quad core processor paired with the AMD Radeon HD 7770 1GB graphics card, the Gamer Xtreme 1385 is ready for anything. Play the latest games. Watch high definition video. Browse the internet. This machine is a multi-purpose monster.