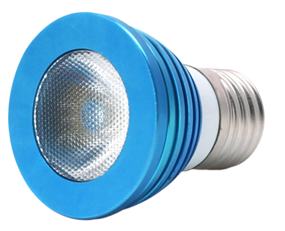 HitLights 3-Watt Color-Changing LED Light Bulb
Do you have a sign currently illuminated with boring white light? Own a bar or restaurant and want to make your decorations really stand out? Here is the answer, a color-changing LED light bulb. This amazing next generation LED light bulb boasts 16 color and comes with a remote control for easy operation. Just screw it in and the party can start. Red, Magenta, Burnt Orange, Orange, Yellow, Green, Mint Green, Teal, Aqua, Robin's Egg Blue, Blue, Electric Blue, Lavender, Purple, and Indigo. Also comes with white to operate as a standard light bulb. Additional features include flash, strobe, fade, and smooth mode for ultimate party light control. Remote lets you choose color, brightness, and mode. Includes improved matte diffused glass. Use in any standard incandescent socket.
Light Features
Easy installation with standard E26 base
No-shatter design - can withstand light drops or bumps
Diffused lens produces vivid, even colored light
Low energy consumption reduces energy costs
Up to 25,000 hours of lamp life
Remote Features
Turns bulb on and off
Five levels of brightness
Choose from 16 vibrant colors
6000K Cool White color temperature for operation as a standard bulb
Flash, Strobe, Fade, and Smooth animations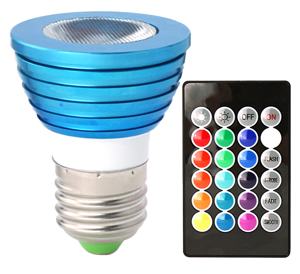 Add vivid, efficient lighting effect to any room or sign with the HitLights 3-Watt color-changing bulb, an energy-efficient bulb that can change colors using the latest LED technology. This next-generation LED light boasts 16 colors and comes with a remote control for easy operation. Choose a specific color using the remote, adjust the brightness, or select from four different animation effects to cycle through the colors.
Featuring a standard E26 base, this LED bulb can be used in most fixtures, making it easy to accent your home or office - use it for mood lighting, simple white lighting, or anything in between. It also comes equipped with a memory function to save the settings for your bulb.
Measuring 2.3 inches tall, this LED bulb is engineered with a non-glass, no-shatter design, enabling it to withstand light drops or bumps without any mess. Its diffused lens helps blend the LED light more effectively to produce vivid and even colored lighting. It has an astounding 25,000 hour life, and comes with a one-year warranty.
Friendly on the Environment and Energy Costs
This efficient color-changing bulb consumes just 3 Watts of energy, producing magnificent light while helping you to save on energy costs. And unlike CFL bulbs, it contains no mercury that could be harmful to the environment. This bulb uses 20 percent (or less) as that of a standard incandescent light bulb, and it produces much less heat than either incandescent or CFL bulbs - helping to ensure your home is cooler. It also provides a higher level of ambiance than a traditional decorative bulb, while lasting much longer and using less electricity.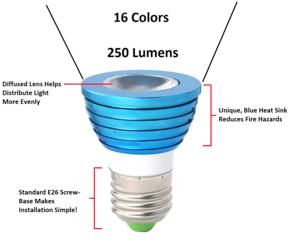 Remote Capabilities, Colored Animations
With the included remote control, you can easily turn the HitLights 3-watt color-changing bulb on and off, as well as find just the right amount of light with five levels of brightness. Additionally, you can use the remote to have the bulb display one of 16 different colors at a time, including: red, magenta, burnt orange, orange, yellow, green, mint green, teal, aqua, robin's egg blue, blue, electric blue, lavender, purple, and indigo. And the 6000K cool white color allows this bulb to operate as a standard light bulb. You can also choose to display the full range of colors in one of four dynamic animations - Flash, Strobe, Fade, and Smooth - each with its own unique speed and color transitions.
Flash: Quick transition with one (1) second on each color
Strobe: Quick transition with 3 to 5 seconds between colors
Fade: Smooth transition with 1 second on each color
Smooth: Smooth transition with 3 to 5 seconds between colors
What's in the Box
Single HitLights 3-Watt Color-Changing Bulb; Remote Control; Quick Start Guide
Warranty, Returns, And Additional Information
Warranty
Limited Warranty period (parts): 1 year
Limited Warranty period (labor): 1 year