IdeaPad 510
Perfect Portable Companion for Work and Play
Lenovo Laptop IdeaPad 510 is a powerful laptop for work and play. It comes with various choices of hardware combination. Smoothness is only part of the story. With rich user-friendly designs, your every single move on the Lenovo Laptop IdeaPad 510 will be to your heart's content.
Choose the Exact Power Level You Want
Lenovo IdeaPad 510 series gives your rich options in hardware combination. It is easy to choose a Lenovo IdeaPad 510 that exactly meets your demands.
Intel Core Processor: 6th or 7th generation Intel Core Processors let you rocket through any tasks with high data processing speed. Its combination with advanced Intel Core technologies makes your laptop powerful in handling all things coming to you.
Graphics: Integrated graphics or discrete graphics, it is totally up to you. Lenovo IdeaPad 510 offers discrete graphics up to NVIDIA GeForce GT 940MX 4GB to ensure stunning visuals and extreme mobile gaming performance.
DDR 4 Memory: Lenovo IdeaPad 510 series provides DDR 4 memory which runs two times fast and consumes less power than DDR 3. Multiple capacity options are available.
Storage: Open to all storage options, Lenovo IdeaPad 510 is equipped with fast SSD or high capacity HDD.
User-centric Designs
Use the backlit keyboard in low-light environments like playing movies or presenting slides, and HD webcam is great for face to face interactions, no matter where you are. The battery gives you long hours of video playback, to make travel time for business or pleasure speed by. The metal palm rest is smooth and cool to touch, making long sessions of typing more comfortable.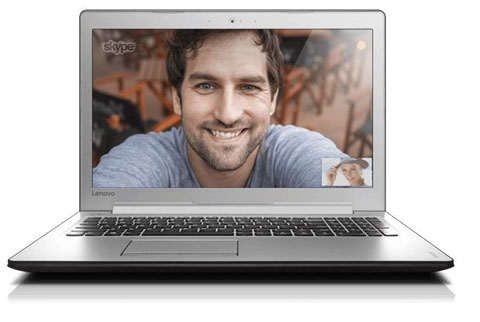 Ultra-fast 802.11 a/c WiFi
The new 802.11 a/c WiFi standard offers three times faster data transfer than wireless-n. It delivers amazing wireless performance for seamless HD streaming, online gaming, and other bandwidth-intensive tasks.
Integrated Optical Drive
There is no need to purchase an external optical drive when you have an integrated DVD/CD-RW drive standard, so you can load programs, listen to CDs, or watch movies offline.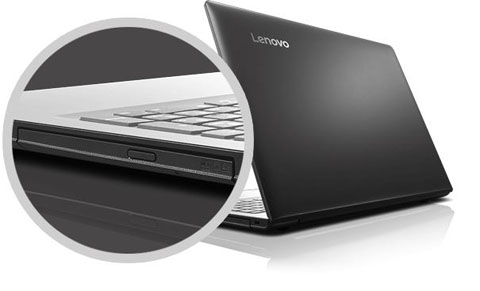 Vivid Visuals, Immersive Sound
A Full HD IPS (1920 x 1080) 15.6-inch screen and dual speakers by Harman Audio combine to offer eye-popping visuals and clearer, crisper quality of sound. Turn it up loud, sit back and enjoy an unrivalled music and movie experience.
Windows 10 Ensures Intuitive Interaction
Combining the best of Windows you already know, Windows 10 has many great improvements you'll love: fast start-ups, the expanded Start menu, an all-new browser, and Cortana – your very own digital personal assistant. Now, even across multiple devices, you can get more things done, more quickly, more smoothly.
Extra Peace of Mind
The 510 is fully compatible with the Lenovo Kensington MiniSaver cable lock (sold separately). So whether you're in the office, school, or out and about there's an easy way to safeguard your laptop. Its push-button design, strengthened lock head, and exclusive technology combine to help minimize the risk of theft.
Smile, Swap, and Sort – In Seconds
Lenovo Photo Master 2.0 is a modern photo library with powerful, easy-to-use navigation and editing tools. With features such as Auto Face Swap and Smart Event Sort, you can organize and optimize photos on your Ideapad 510 to perfection.