Step up to a new level of home entertainment with the Samsung UN65H7100 TV. With 60" generous-sized screen and Full HD 1920 x 1080 native resolution, you'll experience immersive, theater-class visuals right in your home. A host of advanced technologies, like Ultra Clear Panel, Micro Dimming Pro, and Clear Motion Rate, brings every scene of your favorite movies, sports and shows to life. Samsung Smart TV platform powered by a quad-core processor makes it quick and easy to access your favorite content. Plus, with stylish design and ultra thin bezel, this model will make an impression on your guests when they step into your home.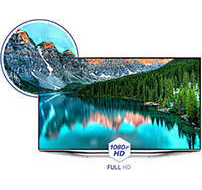 Full HD Resolution
Experience a great picture with no compromises with Samsung 1080p Full HD. With a resolution twice as high as standard HD TVs, you can catch all the details of your favorite films and games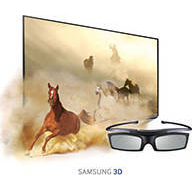 3D
Enjoy full HD 1080p in both 2D and 3D modes with Samsung's active shutter glasses.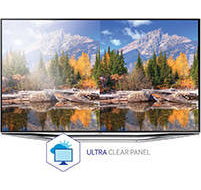 Ultra Clear Panel
The Samsung Ultra Clear Panel absorbs ambient light, reduces reflections and lets the picture come to life. It displays deeper blacks and enhanced contrast for crystal clarity, with reduced glare, so you can see clearly and enjoy more detail.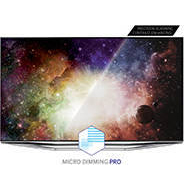 Micro Dimming Pro
Micro Dimming Pro scans zones across the entire picture and adjusts brightness to deliver deeper blacks and brighter whites. Enhanced contrast ratios of this level create a more true-to-life picture with superior color and detail.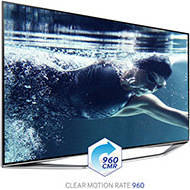 Clear Motion Rate 960
View every detail of action packed movies and sports with Clear Motion Rate 960, the ultimate level of motion clarity. The Samsung CMR uses the frame refresh rate, image processor speed and backlight technology to measure fast action.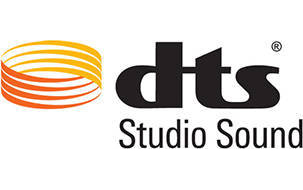 DTS Premium Sound
Decoding with DTS Studio Sound™ processing -Decodes DTS-encoded content, such as TV programming, Blu-ray movies and streaming media, and processes stereo content to deliver an optimized surround sound experience with enhanced bass response, clear dialog and consistent volume levels.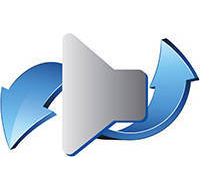 3D Sound
Enjoy an upgraded listening experience with 3D Sound Plus. By analyzing the depth of the 3D images on your TV, the sound is automatically synchronized to be more realistic.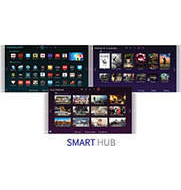 Smart Hub
Enjoy everything you love in one place. The Smart Hub organizes your entertainment and content into easy to use panels. Effortlessly navigate through streaming content, web browsing and more.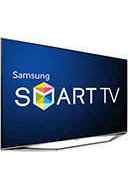 Smart TV
Explore movies, shows, apps and social media on the intuitive and intelligent Samsung Smart TVs. Browse a new world of TV entertainment quickly and simply with a powerful processor.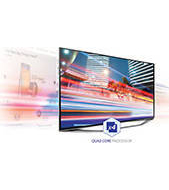 Quad Core Processor
Quad Core eliminates lag to give you a fluid browsing experience. It enables you to switch between apps, stream content and multi-task faster. This extra power also provides faster page refreshing.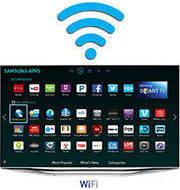 Wi-Fi
With Wi-Fi built right into your TV, it's easy to connect to your existing wireless network. Browse the web and access Samsung Apps or other Smart TV features*. Wi-Fi makes it easy to enjoy all types of content on demand.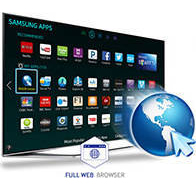 Full Web Browser
Browse the web on your Smart TV to find the latest content. Enjoy everything from online shopping, social media browsing, entertainment news and the latest YouTube hits. Catch up on the latest content, and then go back to watching TV.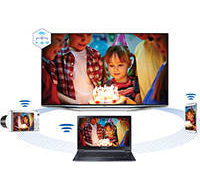 Smart View 2.0
Turn your phone, computer or tablet into a second TV with Smart View 2.0. Whatever is playing on your TV, Netflix, VOD or live TV is streamed to your mobile device as well. This lets you watch your favorite movies, shows and sports all around the house.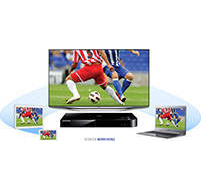 Screen Mirroring
The screen mirroring feature allows you to mirror your phone or other compatible mobile device's screen onto the TVs screen wirelessly. This feature allows you to use your big screen television instead of your devices smaller screen for showing content, media playback, or other function.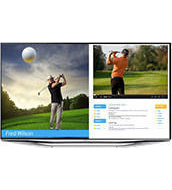 Dual Screen
Do two things at once with the multi-tasking Dual Screen. Browse the web, check social media or stream a video from YouTube while you watch TV. Research that famous golf swing while watching it in action on side-by-side screens.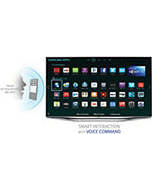 Voice Interaction
Easily control your TV with Smart Interaction. Voice command lets you talk to the TV to search what's on or to perform basic commands such as "last channel," "record" or "turn off." You can also add an acessory camera (sold separately), which recognizes your hand motions to browse the Smart Hub, play games and more.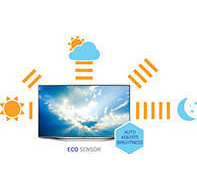 Eco Sensor
With Eco Sensor, your TV can intelligently adapt its picture according to the intensity of the light in the room. This technology measures the amount of existing light and automatically adjusts the brightness of the image on your TV, plus saves energy.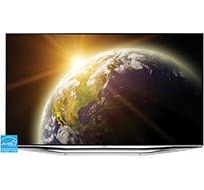 Energy Star
This Samsung TV meets ENERGY STAR energy-efficiency requirements. This means more energy savings and lower utility bills for you, and a smaller carbon footprint for the environment. See energystar.gov for more information (Applies only to models below 75" screen size).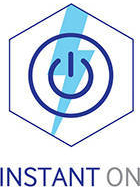 Instant On
Tired of waiting for your HD TV to warm up? Your Samsung HD TV turns on 4 times faster with Instant On, so you can quickly begin browsing apps or watching your favorite movies, sports or shows.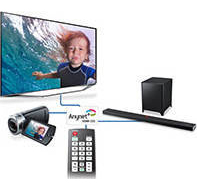 Anynet+
Redefine the universal remote with Anynet+ from Samsung. Control up to twelve compatible devices and streamline your device management for a better user experience.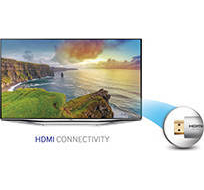 HDMI
Connect your TV and audio systems for a better HD experience when watching your favorite movies, shows and sports. The HDMI connection transmits HD video and audio over a single cable.