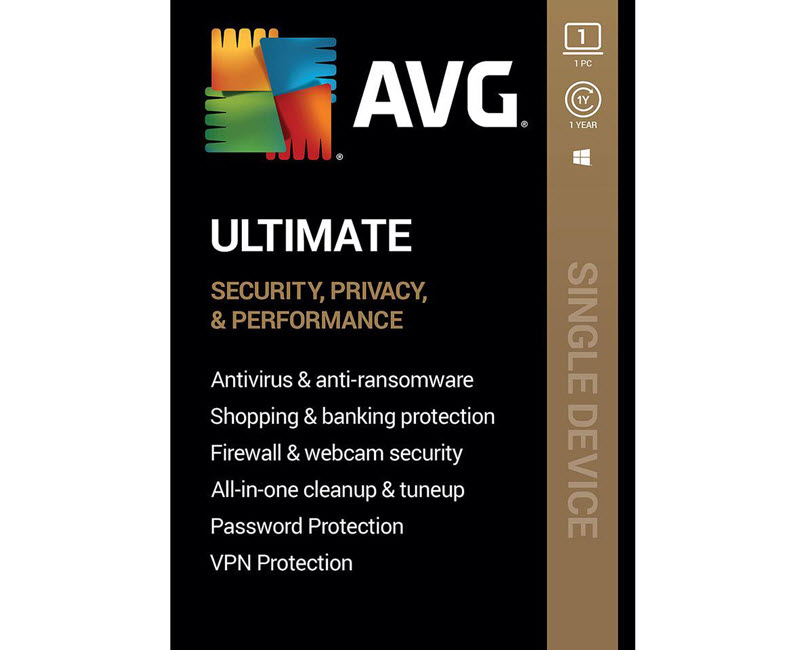 AVG Ultimate for PC
AVG Ultimate bundles AVG's award-winning antivirus, tune up & VPN secure software into a single package. Install it to protect, clean and tune to keep your PC safer and faster.
AVG Internet Security
Computer Protection
Our first line of defense for your PC
Our advanced antivirus scans for, removes and flat-out stops viruses, ransomware, spyware, rootkits, Trojans, and other nasty malware—and because it all happens in real time, we can catch threats before they reach you. We secure your USB and DVD drives just as quickly, too.
Our favorite bit? It updates your security automatically, and uses advanced Artificial Intelligence (AI) and real-time analysis to help stop even the newest threats from getting near you.
Web & Email Protection
The safest way to connect
Your email has never been safer. Our Email Shield technology specifically targets email attachments to stop threats, wherever they may come from—malicious senders or friends sending malware out unknowingly.
Your online security is guaranteed with real-time link & download scanning, and protection against unsecure Wi-Fi spots. If you click it, we scan it—with our best internet security software, you always know your way is clear.
Privacy Protection
Don't let anyone snoop on you
Keep peeping Toms and suspicious applications from accessing your webcam, encrypt and hide your most private photos and files, or permanently shred documents you're done with.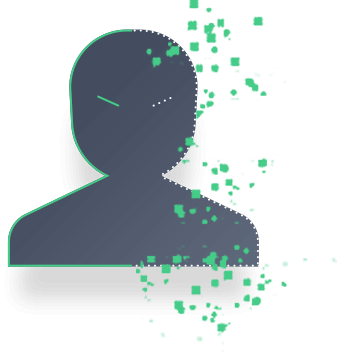 Hacker Attacks Protection
Keep hackers and ransom seekers away
Our Enhanced Firewall gives you full control over exactly who and what comes in and out of your PC. And our Ransomware Protection provides an extra layer of protection against ever-increasing ransomware attacks. That means nobody messes with any of your private data, files, photos, and passwords—no hackers, no ransomware, nothing.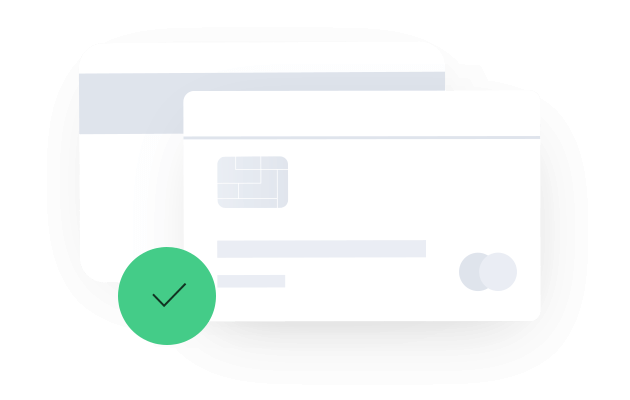 Payments Protection
Shop and bank online freely and securely
Whether browsing, banking, or shopping, this is the added internet protection you need. We block spam and scams, and even help you avoid fake copycat websites, to prevent you from accidentally giving our passwords or credit card numbers to the bad guys.
AVG TuneUp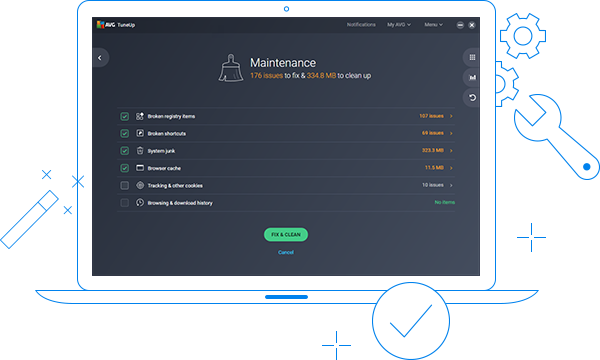 Cleans your registry automatically
If you want your Windows operating system to work as it should and avoid errors and crashes, let AVG TuneUp identify issues in your registry and fix them automatically.
Cares for your PC with Automatic Maintenance
Our automatic maintenance cleans up browser traces, tracking cookies, cache files and program leftovers for more disk space.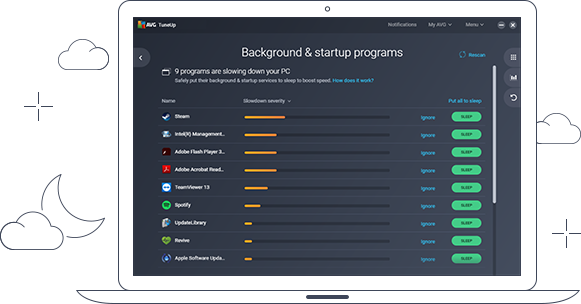 Optimize your PC with Sleep Mode
Installed programs slow you down by hogging your PC memory and CPU. Our completely revamped Sleep Mode technology puts them to sleep and wakes them up when you need them—and not a moment sooner.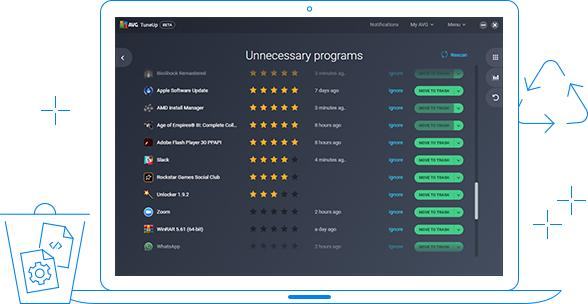 Find and remove unwanted software with Software Uninstaller
Our Software Uninstaller detects bloatware and helps you get rid of it, together with programs you no longer use—and forgot you had.
Deep-clean your hard drive with Disk Cleaner
From installer files to the cache. From old backups to temporary system files. They've fulfilled their purpose, but now they're just dead weight—so we clean them up and make space for the stuff that really matters.
Surf lighter and faster with Browser Cleaner
Temporary data and online leftovers? Gone. We remove the files that Internet Explorer, Chrome, Firefox, etc can't get rid of by themselves. The result? A lighter, faster, less buggy browser.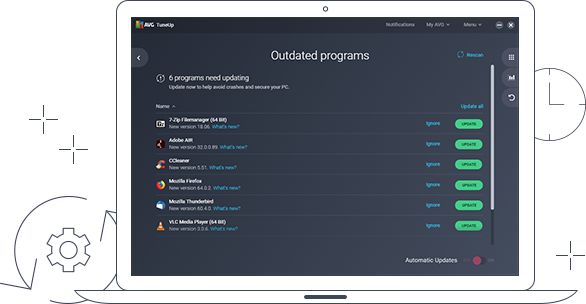 The zero-hassle Software Updater
Wine gets better with age. Software doesn't. Our Software Updater works fully automatically and supports updates for more than 50 of the most popular apps - with more added regularly!
AVG Secure VPN

Download the perfect VPN for your PC

Simple and powerful VPN service
Download your VPN, install it, and join a secure connection with the click of a button.

Military-grade encryption
Encryption levels of 256 bit AES standards secure your online activity from prying eyes.
Streaming support: over 50 locations to choose from
Our dedicated streaming servers help you keep up with your favorite shows on the go.

Works in up to 5 devices simultaneously
This VPN is not just for your Windows PC: use it on your Mac, Android and iOS device.
VPN software for Windows PC in 3 easy steps
Connect to any Wi-Fi
At home or at work, at school or in a coffeehouse, airport, or store—our VPN client works anywhere.

Switch Secure VPN on
Launch Secure VPN and click the ON button. You can select a different location at any time.

Browse securely and anonymously
That's it! Anonymous browsing, a hidden IP address and hidden location, all in one click.