B450GT
BIOSTAR's B450GT motherboard is a solid choice to build a system based on AMD Ryzen processors. It has all the essential ports and slots you need for connectivity and expansion. Top-quality components are adopted to enable excellent durability and performance. And by combining exclusive audio hardware and software, it also delivers Hi-Fi sound with unmatched quality.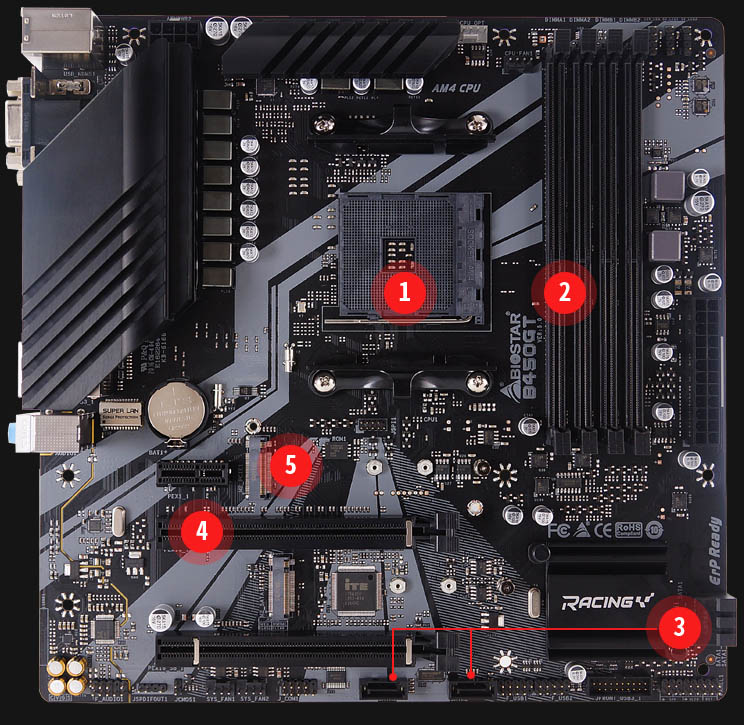 1. 1 x AMD Socket AM4 CPU
2. 4 x DIMM DDR4-3200(OC)
3. 4 x SATA III (6Gb/s) Connectors
4. 1 x PCIe 3.0 x16 Slots
5. 1 x PCIe M.2 (32Gb/s)
Audio+
Hi-Fi
All the hardware features including "ground-isolation circuit design", "an independent audio power", and "a built-on-board amplifier", give you the best audio quality and performance. As for software, we offer you a free bundle utility "Multi-Channel Calibration" which normally you'll only find in high level sound systems. It will auto detect your location. With a user friendly interface, you can easily adjust the volume of every speaker for a well-balanced surround sound. And of course, the built-on-board amplifier always gives you a super powerful sound comparing to other motherboards.
Hi-Fi Ground
BIOSTAR Hi-Fi Ground (Golden Line) offers a noise-blocking multi-layer PCB design to isolate analog audio signals from digital sources. Unique PCB layout is ideal for exceptional clarity and high fidelity sound.

Hi-Fi AMP
The built-in amplifier can drive major high-end headphones with over 100dB loads and offers wide band-width, low noise, high slew rate and low distortion through front panel I/O. Gaming enthusiasts can enjoy a fuller range of dynamic sound with crisper details and less distortion.

Hi-Fi Cap
Hi-Fi Cap delivers low noise, low distortion, and wide bandwidth to achieve the highest sound resolution and sound expansion. It offers the most realistic sound effects to gaming enthusiasts.
Speed+

PCIe M.2
PCIe M.2 32Gb/s is the latest storage interface, delivering the highest bandwidth and lower latency. It's 3 times faster compared with PCIe M.2 10Gb/s.

PCIe Gen 3.0
PCIe 3.0 is the next evolution of the ubiquitous and general-purpose PCI Express I/O standard. At 8GT/s bit rate, the bandwidth is doubled over PCIe 2.0, while preserving the compatibility with software and mechanical interfaces.

Dual DDR4
The primary advantages of DDR4 over DDR3, include higher module density, lower voltage requirement, coupled with higher data transfer rate.
USB 3.2 Gen1 Type-A
USB 3.2 Gen1 delivers a compelling performance boost and can be used to connect multiple devices without worrying about compatibility. It is capable of data transfer speeds up to 5Gbps and backwards compatible with all existing USB products.
Durable+
Moisture-proof of PCB
Working environment is getting deteriorating and moist (rural, coastal, etc.). The PCB will be oxidizing easily by damp or absorbed moisture, and ionic migration or CAF (Conductive Anodic Filament) will be generated. Moisture-proof PCB meets high density and high reliability requirements for moisture proof.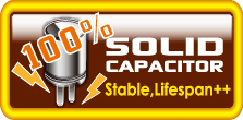 100% Solid Caps
With Armor-plated Technology, all capacitors are replaced with 100% solid capacitors that have a lasting life cycle and ensure durability and stability for crucial components.

Iron bar Protection
BIOSTAR's exclusive Iron Bar Protection can reinforce PCI-E x16 slots to handle heavier graphics cards by prevent bending to extend the longevity of the slot, making the new-gen BIOSTAR motherboards much more robust.
Protection+

Super LAN Surge Protection
Super LAN Surge Protection provides LAN port with more advanced antistatic protection capabilities by adding an integrated chip to strengthen electrical stability and prevent damage from lightning strikes and electrical surges. SLSP (Super LAN Surge Protection) series motherboard upgrades the existing system protection standards with maximum 4X protection compared to other board makers.
OC / OV / OH Protection
OC / OV / OH Protection design detects overvoltage conditions and prevents voltage surges from spreading in real time. It also actively cuts off the overvoltage supply to protect your system.
DIY+

Vivid LED DJ
New VIVID LED DJ offers more customizations and options for independent control of multiple RGB/ARGB LED lighting zones. Users can control color, speed and brightness at ease.

RACING UEFI BIOS
Unified Extensible Firmware Interface (UEFI) is a brand new framework that provides a revolutionary interface. It is a modern clear and easy-to-use graphical user interface. The UEFI comes with a colorful easy-to-understand icons which lead users into the setup layer directly.

EZ Mode
BIOSTAR EZ Mode makes everything as simple and efficient as possible. It has an attractive easy-to-use BIOS system interface that guides users to solve their problems with ease. It lays out the things which you often do in BIOS system to make the flow smooth and seamless.

A.I FAN
With A.I FAN users can ensure that their gaming PC can maintain its performance while staying cool. According to different cooling needs and usage scenarios, users can control speed modes. Allows users to have more customizability for fan modes and automatically detects different temperatures to make fan operate at defined speed for optimal cooling performance. Furthermore, A.I FAN supports both PWM and DC voltage fans for more cooling options.

LED ROCK ZONE
LED ROCK ZONE comes with RGB 12V LED header and Digital 5V LED header which offer more colorful lighting options to DIY lovers. Adjusting the color of LED and changing system colors by VIVID LED DJ will make you fully enjoy the process of PC modding.
CPU OPT
BIOSTAR offers another fan header which is called CPU OPT. Users can use it to connect any kind of water coolers. Keep your computer stable and use your machine to the utmost potential.